Conwed launches new 2016 IDEA Book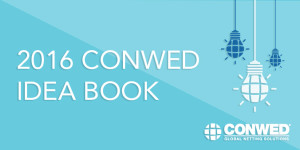 MINNEAPOLIS, MN (February 8th, 2016) – Conwed, the leading plastic netting manufacturer in the world, launched its new 2016 IDEA Book, a digital catalog that outlines company's capabilities, core products and technologies.  This new digital magazine includes a step-by-step description of how Conwed netting is made, the netting characteristics that can be customized and how netting can be incorporated with other materials and substrates in diverse production processes.
Conwed celebrates its 50th anniversary in 2016 and counts with an extensive record of success developing netting solutions for hundreds of industrial and consumer products in diverse industries. From agriculture, automotive, hygiene, medical and disposable products to packaging, filtration, landscape and erosion control applications, netting is used to improve performance under precise conditions. "When someone asks what Conwed does, it may not be simple to explain because our netting works differently depending on the final product application. So sharing our IDEA Book publicly is our way to provide a general overview of our netting capabilities and how we can help our customers improve their products", said Ivan Soltero, Sr. Strategic Marketing Manager at Conwed.
The Conwed IDEA Book was conceived as an e-handbook to guide prospects and customers when evaluating new materials for their product development projects. What started as a manual of plastic netting effort for internal training a few years ago, became the go-to source for learning the foundations of plastic netting. "A key factor to our product development success — when collaborating with prospects and customers — is that we are not shy to share our netting lingo. We don't assume our audience knows it all about our netting capabilities", said Soltero.
Conwed netting is used to contain, separate, reinforce, stretch, laminate and bond different materials and substrates. When used in composite form, netting can add superior strength without significantly increasing the weight of the entire composite. Its lightweight features help manufacturers create composites with film, paper, foil, foam, bubble wrap, nonwoven and other fabrics. "The 2016 IDEA books includes great information and illustrations of how manufacturers can incorporate Conwed netting in their production processes to improve their products. The more our customers know about our netting technology, the easier it is to collaborate and identify the best netting alternative for their project", said Soltero.
To know more about Conwed and its new 2016 IDEA Book visit www.conwedplasticsideabook.com
About CONWED
Conwed is the leading plastic netting manufacturer in the world. Conwed manufactures extruded, oriented and knitted netting with unique customization capabilities.  Headquartered in Minneapolis, Minnesota, Conwed has five manufacturing locations on two continents and a global distribution network.
Contact Information
Email:
mandy.sanders@conwedplastics.com
URL:
www.conwedplastics.com
Phone:
Mandy Sanders, Phone: 612-623-2548
Company:
Conwed