Conwed opens new sales office in Shanghai, China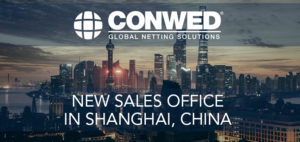 New Conwed sales office in China will help expand the company's footprint in Asia.
Minneapolis, MN (November 2, 2016) – Conwed, the leading plastic netting manufacturer in the world, recently opened its new sales office in Shanghai, China. With over 50 years of history delivering netting solutions in a wide range of markets and applications, Conwed expects this new sales office will better serve existing customers and new prospects all around Asia. Conwed Shanghai Sales Office contact information is available on their website www.conwedplastics.com/cn
Conwed manufactures an extensive netting portfolio for filtration applications. From extruded cylinder tubes, sleeves and reverse osmosis feed spacers to diamond and square extruded netting for core protection or pleat and media support, Conwed offers a wide range of customization options.  Netting can be found in diverse filtration segments such as beverages, compressed air and gas, food processing, heating, ventilating, air conditioning (HVAC), water and liquid filtration applications, "Filtration is an area of exponential growth and we have experienced increasing demand for our netting portfolio in Asia. Our new sales office in China will help us have a foot on the ground, understand the needs of the market better and collaborate closely with prospects all over Asia", said Frank Theunissen, sales director for Europe and Asia at Conwed.
In addition to filtration, Conwed netting is an essential component in hundreds of industrial and consumer products worldwide. Agriculture, crop protection, hay bale containment, turf harvesting, automotive, building and construction composites, apparel, medical, hygiene, resin infusion, pipeline protection, erosion control, soil stabilization, paver protection, bedding, carpet cushion, rug liners, produce, meat and parts packaging and disposable consumer products are some of the most common market applications that use Conwed netting.  "Our technical expertise consists in developing netting designs that help our customers improve their final products. Building a Conwed team in Asia will certainly help us be closer to our customer base and act more rapidly to new product development projects", said Theunissen.
To know more about the Conwed Shanghai Sales Office in Chinese visit www.conwedplastics.com/cn
About CONWED 
Conwed is the leading plastic netting manufacturer in the world. Conwed manufactures extruded, oriented, knitted and multilayer netting with unique customization capabilities. Headquartered in Minneapolis, Minnesota, Conwed has five manufacturing locations on two continents and a global distribution network.
CONWED CHINA SALES OFFICE
CONWED 中国销售办事处
上海市浦东新区世纪大道1229号2号楼2楼
1229 Century Avenue, Building 2, 2F, Century Metropolis office N° 9
Shanghai, PRC 200031
Tel.: +86 15901600341
www.conwedplastics.com/cn
Mr. Frank Zhang
Business Development Manager
Mobile  +8613662195298
Email   frank.zhang@conwedplastics.com
Mrs. Xiaoshi Jia
Inside Sales Engineer
Mobile +8615021049893
Email   xiaoshi.jia@conwedplastics.com