Conwed wins Gold AVA Digital Award 2017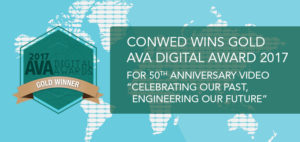 50th anniversary video wins gold award in the Company Overview Category.
Minneapolis, MN (January 31, 2017) – Conwed, the leading plastic netting manufacturer in the world, won a Gold AVA Digital Award 2017 given by the Association of Marketing and Communication Professionals (AMCP) for its 50th anniversary video. AVA Digital Awards is an international competition that recognizes excellence by creative professionals responsible for the planning, concept, direction, design and production of digital communication. Work ranges from digital engagement campaigns – to audio and video production – to website development – to social media interaction – to mobile marketing.
Conwed participated in the Motion Graphics Company Overview category, with a 3 minute video that takes the viewer through the history of the company, its highlights and innovation footprint. Launched in January 2016 and distributed through different media, the video titled "Celebrating our Past, Engineering our Future" portrayed netting innovation at Conwed with a lighthearted, amusing feel. "We wanted to share our netting history since 1966 and showcase our company's achievements through the last five decades, but in an upbeat, entertaining way", said Ivan Soltero, senior strategic marketing manager at Conwed. "Could you have predicted an entire world of netting? That's how our 50th anniversary video takes us on a unique journey".
AVA Digital Awards were designed to pay tribute to the history of the audio-visual and web industries. Judges are industry professionals who look for companies and individuals whose talent exceeds a high standard of excellence and whose work serves as a benchmark for the industry. This year there were 2,500 entries from throughout the United States, Canada, and 16 other countries.
The strategic marketing team at Conwed had a clear idea of what the new video needed to communicate, but required an audio visual partner to make it a reality.  Hellman, based in Waterloo, Iowa, collaborated with Conwed in this distinctive campaign. "We have worked with Hellman in other audio visual projects and just like their slogan, they excel at powering complex brands. Making plastic netting fun and memorable is not an easy task, and the Hellman team helped us build this unique history video", said Soltero.
Recently acquired by Schweitzer-Mauduit International, Inc. – SWM, Conwed brings 50 years of netting innovation to the SWM Advanced Materials and Structures (AMS) division. "Just like our winning anniversary campaign, we celebrate our past and engineer our future with this recent acquisition by SWM. We are thrilled to make an impact in this new phase of our history and are glad to share the latest recognition we received from the Association of Marketing and Communication Professionals".
To watch the full video "Celebrating our Past, Engineering our Future" visit
www.conwedplastics.com/history

About CONWED 
Conwed is the leading plastic netting manufacturer in the world. Conwed manufactures extruded, oriented, knitted and multilayer netting with unique customization capabilities. Headquartered in Minneapolis, Minnesota, Conwed has five manufacturing locations on two continents and a global distribution network.
About SWM
Schweitzer-Mauduit International, Inc. – SWM, is a leading global provider of highly engineered solutions and advanced materials for a variety of industries. SWM and its subsidiaries conduct business in over 90 countries and employ approximately 3,100 people worldwide, with operations in the United States, United Kingdom, Canada, France, Belgium, Luxembourg, Russia, Brazil, Poland and China, including two joint ventures.