Evolon from Freudenberg: the first sun protection textile for both shading textiles and protective clothing applications to be certified by UV Standard 801 in France

Colmar, February 26, 2014 – As doctors record a significant increase in the number of skin cancers and call for better prevention, performance textile manufacturer Freudenberg offers a solution with its microfilament textile Evolon. Evolon has been granted a Ultraviolet Protection Factor of 80, the highest value of the demanding "UV Standard 801", for different variants of the fabric. UV Standard 801 is the only standard to verify to durability of UV protection in "real-life" heavy use conditions.
Providing sunscreening or dim-out effect, Evolon is ideally suitable for curtains, roller blinds, sunshades, as well as awnings, canopies and marquees specifically designed for sun protection. At the same time Evolon medium-weight versions can make outdoor, protective and sportswear garments with an exceptional UV protection factor even in the worst sun conditions. In addition, Evolon feels comfortable, light and highly breathable, yet strong and windproof.
In the case of clothing, the sun protection factor is dramatically impacted by the stretching of a fabric during wear, by moisture from perspiration or water and by normal wear. Furthermore the sun protection factor is also affected during and after care of the textile. This is the reason why under UV Standard 801, the UV protection factor (UPF) is calculated in real-life conditions. The clothing textile material is therefore laundered as part of the test and wet during measurement and stretched in a specified way. Evolon, in its 100gsm variant, has passed all these tests resulting in a measured UPF of 80. For shading textiles, the stretching of the fabric, the weather (sun and rain) and humidity affect the sun protection factor. In this category, UV Standard 801 requires artificial weathering of the textiles, to simulate how they are affected by ageing while they are in use. In this category of products, the heavier 130 and 170gsm variants of Evolon have also shown the highest grade i.e. UPF 80.
Evolon's outstanding properties results from a worldwide-patented manufacturing technology. Evolon is made of polyester and polyamide which provide "inbuilt" sun protection. What is more, unlike conventional woven or knitted fabrics, Evolon has a particularly tight construction with a multidirectional laying which avoids any gap between fibers. This high density microfilament structure allows Evolon to provide a durable sun protection, even after laundering. Evolon can be easily dyed or printed and is especially compatible with dark dyes which will reinforce UV Protection.
Enjoy the sun longer with Evolon
Aimed at determining the protection from UV radiation provided by textiles, the UV protection factor (UPF = Ultraviolet Protection Factor) indicates the factor by which the skin's own natural protection time – which depends on your individual skin type – is extended by the textile material. The skin of a person with skin type 1, for example, with red or blond hair, blue eyes and a very pale complexion, has a natural protection time of about five to ten minutes. If such a person is exposed to strong sunlight for any longer without protection, they risk dangerous sunburn. If they are protected by a textile material like Evolon with UPF 80, they can extend the length of time they can remain in the sun by eighty times, without causing any skin damage. That is to say, to a maximum of 6.5 to 13 hours.
The UV Standard 801 was developed to overcome the weaknesses in other existing test standards such as the Australian/New Zealand Standard (AS/NZ 4399:1996) and the European standard EN 13758-1. Both of them do not take account of the stresses and strains imposed during washing and use. By contrast, under the UV Standard 801, the UPF of a garment is determined not only when it is new, but also when it has been stretched and wetted, after mechanical strain and washing. Shading textiles are tested under the UV Standard 801 in new condition and after artificial weathering, both when they are dry and wetted.
To determine the Ultraviolet Protection Factor (UPF), standardised measuring methods and a specialist test are required and conducted by the institutes of the International Test Association for Applied UV Protection. Germany-based Hohenstein Laboratories, or France-based IFTH, which conducted the conformity tests for Evolon, are among these institutes.
There are now over 100 companies making a variety of products offering high UV protection who have them tested and/or certificated under UV Standard 801. Freudenberg Evolon has just been granted one of the first UV Standard 801 certificates in France.
Evolon fabrics are also OEKO-TEX® Standard 100 product class I certified. Freudenberg Evolon production plant is ISO 9001, ISO 14001, OHSAS 18001 and ISO 50001 accredited.
Freudenberg Evolon
Headquartered in Colmar, France, Freudenberg Evolon is part of Freudenberg Nonwovens.
Freudenberg Nonwovens is one of the world's largest producer of nonwovens, with 21 manufacturing and processing sites in 13 countries. The company manufactures interlinings for the apparel industry and develops nonwovens for the following markets: Energy, Automotive Interiors, Hygiene, Medical, Building Interiors, Geotextiles and Specialties. Freudenberg Nonwovens markets innovative products such as Lutradur ECO, Vilene, Soundtex and Evolon. In the 2012 financial year, Freudenberg Nonwovens employed 3,000 people and generated sales of €650 million. www.freudenberg-nw.com
The company is part of the Freudenberg Group. In 2012, the Freudenberg Group with its Nonwovens, Seals and Vibration Control Technology, Household Products, and Specialties and Others Business Areas generated sales of over €6.3 billion and employed 37,453 people in 57 countries.
About the International Test Association for Applied UV-Protection
Textiles are intrinsically suited for use as UV protection, as they are able to offer particularly good protection against intense radiation from the sun if suitable materials and constructions are used. UV protection factors (UPF) far above those of the strongest sunscreens (sunblocks) can be achieved.
In order to provide consumers with a reliable UPF, the particular requirements to which a sun protective textile is subjected during use must be taken into consideration.
As a result, the members of the International Test Association for Applied UV Protection, recommend measuring the UV protection factor according to the UV Standard 801 for all types of clothing and shading textiles. This is always based on the worst-case scenario for wear and use, i.e. the textiles are always certified on the basis of the lowest UV protection factor determined. Certification can be allocated using the following factors 2; 5; 10; 15; 20; 30; 40; 60; 80, with the value determined being rounded down to the next lowest level.
UV Standard 801 for shading textiles
In the "shading textiles" article group, the UV protection factor of new and weathered fabric is determined both in a stretched, and in a stretched and wet state. The lowest determined Ultraviolet Protection Factor can be certified according to UV Standard 801.
UV Standard 801 for clothing
In the "Clothing and clothing fabrics" article group, the UV protection factor is determined for fabrics when new, abraded, laundered and/or dry cleaned, both in a stretched and in a stretched and wet state. Equal to shading textiles, also for clothing textiles the lowest determined Ultraviolet Protection Factor can be certified.
www.uvstandard801.com
Picture #1: UV protection factor (or SPF) of different materials and situations
Picture #2 and #3 : the UV 801 labels received by Evolon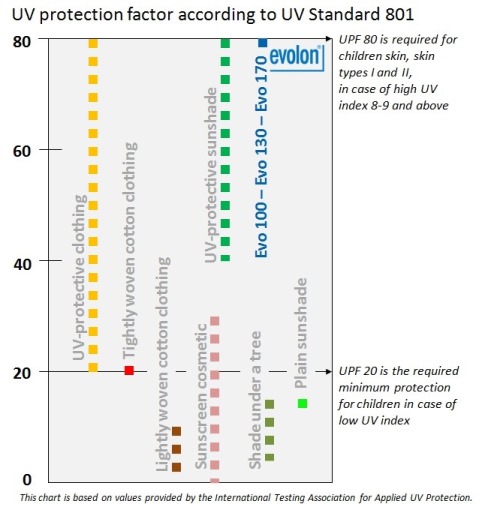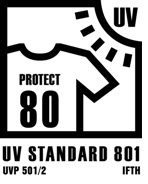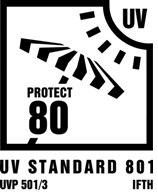 Contact Information
Email:
isabelle.kugler@freudenberg-nw.com
URL:
http://www.freudenberg-nw.com
Phone:
Isabelle Kugler, Tel: +33 (0)3 89 20 64 79
Company:
Freudenberg