Hormel Foods Honors Prolamina With Supplier Award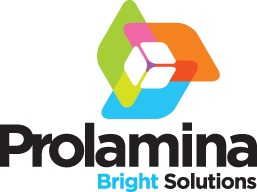 Prolamina Receives the 2014 Hormel Spirit of Excellence Award
 Terrebonne, QC, June 12, 2015 –Prolamina Corporation, a leading North American packaging company that serves the food, medical and specialty markets, was honored with the 2014 Hormel Spirit of Excellence Award.
During a celebration at Prolamina's Terrebonne facility, on Wednesday June 3, Eric Winters, Corporate Buyer, Hormel Foods, presented Chief Executive Officer, Greg Tucker with a commemorative plaque and letter. Attending the special reception from Hormel, in addition to Mr. Winters, were Steve Jensen, Corporate Purchasing Manager and Chad Donicht, Senior Packaging Scientist. Other key executives from Prolamina included, Vince Musacchio, President of Canadian Operations and Matt Conlin, Vice President of Sales.
Greg Tucker stated, "We are extremely proud of our relationship with Hormel Foods; they are one of our premier customers. It is such an honor when a customer, like Hormel Foods, takes the time to recognize our partnership and the hard work and dedication of the Prolamina team. We will continue to be a valuable supplier and live up to the standards of excellence set by our customers."
According to Hormel Foods, these awards are given to suppliers that maintain a minimum supplier rating index score of 92 throughout a 12-month period. This score is determined by a universal measurement system that began in 1990 to ensure each supplier is held to the same standards. Award criteria include meeting performance requirements, making on-time deliveries and providing high-level customer support.
"The Hormel Foods Spirit of Excellence Award program recognizes the suppliers that truly go above and beyond in helping us achieve our goals," said Tyler L. Hulsebus, Director of Purchasing at Hormel Foods. "We're honored to partner with these outstanding suppliers."
Prolamina provides Hormel Foods with their PRO-POUCH® products. These stand-up-pouches can range from small single-use pouches, to large-format, high-strength multiple-use pouches, and are produced on advanced Totani pouch-making equipment. PRO-POUCH laminates can be assembled via adhesive or extrusion processes, with and without foil to meet most liquid and dry product requirements.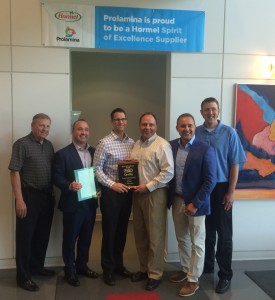 Photo 1 Description
Hormel Foods and Prolamina executives with the 2014 Hormel Spirit of Excellence Award at Prolamina's Terrebonne, QC facility. From left to right: Steve Jensen, Hormel; Greg Tucker, Prolamina; Eric Winters, Hormel; Matt Conlin, Prolamina; Vince Musacchio, Prolamina and Chad Donicht, Hormel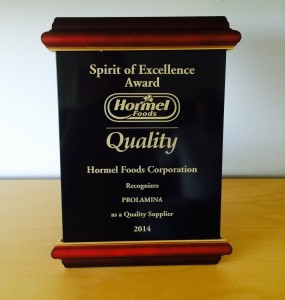 Photo 2 Description
Hormel Spirit of Excellence Award Plaque
About Hormel Foods
Hormel Foods Corporation, based in Austin, Minn., is a multinational manufacturer and marketer of consumer-branded food and meat products, many of which are among the best known and trusted in the food industry. The company leverages its extensive expertise, innovation and high competencies in pork and turkey processing and marketing to bring branded, value-added products to the global marketplace. The company is a member of the Standard & Poor's (S&P) 500 Index, S&P 500 Dividend Aristocrats for 2014, was named the 2013 Sustainable Supply Chain of the Year by Refrigerated & Frozen Foods magazine, and was again named one of "The 100 Best Corporate Citizens" by Corporate Responsibility Magazine for the seventh year in a row. Hormel Foods was also recognized as a 2015 Military Friendly Employer by G.I. Jobs magazine, on the 2015 Best for Vets Employers List by Military Times, and was named one of the 2015 40 Best Companies for Leaders by Chief Executive magazine. The company enjoys a strong reputation among consumers, retail grocers, foodservice and industrial customers for products highly regarded for quality, taste, nutrition, convenience and value. For more information, visit http://www.hormelfoods.com.
About Prolamina
Prolamina is a full-service supplier of technology-driven, innovative, flexible packaging. With multiple manufacturing facilities in North America, we are dedicated to providing solutions to your specific packaging needs. Visit: www.prolamina.com