INDA Welcomes New Member PT Technologies Europe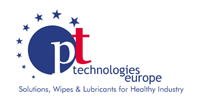 INDA would like to extend a warm welcome to our newest member, PT Technologies Europe!
PT Technologies Europe
Meenane, Watergrasshill
Cork, County Cork
REPUBLIC OF IRELAND
Phone: 353-21-488-9922
Fax: 353-21-488-9923
www.pttechnologies.com
PT Technologies Europe manufactures and supplies "packaged fit for purpose" specialist cleaning and lubrication products, which are designed to address Environmental, Health & Safety and Logistics risks, which exist within the niche markets in which it operates.
Many of the products are provided in the form of impregnated wipes solutions, and these products utilise nonwoven wipers within their makeup.