Make Your Non-Woven Vision a Reality with Pilot to Production Program at Monadnock

Mt. Pocono, PA – May 12, 2014  – Monadnock Non-Wovens LLC offers a "Pilot to Production" program aimed at developers of fine fiber melt blown polypropylene seeking to transition from proven R+D scale production to industrial scale manufacturing.
The program is ideally suited for developers who have innovative ideas for media or composites.  There is a big leap from small lab sized concept to industrial scale production.  This is where Monadnock's experienced team and right-sized melt blown and calendaring machines are real assets. "There is a considerable difference in running melt blown media under test conditions to running heavy duty industrial quantities." says Keith Hayward Managing Director of Monadnock Non-Wovens based in Mount Pocono in NE Pennsylvania. "Our unique combination of flexible polypropylene melt blown operations and combining technology with many years of practical experience is ideal for marketers with new products seeking process development."
This program is suitable for product developers seeking characteristics or special properties in the fast growing allergen barrier, anti-microbial or odor removal applications often used in fabric, homeland security, medical devices and some consumer products. 
Monadnock Non-Wovens has expertise in prototype to industrial transitions involving polypropylene melt blown with or without a wide range of additives and combined materials. The size and flexibility of the company permits relatively low cost and rapid development of roll goods media suitable for further converting or direct sale.
"The elegance of our Pilot to Production program is that once approved by the market the client has a ready made home for subsequent production with established processes and cost structures supported by an ISO9001 Quality System" says Keith Hayward. "Pilot programs can involve renting machine time, toll converting or conventional purchase."   
About Monadnock Non-Wovens
Monadnock Non-Wovens, a subsidiary of Monadnock Paper Mills, Inc. of Bennington, NH was established in 1999 to manufacture non-woven material for the fast growing filtration, facemask, healthcare, consumer and homeland security markets. It supplies roll goods non-woven media to converters around the world matching advanced fiber technology and the demands to meet Global standards.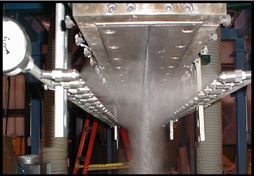 Contact Information
URL:
www.mpm.com/nonwoven
Phone:
Keith Hayward, Managing Director, tel: 570-839-9210
Company:
Monadnock Non-Wovens LLC