Miller Weldmaster Hallmarks 15 Years of Membership with SGIA at 2013 SGIA Expo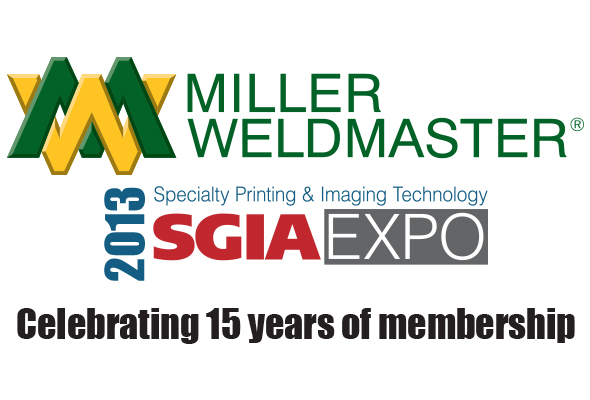 At the 2013 SGIA Expo in Orlando, Miller Weldmaster celebrated a milestone of 15 years of membership with SGIA. The association has been a tremendous benefit for enabling Miller Weldmaster to serve the needs of those in the sign-making industry.
Navarre, OH (PRWEB) September 16, 2013
Miller Weldmaster, the First Choice Globally for sign manufacturing needs, recently celebrated another company milestone while at this year's SGIA Expo in Orlando, Florida: 15 years of membership with Sign Graphic Imaging Association (SGIA). Thousands of tradeshow attendees gathered from around the world at the tradeshow, which took place October 23-25, 2013. There were 534 exhibitors spread out over 219,000 square feet of exhibition space in the Orange County Convention Center, available for interaction, networking, and sending the tradeshow participants home with new knowledge and equipment. While there, Miller Weldmaster noted that membership in SGIA has been and continues to be a strategic avenue into propelling it into an established global presence.
"There's no doubt that our 15 years of SGIA membership have played a tremendous role in the growth of our worldwide capacity to serve the needs of sign makers globally. SGIA has given us countless great opportunities to reach customers who are looking for a faster, easier method of seaming their banners, signs, and billboards together," said Truy Pham, Sales Manager for Miller Weldmaster. "In that time, we've developed several machine models for the needs of each of our customers. Our machines are designed to truly meet the production needs of every sign maker."
At the tradeshow, Miller Weldmaster showcased its four machine models dedicated to sign manufacturers' demands, the T3 Extreme, T300 Extreme Edge, Impulse Extreme 3.0, and 112 Extreme. The company also demonstrated for the first time the seaming capacities of the Moduline System. The capabilities of the machine were aptly exhibited through welding hems and pockets, cutting product to length, and putting grommets on two sides to finish the welded banner. The Moduline System demonstrated how to increase production and decrease labor by fully automating sign finishing production.
SGIA is the only international association for specialty imaging. Screen printing, digital printing, embroidery, sublimation, and pad printing specifically are the primary imaging technologies and technological focuses of SGIA members. The core mission of the association is to offer its members access to the best business profitability-enhancing solutions whether a product is a new innovation or adds value to an existing one. Miller Weldmaster considers itself privileged to be a part of carrying out and benefiting from SGIA's core mission and of service to its fellow association members, and it is excited to be a part of the association's future.
About Miller Weldmaster
Miller Weldmaster, the first choice globally of all industrial fabric welding solutions, has offered rotary hot air, hot wedge and impulse welding equipment to the industrial fabric and thermoplastics industries for forty years. For the fabrication and automation of various products from awnings to truck tarpaulins, to inflatable boats, Miller Weldmaster has developed many of the first advancements in heat sealing technology. The company's historical record of industrial "firsts" demonstrates its ability to research, design, and build solutions using the most current and innovative features of the industry. Having sold machines in over 100 nations around the world, and with distributors in 20 countries, Miller Weldmaster Corporation is a leading international manufacturer and provider of solutions for plastic welding machines, with a commitment to customer satisfaction. The company is headquartered in Navarre, Ohio, USA.
Contact Information
Email:
jhendrickson@weldmaster.com
URL:
http://www.weldmaster.com
Phone:
330-833-6739 203
Company:
Miller Weldmaster