Mogul Nonwovens Celebrates US Expansion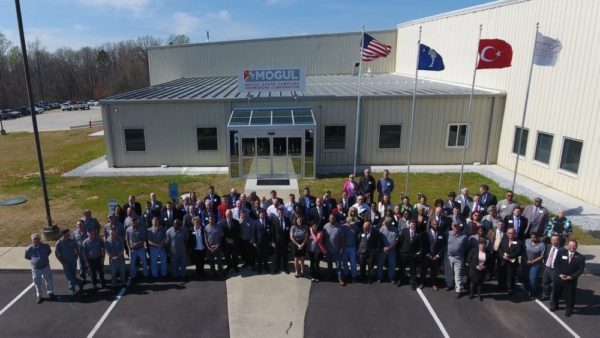 May 3, 2017 – Gray Court, South Carolina USA
On March 23rd 2017, nonwovens manufacturer Mogul Nonwovens welcomed industry partners and state and local dignitaries to celebrate the Grand Opening of its newest growth venture, Mogul South Carolina Nonwovens. The new site, operating a 3.2 meter high-speed parallel laid spunlace line with 15,000 metric ton of annual capacity, is dedicated to serving the demand for Mogul's industry leading nonwoven technologies in wipes, hygiene, filtration, and automotive markets.
Located on 20 acres and over 90,000 square feet of manufacturing in Gray Court, South Carolina, Mogul South Carolina Nonwovens Corporation is a wholly-owned subsidiary of Mogul Nonwovens. By expanding into the US market, Mogul is positioning itself to better serve existing customers and capitalize on the growing need of high quality nonwovens solutions in North and South America and Asia Pacific.
With production on 3 continents, Mogul is one of the fastest growing nonwovens companies in the world. In 2016 Mogul became the first two-time winner of the IDEA "Entrepreneurship Award," being recognized for an enduring entrepreneurial spirit throughout its continued growth. The new plant will initially meet increasing market needs for high quality spunlace, with plans for expansion in the near future. This new production asset is a state-of-the-art line with the latest carding technology for superior web formation, outstanding ability to create custom patterns with hydro embossing, and the latest advancements for water and energy conservation. The Gray Court facility will bring over 70 jobs to the US, adding to the 500 employees currently part of the Mogul Nonwovens group.
Contact Information
Email: edoyle@mogulsc.com
Phone: 864-876-6645
Company: Mogul Nonwovens