Pehart Group chooses A.Celli for the rebuilding of a tissue machine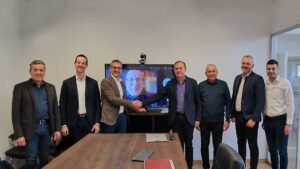 Tassignano (LU) Italy, July 24, 2023 – Hiang Seng Fibre Container Co., Ltd., an historical PMT customer, has chosen to rely on A.Celli for a complex and highly technological rebuilding intervention on their PM5 located in Bangkok, Thailand.
Pehart Group, one of the largest tissue paper producers in Southeast Europe and the largest producer and processor of household paper products in Romania, has chosen to rely again on A.Celli's know-how and technology, thus strengthening the business partnership started in 2015 with the supply of a turnkey tissue plant.
The tissue machine rebuilding intervention includes the supply of a reinforced shell, 15" forged Yankee Dryer and a last generation Shoe Press specifically designed by A.Celli for tissue paper production.
The Shoe Press, characterized by a relatively small footprint and a high operational flexibility, has been specially designed to increase energy efficiency and productivity and enhance paper properties. The press is also extremely user-friendly in terms of both operation and maintenance.
Mr. Gabriel Stanciu, General Manager of Pehart Group, said: "Our strategy focuses on the energy efficiency of production equipment and sustainable development, as we have decided to increase our efforts to optimize production machinery. We are aware of the quality of A.Celli's solutions and services from a previous project involving the supply of a turnkey tissue line in 2015. The new solutions that A.Celli will provide for this rebuilding will surely meet our expectations and will serve our purpose to develop production capacity and deliver high-quality products. Considering our experience, we recommend A.Celli as a reliable and highly competent supplier".
PEHART TEC GROUP – COMPANY PROFILE
With an almost 186-year tradition, Pehart Group is one of the largest paper producers in Southeast Europe. The company is present with its household and industrial products in 18 Central, Eastern, and Southern European countries. The company's portfolio include brands like Pufina, one of the most popular ones, Alint and Altessa. Pehart Group is defined by continuous evolution, efficiency, respect for the resources of the planet and for the people who build its story every day.