ProAmpac Presents a Special Touch in Flexible Packaging at Pack Expo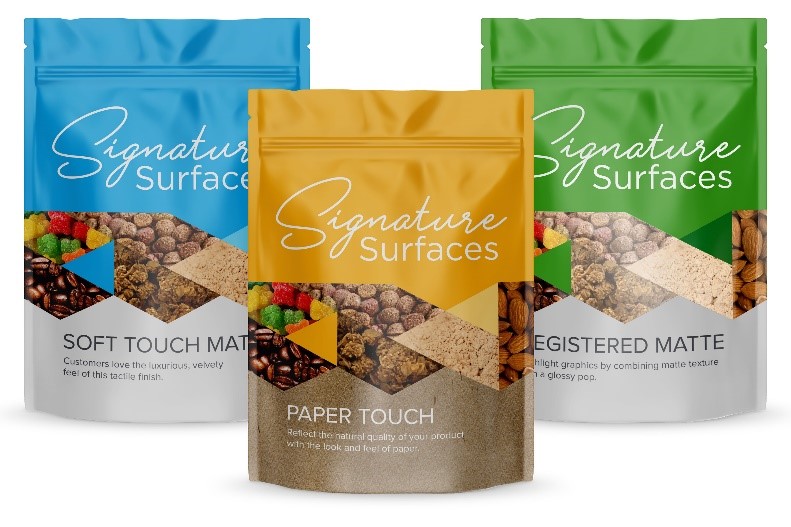 CINCINNATI (Sept. 20, 2019) ProAmpac is presenting a fresh approach to flexible packaging at PACK EXPO Las Vegas this month. "We are showcasing our Signature Surfaces products that offer distinctive visual effects along with a special touch creating a unique brand connection with consumers." said Adam Grose, chief commercial officer.
Signature Surfaces can be combined with glossy graphics or a clear window that creates an eye-popping display sure to attract consumer attention. These coatings have excellent heat, scuff and chemical resistance.
ProAmpac's Signature Surfaces product line includes:
Paper Touch – a coating that combines feel of paper with the protection of film  – ideal for reinforcing a brand's natural and organic positioning. Available as recyclable material for store drop-off.
Soft Touch – provides a soft, velvety feel – perfect for premium and luxury product positioning.
Registered Matte – lending matte-photo-like texture to all, or part, of a package's surface.
Signature Surfaces are available in roll stock for form-fill-seal (FFS) applications or in various premade pouch formats including PRO-POUCH® stand up pouches or Quad-Flex® flat bottom pouches.
To experience Signature Surfaces visit ProAmpac (booth LS-6156) at PACK EXPO Las Vegas at the Las Vegas Convention Center Sept. 23-25 or email Marketing@ProAmpac.com, and visit ProAmpac.com.
About ProAmpac 
ProAmpac is a leading global flexible packaging company with a comprehensive product offering. We provide creative packaging solutions, industry-leading customer service and award-winning innovation to a diverse global marketplace. ProAmpac's approach to sustainability – ProActive Sustainability® — provides innovative sustainable flexible packaging products to help our customers achieve their sustainability goals. We are guided in our work by four core values that are the basis for our success: Integrity, Intensity, Innovation, and Involvement. Cincinnati-based ProAmpac is owned by Pritzker Private Capital along with management and co-investors. For more information, visit ProAmpac.com.
About Pritzker Private Capital
Pritzker Private Capital acquires and operates North America-based middle-market companies with leading positions in the manufactured products, services and healthcare sectors. Led by Tony Pritzker and the former investment and operating professionals of Pritzker Group Private Capital, the firm's differentiated, long-duration capital base allows for efficient decision-making, broad flexibility with transaction structure and investment horizon, and alignment with all stakeholders. Pritzker Private Capital builds businesses for the long-term and is an ideal partner for entrepreneur- and family-owned companies. For more information, visit PPCPartners.com.