ProAmpac Presents Cheese Packaging Capabilities & Innovations at ICTE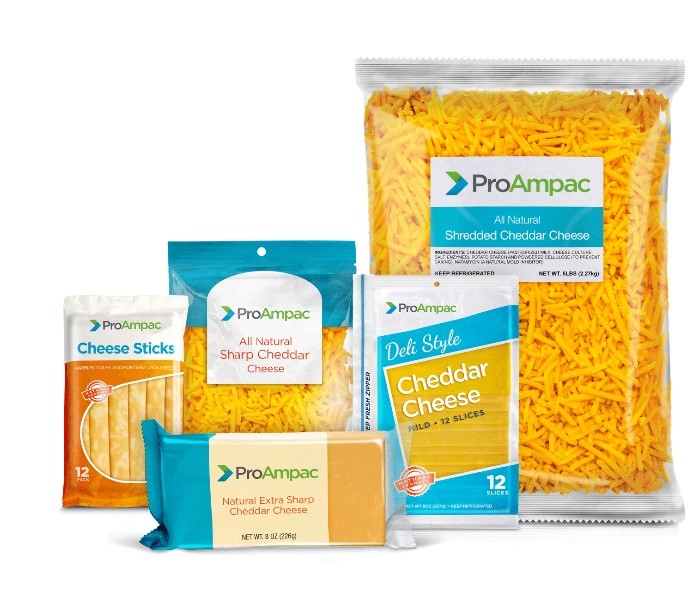 CINCINNATI — April 18, 2018 – Previewing the latest in a growing portfolio of advanced dairy packaging options, ProAmpac made its formal debut today at the International Cheese Technology Expo (ICTE) at the Wisconsin Center in Milwaukee.
Visitors to ProAmpac's booth (525) will be able to view the company's trademark PRO-FLEX performance cheese films and its newest vertically integrated dairy lidding capabilities, including a non-aluminum alternative for die-cut lids. ProAmpac will also display its new peel-and-reseal lidding film, an innovation that enables consumers to have easy open-and-reclose access to cheese products in rigid containers.
Collaborative Innovation
"To help customers find solutions, we are driving collaboration two ways: internally, by drawing on a wider and deeper pool of talent, and externally through partnering with our customers," stated Adam Grose chief commercial officer for ProAmpac.
"I urge ICTE attendees to visit ProAmpac's booth and meet our innovation team members Hesam Tabatabaei, director of research, innovation and technology, and Jeff Sesolak, product development manager. Visit with them and you will experience firsthand, ProAmpac's approach to collaborative innovation," Grose continued.
With over $1.4 billion in sales, ProAmpac is one of the nation's fastest-growing flexible packaging companies and is listed among the top ten packaging converters in the United States.
About ProAmpac
ProAmpac is a leading global flexible packaging company with a comprehensive product offering unparalleled in the industry. It provides creative packaging solutions, industry-leading customer service and award-winning innovation to a diverse global marketplace. The company is guided by four core values that are the basis for its success: Integrity, Intensity, Innovation and Involvement. ProAmpac is a member of PPC Partners, which owns and operates market leading companies in the manufactured products, services and healthcare sectors. For more information, visit proampac.com.
About PPC Partners
PPC Partners acquires and operates North America-based middle-market companies with leading positions in the manufactured products, services and healthcare sectors. Led by Tony Pritzker and the former investment and operating professionals of Pritzker Group Private Capital, the firm's differentiated, long-duration capital base allows for efficient decision-making, broad flexibility with transaction structure and investment horizon, and alignment with all stakeholders. PPC Partners builds businesses for the long-term and is an ideal partner for entrepreneur- and family-owned companies. For more information, visit PPCPartners.com.