ProAmpac to Showcase Innovations in Flexible Packaging at PACKEXPO International 2016

CINCINNATI, Ohio (Nov. 4, 2016) – ProAmpac, a leading global flexible packaging company, will display the latest in flexible packaging innovations at this year's PACKEXPO International in Chicago, November 6-9, 2016. Along with showcasing their line of innovative flexible packaging solutions, ProAmpac will have special demonstrations of E-Z Snackpak; PRO-TEAR; PRO-DURA and PRO-POUCH products.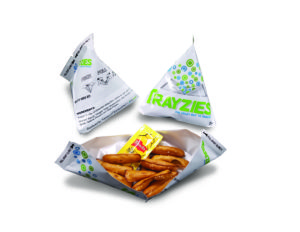 E-Z Snackpak is a tetrahedron shaped pouch that transforms into a serving tray upon opening – providing a unique consumer experience. The tetrahedron shape adds package support which provides product protection during shipping and handling. The geometric design can be packed into a corrugated shipper with an efficient interlocking pattern, or displayed in a shelf-ready carton at point-of-sale making your product stand out on the shelf. The new format also uses up to 25% less packaging than current formats due to its unique seal method improving the product to package ratio. The product is not only innovative but a more sustainable solution.
ProAmpac will also feature their PRO-TEAR stick pack package. As the largest worldwide supplier of lightweight polyethylene-coated papers and extrusion laminations for the single-serve food market, ProAmpac's PRO-TEAR products are high barrier and laser scored for easy-open stick pack applications. Popular applications include instant coffee stick packs, as well as other single-serve powdered drink mixes.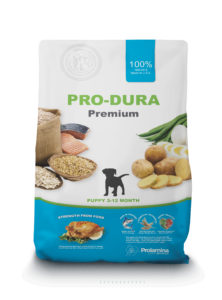 Also displayed will be ProAmpac's PRO-DURA line of polypropylene woven bags of large format, durable packaging for dry pet food and animal feed applications. PRO-DURA bags can include an optional pinch bottom, giving customers billboard branding space that allows for increased branding opportunities on the shelf or for big box store displays utilizing pallets. PRO-DURA Premium is a large-format hybrid bag that delivers the affordable, functional durability of polypropylene woven bags combined with the premium look of film/laminate bags. PRO-DURA bags are made in the United States and use exceptional materials with tight weaves, delivering a high-end finished look on each bag.
Finally, as the leading pouch manufacturer, ProAmpac will showcase their full line of PRO-POUCH products. ProAmpac pouching capabilities range from rollstock to pre-formed pouches and include: spouted, shaped, standup, retort, surface printed structures with a wide range of sealant resins, laminated and coextrusion variations. Including tandem extrusion, adhesive laminating, and metallizing, ProAmpac offers HD Flexographic and rotogravure printing capabilities. These structures can be simple three-ply laminations, four-ply or five-ply multi-layer substrates and can be delivered with or without printing.
ProAmpac, provides unrivaled manufacturing scale and expertise, creative packaging solutions, industry-leading customer commitment and award-winning innovation for consumer products. Please visit ProAmpac's display at PACKEXPO, booth number S-3783, to speak with a representative.
About ProAmpac
ProAmpac is steadfast in their unwavering commitment to provide creative packaging solutions, industry-leading customer service and award-winning innovation to a diverse global marketplace. It is a diversified global packaging company with over 2,500 employees and 20 manufacturing centers in North America, Europe and Asia. For more information, visit our website at: www.ProAmpac.com.
# # #