PROTON Products Non-Contact Measurement Solutions for Each Stage of Battery Production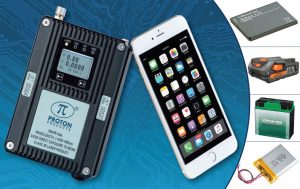 PROTON Products, the leading global provider of non-contact laser Doppler speed and length measurement, sets new standards and results for precise, reliable measurements during each stage of battery manufacture. The company will be showing a live demonstration of its InteliSENS SL Mini Series speed and length sensor at The Battery Show, Novi, Michigan 12-14th September on Booth 1860 and are available to discuss the applications and benefits of its non-contact measurement technology.
PROTON's revolutionary InteliSENS SL/SLR Mini Series speed and length sensors are the smallest on the market with a footprint comparable to a smart 'phone. They are fully featured non-contact laser Doppler speed and length measurement instruments. The InteliSENS mini-series sensors are designed to replace inaccurate mechanical speed and length measurement devices with a sensor whose accuracy is better than ±0.05%. PROTON's InteliSENS speed and length sensors come standard with intelligent, easy-to-integrate capabilities that feature a broad range industry-standard or de-facto process interfaces. According to Grant Latimer, PROTON's Managing Director "Our customers have many different instrument and automation platforms, including analog, Programmable Logic Controllers (PLC's), Distributed Control Systems (DCS) to name but a few. They are looking for a supplier who can offer direct, flexible and easy interfacing options to their processes without the need for further equipment and additional costs. PROTON have recognized this and have embedded this capability into their InteliSENS sensor to literally give it 'plug and play' capability"
Precise, non-contact speed and length measurement is essential at each stage of battery component manufacture from film production, through patch coating and finally on press lines. Non-contact, non-slip speed and length measurement is required to ensure quality, safety, reliability and longevity of the finished battery, for example:
Wet and Dry Process Film Lines: InteliSENS speed measurements provide precise, actual MDO (Machine Direction Orientation) non-contact speed measurements after the cast end through to the film end of the process for consistent stretch, thickness and porosity qualities. Uniform porosity is a vital film property for safe battery performance as it provides optimal power performance that avoids either overheating or poor charge-ability.
Patch Coaters: InteliSENS length measurement helps to accurately position the coating patches on either side of the product for improved productivity and reduced scrap. This new measurement capability also helps faster coater startup and higher production speeds.
Press Lines: Here accurate speed measurement contributes to better pressing uniformity in the press nip for uniform thickness and power density within the finished product. Again, contacting encoders suffer slippage and bounce that creates thickness variation resulting in poorer overall battery performance. Finally, PROTON Product's length measurement also provides accurate Press yield records for each production, to avoid either short or over production of the final material.
For more information about PROTON Products visit: http://www.protonproducts.com
Contact Information
Email:
grantlatimer@protonproducts.us
URL:
http://www.protonproducts.com
Phone:
+1 909 981 1909
Company:
PROTON Products