Stretching the Limits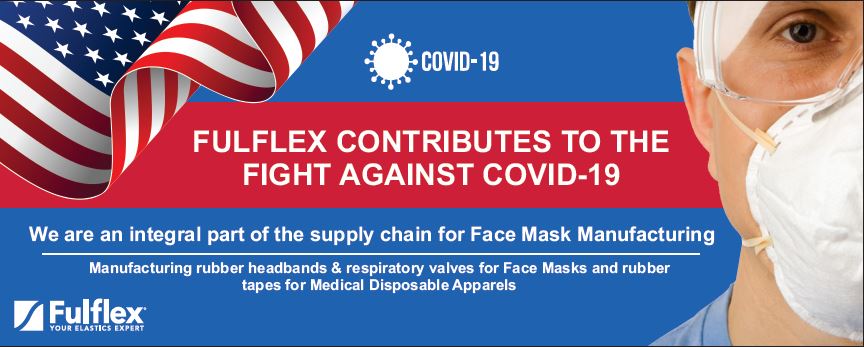 By Bob Audette, Brattleboro Reformer
BRATTLEBORO, VT, April 3, 2020 — With businesses closing their doors in response to the COVID-19 pandemic, one local manufacturer is ramping up to meet international demands for its specialty product — elastic for personal protective equipment such as face masks.
"A lot of people in the community tell me they have no idea what we do at Fulflex," said Don Venice, vice president of operations.
Fulflex is a leading manufacturer of thin-gauge specialty elastics for the medical, industrial, textile, hygiene, food, and personal care industries. Fulflex's specialty elastic products are sold internationally to a variety of customers. and are used in a range of products including clothing, diapers, food and beverage packaging, and flame-resistant jackets and gear for firefighters.
"We also make elastic for medical gowns and other medical products," wrote Roland Ransom, director of human resources, in an email to the Reformer.
Currently, wrote Ransom, the more than 100 employees at Fulflex on Putney Road are working hard to produce elastic for face masks so that the makers of face masks around the world can keep pumping them out. One of those customers is 3M, which makes masks that meet the N95 standard. The Centers for Disease Control and Prevention recommends the N95 for healthcare providers working with patients who have been exposed to the coronavirus because it filters out up to 95 percent of the particles down to .3 microns, which includes bacteria and viruses.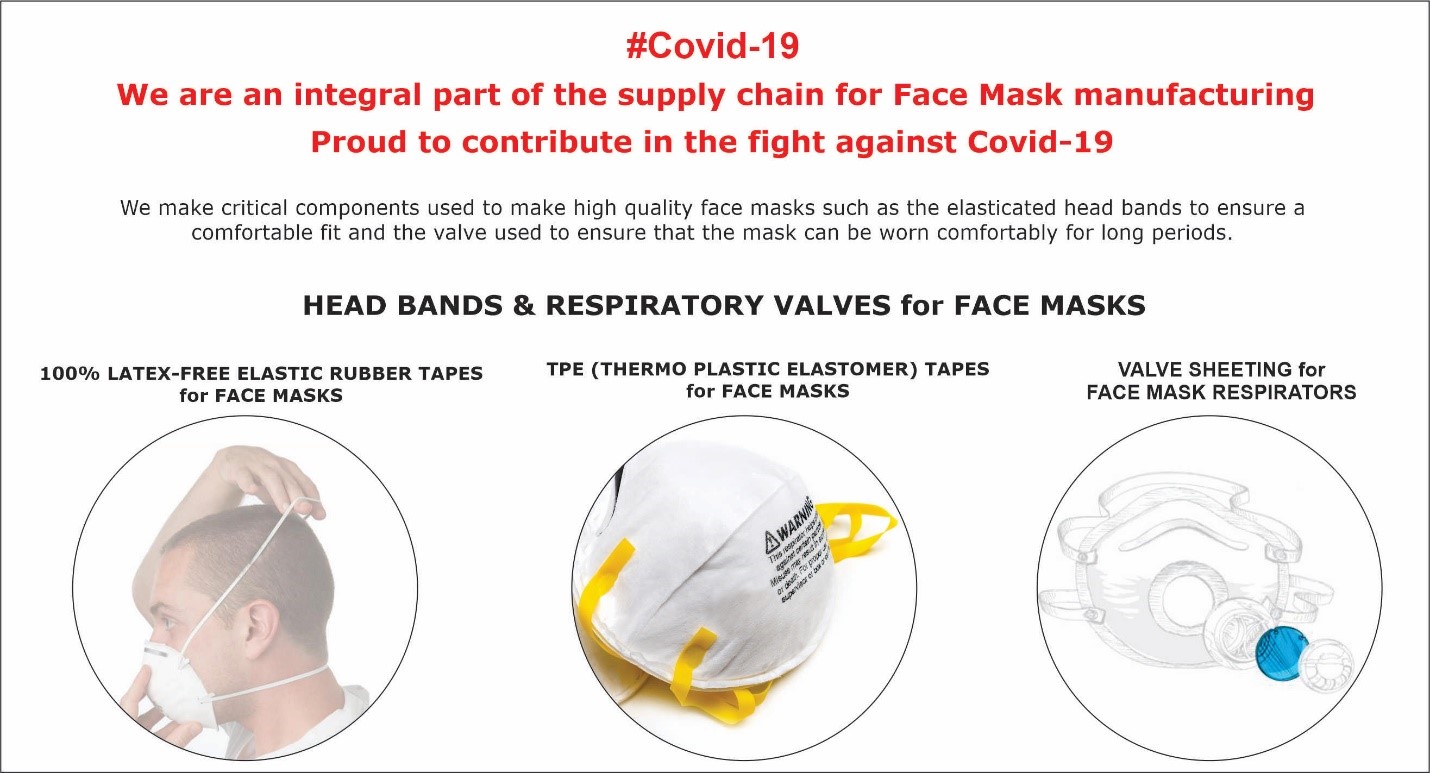 "It's exciting, but for the wrong reasons," said Venice. "There have been a lot of challenges, but we are certainly proud of our employees for the work they are doing. They are taking this very seriously. This is something they want to accomplish because they know how important it is in this global fight."
On a normal day, Fulflex makes a number of different types of elastic for different applications, including the bands in underwear, hospital gowns, disposable shoe coverings and for a variety of different masks.
"All of these applications require a different product," said Venice.
In the past nine weeks, he said, Fulflex has been focused primarily on elastic for health care face masks.
"We have seen a significant surge in demand," said Venice.
Fulflex has customers around the world, including in China, Korea, Singapore, Japan and Brazil.
"A significant portion of our product stays right here in the United States," said Venice. In fact, Fulflex is the largest supplier of elastic product to 3M.
"And a lot of our customers in other segments, such as underwear and swimwear, are converting their lines over to making masks," said Venice. "These are customers you would not have even thought would be getting into making masks."
Despite the increased demand, he said, the entire team at Fulflex is stepping up to meet the challenge.
"We would have preferred to not have the increased demand for this reason, but we are extremely proud of what we are doing," said Venice. "We are a company with 110 employees right here in Brattleboro feeding the world supply of elastic for these important products."
Fulflex has also donated elastic to people in the region who are making homemade masks, said Venice.
Because of the increased demand, Fulflex is expanding production hours and is hiring people, both through direct hiring and with the help of employment agencies.
"Because other companies in the area have shut down, we are able to bring some of those employees on board here," said Venice. "Our plan is to keep these employees if they elect to stay."
Venice said Fulflex's customers have indicated the coronavirus could affect mask supply for up to two years, and these companies are also ramping up manufacturing.
"No one knows for sure the duration of the virus, and worldwide, governments will not be caught short of supplies in the future," he said.
Venice also said that Fulflex has taken extra measures to make sure its employees stay healthy, such as enforcing the 6-foot rule and increasing the amount of cleaning and disinfecting of work areas.
Until 2018, Fulflex was owned by Rhode Island-based The Moore Company, a family-run business that was founded in 1909.
In 2018, Fulflex was sold to Garware Bestretch Limited, a global manufacturer of latex and latex-free elastic rubber products with headquarters in India.
Venice said the transition to new ownership was smooth because Fulflex already had a working relationship with Garware.
"We had been working with them in a joint venture since 2005," he said.
According to an advisory posted to the Garware website, the company is monitoring its supply chain, with raw materials coming from Southeast Asia, Korea, Taiwan, Russia and within the United States.
"At this point, for some raw materials we are experiencing a 1-2 week delay based on shipment delays," notes the advisory, which also states Garware has secured raw materials for the next two months. However, the advisory noted, the company is experiencing delays in securing shipment containers.
"There are also delays in booking vessels for shipments," states the advisory. "Air freight is experiencing delays as well as many airlines cancel or curtail service to many regions of the world."
Despite the shipping delays, Fulflex in Brattleboro continues to meet the increased demand.
"We are small, but mighty and playing an incredibly important role in this fight against the spread of the coronavirus," wrote Ransom in his email to the Reformer.
Bob Audette can be contacted at raudette@reformer.com.
Contact Information
Email:
pat.curtin@garware.com
URL:
https://www.fulflex.com
Phone:
4235022577
Company:
Fulflex, A Garflex Inc. Company