TENCEL®ePower – the innovative sustainable solution for EDLC applications

The botanic fiber TENCEL® enhances the performance of electrical separators in advanced demanding electrical applications. The latest TENCEL® innovation – TENCEL®ePower – will revolutionize the double-layer capacitor industry.
The fourth European Advanced Automotive Battery Conference (AABC) held in Strasbourg/France from June 24-28, 2013 will examine the advanced battery market with a focus on the activities and needs of European automakers. For the first time, the Lenzing group will exhibit at AABC presenting innovative solutions in the fields of energy storage, power and substrate density.
As Lenzing fibers are made from wood, they are naturally absorbent and pure. These properties make them ideally suited for numerous nonwoven applications including technical end-uses. During its appearance in Strasbourg, Lenzing will focus on the botanic fiber TENCEL® enhancing the performance of electrical separators in advanced electrical applications. Most high-capacity energy storage devices contain separators with the main purpose of optimizing ion transport. Refined TENCEL® supports this task. The micro-fibrillar structure prevents short circuits and failures whilst improving capacity and performance in advanced technical applications.
In addition, Lenzing will present the latest innovation TENCEL®ePower which is the sustainable solution targeted at the new energy market for use in electrodes in high performance capacitors. The technology behind is based on a combination of TENCEL® fibers from Lenzing and the proprietary technology of Nanocarbons LLC, Fort Lauderdale (Florida, USA). A new pilot line for activated carbon for electric double-layer capacitors (EDLC) derived from high purity TENCEL® has been built and is sampling for pre-market development. Exceptionally high capacitance values are obtained from a unique tailored structure based upon TENCEL®. The superior purity of TENCEL®ePower is the basis for enhanced stability and operating life of EDLC cells.
"With the name TENCEL®ePower we aim to capture both the electric and ecologic components of this latest innovation", comments Chris Potter, Sales Director Nonwoven Fibers Technical Applications. "After extensive development our new pilot line for activated carbon is operational. We believe that TENCEL®ePower will accelerate the development of high performance capacitors increasingly used in electric and hybrid vehicles which are key to the successful transport systems of tomorrow."
Wolfgang Plasser, Vice President and General Manager Business Unit Nonwoven Fibers, adds: "Lenzing is proud to announce a further innovative TENCEL® development. The technical segment is particularly important to us. Our innovation focus is on future-oriented technologies, and we are continually striving to expand our product portfolio in this direction."
The Lenzing team looks forward to your visit at booth no. 26.
Business Unit Nonwoven Fibers is part of the Lenzing Group
The Lenzing Group
The Lenzing Group is a world market leader with headquarters in Austria, production sites in all major markets as well as a worldwide network of sales and marketing offices. Lenzing supplies the global textile and nonwovens industry with high-quality man-made cellulose fibers and is the leading supplier in many business-to-business markets. The portfolio ranges from dissolving pulp, standard and specialty cellulose fibers to engineering services.
Lenzing quality and innovative strength set global standards for man-made cellulose fibers. With 75 years of experience in fiber production, the Lenzing Group is the only company worldwide combining the manufacturing of all three man-made cellulose fiber generations on a large industrial scale under one roof – from the classic viscose to modal and lyocell (TENCEL®) fibers. The success of the Lenzing Group is based on a unique combination of consistent customer orientation together with its leadership in innovation, technology and quality. Our successful specialization strategy and an outstanding cost position are the basis for our economic strength.
Lenzing is committed to the principle of sustainable management and very high environmental standards.
Lenzing's core business fibers is complemented by our activities in the business fields engineering.
Key Figures Lenzing Group 2012:
Sales: EUR 2.09 bn Export share: 91.1% Fiber sales volumes: 810,000 tons Staff: 7,033
NanoCarbons LLC, Fort Lauderdale (Florida, USA)
NanoCarbons LLC was formed in 2005 to fund materials development and patent applications covering scientific discoveries concerning double layer capacitance. These suggested means to produce significantly better carbons for double layer capacitor energy storage. The company completed materials development research in 2009, and manufacturing engineering studies in 2011. It now holds basic patents related to these materials issued in the US, Europe, Japan, China, Russia, and India.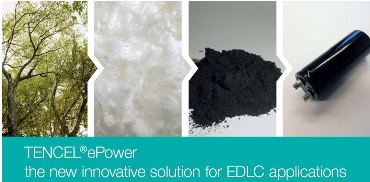 Contact Information
Email:
an.durz@lenzing.com
URL:
http://www.lenzing.com
Phone:
Angelika Durz Global Marketing Communications Business Unit Nonwoven Fibers Telefon: +43 (0) 7672 701-3342
Company:
Lenzing