What's Next for the Textiles Sector?

By: Seshadri Ramkumar, Professor, Texas Tech University, USA
(Lubbock, USA, April 19, 2023)—Textile sector is not immune to the global uncertainties and the predicted slow global economic growth.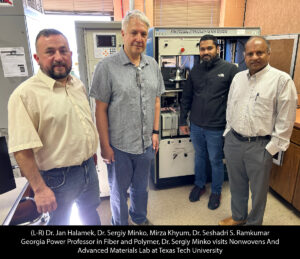 The recent report by IMF titles the economy to have a "Rocky Recovery," with the global growth pegged at 2.8% this year and expected to grow at 3% in 2024. Textile products are dependent on consumer buying power and their interest and hence the industry must watch the economy while working on fashion products for the next year. As EU zone is an important importer of commodity and fashion products from India, Bangladesh, and Vietnam, the forecast that this year, the economies of EU and the United Kingdom will slow down before rebounding to about 2% in 2024 is not a positive news for the textile sector.
The current tight economic and political situation is providing an opportunity for the textile sector to assess its landscape and strategize plans for its future. The industry needs to work on applicable aspects of sustainability and look for opportunities beyond its comfort zone. These aspects were clear in my discussion with Professor Sergiy Minko, Georgia Power Professor in Fiber and Polymer Science at University of Georgia, USA.
Professor Minko, who originally hails from Lviv in Ukraine, visited Texas Tech University recently to deliver a seminar and initiate collaborations is well suited to analyze the global situation and its impact on the textiles sector. He insisted that the industry should investigate sustainability with a 360-degree approach. "Not only sustainable materials are needed, but the sector also needs to look into sustainable dyeing and finishing," stated Professor Minko. As nations are investing in funding for economic revival, where R & D investments play their role, the textile industry should seize this opportunity. Professor Minko agrees that investments in research by governments are needed to boost the textiles and soft materials industry.
Textiles have a vital role to play in health care and environment segments, and the industry should focus on these areas, added Professor Minko. It is timely that the industry pushes more into risk taking approach and build the "Start-up Ecosystem." "Research in companies is expensive, and so start-ups, can serve as a bridge between academic laboratories and the industry," stated Minko. When proof of concept is established by start-ups, major companies will be willing to buy the start-ups creating opportunities for high paying jobs and liquidity for SMEs to invest in research and new products, added Sergiy Minko.
Agreeing that society must initially pay more for sustainable products, eventually it is worth as we will leave a sustainable world for our future, opined Professor Minko.
The textiles sector should focus on cost-effective sustainable approaches, better outreach and engagement with the consumers and focus on products that save lives and protect the environment.