New Report Forecasts Excellent Worldwide Outlook for Nonwovens through 2020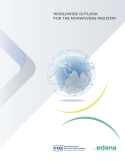 INDA and EDANA Release Triennial Research 
Cary, NC & Brussels, Belgium – Dec. 9, 2015 – A new report published by the two leading global trade associations forecasts strong market demand for nonwovens materials through the next five years, according to the Worldwide Outlook for the Nonwovens Industry, 2014-2020.
The fifth edition of the report is now available for purchase from both INDA, the Association of the Nonwoven Fabrics Industry, and EDANA, the International Association Serving the Nonwovens and Related Industries.
Among the highlights of the report:
Production is forecast to increase 5.7 percent annually through to 2020
China will lead the growth in production, adding an additional 1.2 million tons from the end of 2014 through to 2020, representing a 7 percent annual growth rate
Across the nonwoven technology methods, drylaid/carded hydroentangled production will expand at the fastest rate, adding 7.6 percent annually
"The worldwide nonwovens industry's prospects are excellent and it remains an exciting industry in which to be involved," said the report's co-authors Jacques Prigneaux, Market Analysis and Economic Affairs Director at EDANA and Brad Kalil, Director of Market Research and Statistics at INDA.
This comprehensive new report provides in-depth information and analysis of global nonwoven macro drivers; supply and demand forecasts and statistics; and regional trade analysis; among other topics.
The report includes detailed regional information and forecasts on production, technology and investment requirements for North America, Greater Europe, Asia and South America. The report further features regional views of economic growth, population, production by end use, and trade flows. Other key topics include energy and raw material usage.
"As strategic partners, INDA and EDANA are committed to promoting the sustained growth of the nonwovens industry. This report provides the industry's best estimates on future demand by the key nonwoven segments predicated on sound macro-economic analysis," said INDA President Dave Rousse. "The Worldwide Outlook report is an essential planning resource for all those involved in global strategic planning for nonwovens across the supply chain."
"We recognise the requirement for companies to be able to rely on valid forward-looking data and our priority has been to provide our member companies, and the broader industry with a sound resource that meets their needs to understand and anticipate trends, thereby supporting their day-to-day business decisions and future investments" said EDANA General Manager Pierre Wiertz. "Together, EDANA and INDA are working to provide the industry with resources that contribute to the long-term growth and success of the nonwovens and related industries."
The report is available for purchase now and delivery starting on December 17, 2015. For more information or to purchase, contact:
###
About EDANA
EDANA serves more than 235 companies across 31 countries in the nonwovens and related industries, helping its members to design their future. The Association's mission is to create the foundation for sustainable growth of the nonwovens and related industries through active promotion, education and dialogue. Information about upcoming events can be found at www.edana.org
About INDA
INDA, the Association of the Nonwoven Fabrics Industry, serves hundreds of member companies in the nonwovens/engineered fabrics industry in global commerce. Since 1968, INDA events have helped members connect, learn, innovate, and develop their businesses. INDA educational courses, market data, test methods, consultancy, and issue advocacy help members succeed by providing them the information they need to better plan and execute their business strategies. For more information, visit www.inda.org, or download the INDA mobile app for immediate updates.