Outlook™ Plus América Latina 2017 Anuncia Programa Final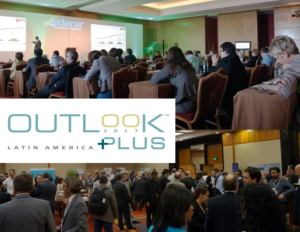 Encontro dos Palestrantes Especialistas nas Indústrias de Não-Tecidos, Cuidados Pessoais e Médica  São Paulo, Brasil, 7 a 9 de março
Cary, Carolina do Norte, EUA e Bruxelas, Bélgica – 1 de fevereiro de 2017 – As duas associações de comércio global de não-tecidos, a EDANA e a INDA, anunciam a postagem conjunta do programa final do OUTLOOK™ Plus América Latina 2017 em suas respectivas páginas.
A segunda edição de uma conferência de networking e exibição exclusiva de três dias examinará os últimos desenvolvimentos latino-americanos nas indústrias de cuidados pessoais em não-tecidos, higiene absorvente e produtos médicos não-tecidos.
Os primeiros dois dias da conferência e da exibição dos displays de mesa, 7 e 8 de  março, oferecem uma visão geral econômica dos mercados de não-tecidos latino-americanos, dos mercados e tecnologias de higiene absorvente e dos mercados de higiene descartável. O terceiro dia, 9 de março, coroa o evento com enfoque no crescente mercado latino-americano de lenço, não-tecidos em cuidados de saúde e prevenção de infecções e perspectivas em tecnologias convergentes.
O apresentador principal, Welber Barral, Ph.D., presidente da Coalizão de Indústrias do Brasil e ex-Secretário de Comércio Exterior do Brasil, conduz a conferência com uma apresentação sobre as vantagens e obstáculos à realização de negócios no Brasil e compartilha sua visão incisiva sobre o ambiente político cambiante do Brasil e seu impacto no crescimento e investimento de atratividade.
O programa inclui apresentações dos seguintes líderes globais e regionais:
J. Rosa, Retail Exec., AC Nielsen
"Private Label in Brazilian Retail Markets"
D. Guerrero, Pres., S. America – Health, Hygiene, & Spec., Div., Berry Plastics
"Latin American Nonwoven Market"
V. Radde, Sales Dir. – Latin America, Fitesa
"The Latin American Nonwovens Market Perspective"
E. Morimitsu, Research Anylst., Euromonitor International, São Paulo
"Global Absorbent Hygiene Markets & Female Consumers"
R. Jezzi, Prin., A.D. Jezzi & Associates
"Airlaid Pulp Nonwovens Technology"
P. Santos, Prod., & Quality, Klabin
"Latin American Market Fluff Pulp Innovation"
T. Arys, Vistamaxx Americas Market Dev., ExxonMobil Chemical Company
"Elastic Polymers in Hygiene Applications"
F. Rangel, R&D Ass. Dir., Johnson & Johnson Consumer Products (Brazil)
"Latin America Feminine Care"
R. Martins, Innov. & Tech., S. America & Quality, Brazil, Freudenberg Performance
"Diaper Acquisition Distribution Layer Trends"
S. Smith, Ph.D., Res. Fellow – Innov. Mgmt., Evonik Corporation
"Breaking Superabsorbent Polymer Performance Barriers"
W. Spinardi, Jr., Mng. Partner, MW Innovations Consultancy
"Latin America Trends: Sensorial & Visual Aesthetics in Feminine Pads"
A. Corrêra, New Bus. Exec., Mgr., Suzano Pulp & Paper
"Eucalyptus Fiber in Hygiene & Personal Care"
R. Godoi, Bus. Mgr. Latin America, Tredegar Film Products
"Latin America Adult Incontinence Market"
V. Jain, V.P., Tech. & Innovation, Clopay
"South American Breathable Premium Diapers"
V. Arruda, Mrktg. Mgr. – Consumer Care, Lonza, Inc.
"Global Trends: Skin Care & Evolving Facial Wipe Market"
E. Levy, Sr., VP. Convenience, Suominen
"Wipes: In the Future Latin America"
B. Heinken, Mgr. Cust. Support SAI, Schülke & Mayr GmbH
"Preservation Concepts for Wet Wipe Formulas"
V. Santos, PhD, MSN, RN, CWOCN (TiSOBEST), Assoc. Prof., School of Nursing,
Univ. of São Paulo (EE-USP)
"Nonwoven Products in Brazil Wound & Continence Care"
M. Johansson, Single Use Drapes & Gowns – Business Unit Mgr., Lifemed
"Breaking Barriers of SAP Performance"
E. Cragnolino, Owner, Compagnie De La Sante
"Mfg. Practices: Healthcare Needs & Services in a Growing Economy"
K. Beckman, Dir. of Tech. Global Hygiene, H.B. Fuller Company
"Next Generation of Adult Incontinence Consumer Needs & Solutions"
"Esta segunda edição da conferência OUTLOOK™ Plus América Latina destaca as oportunidades e potencial para crescimento em toda a indústria de não-tecidos latino-americana, especialmente em relação aos cuidados pessoais, à higiene e  à indústria de produtos médicos. Ao organizar esta conferência, estamos ansiosos para destacar não só o potencial, mas também a capacidade de resistência dos mercados latino-americanos de não-tecidos, que destaca as oportunidades para além do Brasil, o líder regional tradicional do mercado, na direção da rede de fornecimento de não-tecidos mais ampla," disse Pierre Wiertz, gerente geral da EDANA.
"Este é um evento de comparecimento obrigatório para qualquer um envolvido no mercado crescente de higiene e produtos de higiene pessoal na América Latina," disse Dave Rousse, Presidente da INDA. "Com base no sucesso do nosso evente de 2015, nessa reunião de profissionais da indústria serão discutidos elementos-chave de sucesso nesses mercados."
Para informações completas sobre o programa, incluindo destaques da apresentação, registros da conferência e para o hotel, acesse: www.inda.org e www.edana.org.
###
Sobre a EDANA
A EDANA serve a mais de 240 empresas em 36 países nas indústrias de não-tecidos conexas, ajudando seus membros a projetar seu futuro. A missão da associação é criar as bases para um crescimento sustentável das indústrias relacionadas através da promoção ativa, da educação e do diálogo. Informações sobre serviços e eventos futuros podem ser encontradas em www.edana.org
Sobre a INDA
INDA, a Associação da Indústria de Não-Tecidos em Tela, serve a centenas de empresas-membro na indústria de não-tecidos/telas projetadas no comércio global. Desde 1968, eventos da INDA ajudaram seus membros a se conectar, aprender, inovar e desenvolver seus negócios. Cursos de formação de INDA, dados de mercado, métodos de ensaio, consultoria e representação de questões ajudam os Membros a obter sucesso, fornecendo-lhes as informações de que eles precisam para melhor planejar e executar suas estratégias de negócios. Para obter maiores informações, visite inda.org ou ligue para 919-459-3700.
###
Para obter maiores informações, favor entrar em contato com:
Joan Izzo, diretor de Marketing
INDA
telefone: +1 919 459 3717
E-mail: jizzo@inda.org
Delphine Rens, Gerente de Marketing e Eventos
EDANA
Telefone: +32 2 740 18 22
E-mail: delphine.rens@edana.org