Outlook™ Plus Latin America 2017 Announces Final Program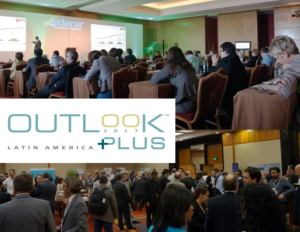 Nonwoven, Personal Care, and Medical Industry Expert Speakers Convene  São Paulo, Brazil, March 7-9
Cary, North Carolina, USA and Brussels, Belgium – Feb. 1, 2017 – The two global nonwoven trade associations, EDANA and INDA, announce the joint posting of the final OUTLOOK ™ Plus Latin America 2017 program to their respective websites.
The second edition of a unique three-day networking conference and exhibition will examine the latest Latin American developments in the nonwoven personal care, absorbent hygiene, and nonwoven medical products industry.
The first two days of the conference and tabletop display exhibition, March 7-8, offer an economic overview of the Latin American nonwoven markets, the absorbent hygiene markets and technologies, and disposable hygiene markets. The third day, March 9, caps the event with a focus on the growing Latin American wipes market, nonwovens in healthcare and infection prevention, and perspectives in converting technologies.
Keynote presenter, Welber Barral, Ph.D., Chairman of the Brazil Industries Coalition and former Brazilian Secretary of Foreign Trade, leads the conference with a presentation on the advantages and barriers to conducting business in Brazil and shares his incisive view on Brazil's changing political environment and its impact on growth and investment attractiveness.
The program includes presentations from the following global and regional leaders:
J. Rosa, Retail Exec., AC Nielsen
"Private Label in Brazilian Retail Markets"
D. Guerrero, Pres., S. America – Health, Hygiene, & Spec., Div., Berry Plastics
"Latin American Nonwoven Market"
V. Radde, Sales Dir. – Latin America, Fitesa
"The Latin American Nonwovens Market Perspective"
E. Morimitsu, Research Anylst., Euromonitor International, São Paulo
"Global Absorbent Hygiene Markets & Female Consumers"
R. Jezzi, Prin., A.D. Jezzi & Associates
"Airlaid Pulp Nonwovens Technology"
P. Santos, Prod., & Quality, Klabin
"Latin American Market Fluff Pulp Innovation"
T. Arys, Vistamaxx Americas Market Dev., ExxonMobil Chemical Company
"Elastic Polymers in Hygiene Applications"
F. Rangel, R&D Ass. Dir., Johnson & Johnson Consumer Products (Brazil)
"Latin America Feminine Care"
R. Martins, Innov. & Tech., S. America & Quality, Brazil, Freudenberg Performance
"Diaper Acquisition Distribution Layer Trends"
S. Smith, Ph.D., Res. Fellow – Innov. Mgmt., Evonik Corporation
"Breaking Superabsorbent Polymer Performance Barriers"
W. Spinardi, Jr., Mng. Partner, MW Innovations Consultancy
"Latin America Trends: Sensorial & Visual Aesthetics in Feminine Pads"
A. Corrêra, New Bus. Exec., Mgr., Suzano Pulp & Paper
"Eucalyptus Fiber in Hygiene & Personal Care"
R. Godoi, Bus. Mgr. Latin America, Tredegar Film Products
"Latin America Adult Incontinence Market"
V. Jain, V.P., Tech. & Innovation, Clopay
"South American Breathable Premium Diapers"
V. Arruda, Mrktg. Mgr. – Consumer Care, Lonza, Inc.
"Global Trends: Skin Care & Evolving Facial Wipe Market"
E. Levy, Sr., VP. Convenience, Suominen
"Wipes: In the Future Latin America"
B. Heinken, Mgr. Cust. Support SAI, Schülke & Mayr GmbH
"Preservation Concepts for Wet Wipe Formulas"
V. Santos, PhD, MSN, RN, CWOCN (TiSOBEST), Assoc. Prof., School of Nursing,
Univ. of São Paulo (EE-USP)
"Nonwoven Products in Brazil Wound & Continence Care"
M. Johansson, Single Use Drapes & Gowns – Business Unit Mgr., Lifemed
"Breaking Barriers of SAP Performance"
E. Cragnolino, Owner, Compagnie De La Sante
"Mfg. Practices: Healthcare Needs & Services in a Growing Economy"
K. Beckman, Dir. of Tech. Global Hygiene, H.B. Fuller Company
"Next Generation of Adult Incontinence Consumer Needs & Solutions"
"This second edition of the OUTLOOK™ Plus Latin America conference highlights the opportunities and potential for growth across the Latin American nonwovens industry, particularly for the personal care, hygiene and medical products industries. In organising this conference, we are keen to highlight not just the potential but also the resilience of the Latin American nonwovens markets, which highlight the opportunities beyond Brazil, the traditional market regional leader, and into the broader nonwovens supply chain," said Pierre Wiertz, General Manager of EDANA.
"This is a must-attend event for anyone involved in the growing market for hygiene and personal care products in Latin America," said Dave Rousse, INDA President. "Building on our successful 2015 event, this gathering of industry professionals will discuss key elements for success in these markets."
For full program information including presentation highlights, conference and hotel registrations, visit: www.inda.org and www.edana.org.
###
About EDANA
EDANA serves more than 240 companies across 36 countries in the nonwovens and related industries, helping its members to design their future. The Association's mission is to create the foundation for sustainable growth of the nonwovens and related industries through active promotion, education and dialogue. Information about services and upcoming events can be found at www.edana.org.
About INDA
INDA, the Association of the Nonwoven Fabrics Industry, serves hundreds of member companies in the nonwovens/engineered fabrics industry in global commerce. Since 1968, INDA events have helped members connect, learn, innovate, and develop their businesses. INDA educational courses, market data, test methods, consultancy, and issue advocacy help members succeed by providing them the information they need to better plan and execute their business strategies. For more information, visit inda.org or call 919-459-3700.
###
For further information, please contact:
Joan Izzo, Marketing Director
INDA
Telephone: +1 919 459 3717
Email: jizzo@inda.org
Delphine Rens, Marketing & Events Manager
EDANA
Telephone: +32 2 740 18 22
E-mail: delphine.rens@edana.org