OUTLOOK™ PLUS LATIN AMERICA 2019 KEEPS ITS MOMENTUM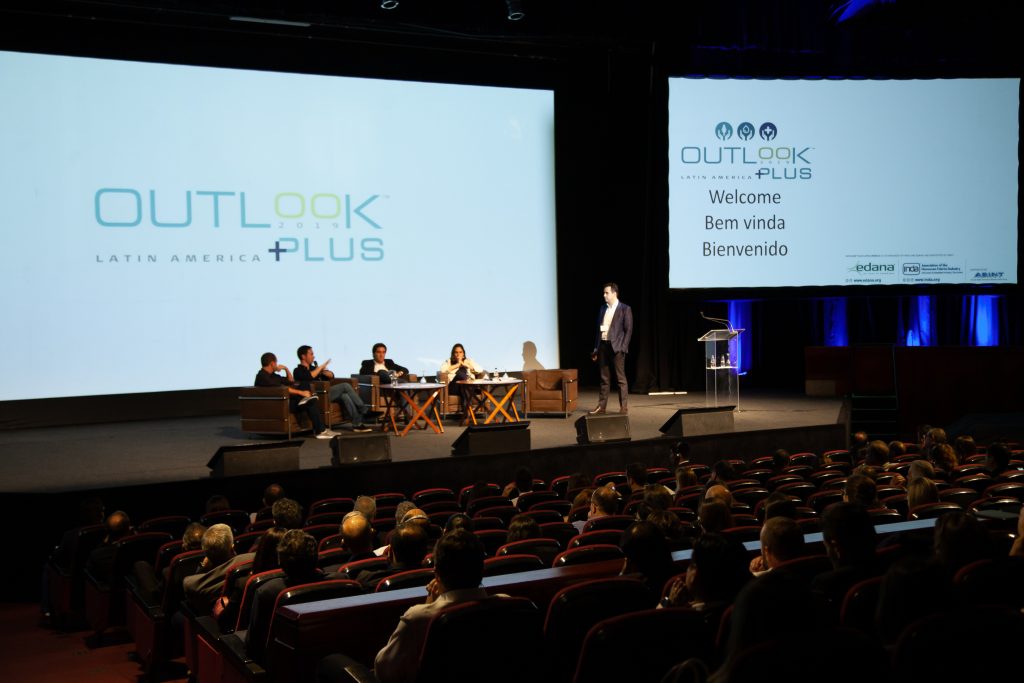 215+ participants continue enthusiasm for the only Latin American event dedicated to the nonwoven personal care industry: Economics, consumer needs, and incontinence among highlights
São Paulo, Brazil, May 15, 2019 – The two global nonwoven trade associations, EDANA and INDA, supported by ABINT, the Brazilian Association of Nonwoven Industries, closed the third edition of The OUTLOOK™ Plus Latin America conference in São Paulo, Brazil, thanking over 215 business professionals for their continued support and encouragement.
Opening the conference, keynote presenter Walter Barral, Ph.D., outlined the challenges and opportunities in the political and economic environment within Brazil and the Mercosur Region.
Key drivers for these opportunities are changing perspectives brought about by rapid negotiations in Free Trade Agreements and customs tariffs.
The conference focused two days on the hygiene and personal care sectors, and one day on the filtration and medical sectors. Several speakers discussed the regional opportunities in the hygiene markets and emphasized the impacts to the nonwoven market from retail trends to the current economies in both Brazil and elsewhere on the continent. Consumer demand for product innovation as well as an aging demographic were identified as the catalysts for incontinence market increases.
More than 215 participants heard 31 speakers, visited 18 company tabletop exhibits, experienced three days of organized programming, two evening receptions, and scheduled coffee breaks to connect and advance business.
"INDA and EDANA's joint vision to promote the sustainable growth of the nonwovens and related industries has again taken us together in this region, which has one of the largest growth potential, be it in personal care, healthcare or filtration. EDANA is pleased to see that the winning value proposition of OUTLOOK, a combination of market-relevant and innovative content, and excellent networking opportunities, continues to thrive," said Pierre Wiertz, General Manager of EDANA.
"INDA is pleased to once again join with EDANA and ABINT to develop a meaningful event for the major nonwoven sectors growing in this important region. Many of this year's presenters were from Brazil and spoke their native language to the largely Brazilian audience. This is a positive development we hope to continue to nurture as we go forward." said Dave Rousse, President of INDA.
"OUTLOOK™ Plus Latin America 2019 brought again to Sao Paulo a very good mix of presentations, many of which came from local companies or Brazilian representatives of international players and we were delighted to support EDANA and INDA with the recruitment and selection process of speakers." said Carlos Benatto, President of ABINT.
"It was interesting for me to attend with our colleague based in Mexico City, and to learn about the Latin American market. The potential of the Brazilian market and how important it is for our company was impressive, said Janet O'Regan, Director, Nonwovens Marketing, Cotton Incorporated, United States.
"It was the second time I attended the OUTLOOK Latin America conference in Brazil. It exceeded my expectations in terms of the quality of the content, and the networking during the breaks, and the tabletop exhibition. Everything was well planned and organised. All presentations converged to a more positive outlook of the market, and there was more clarity on what we as an industry need to do in Latin America to achieve our goals. There is an overall better understanding of what the consumer wants and needs. I look forward to the next edition." said Rita Cerveira, Market Developer, ExxonMobil Química (Brazil).
"It was compelling to hear about what is done in other markets and see how to prepare the markets here, for instance on sustainability and the EDANA Environmental Claim guidelines. Hearing about market data in more depth also helps for future endeavours. My take away on the Brazilian market was that customers wanted cheaper but high-quality products and there lays the challenge to strike the right balance between quality and cost while addressing our customers' needs," said Laura Judith Suárez Monterroza, Portfolio Manager, H.B. Fuller (Columbia).
Additional information about future events from the associations can be found on the INDA and EDANA websites: www.inda.org/inda-events/ and http://www.edana.org/education-events/conferences-and-symposia
###
About EDANA
EDANA serves more than 250 companies across almost 40 countries in the nonwovens and related industries, helping its members to design their future. The Association's mission is to create the foundation for sustainable growth of the nonwovens and related industries through active promotion, education and dialogue. Information about upcoming events can be found at www.edana.org
About INDA
INDA, the Association of the Nonwoven Fabrics Industry, serves hundreds of member companies in the nonwovens/engineered fabrics industry in global commerce. Since 1968, INDA events have helped members connect, learn, innovate and develop their businesses. INDA educational courses, market data, test methods, consultancy and issue advocacy help members succeed by providing them the information they need to better plan and execute their business strategies. For more information, visit www.inda.org or download the INDA mobile app for immediate updates.