Preemie Diaper and Protective Underwear Products Are Finalists for Hygienix Innovation Award™ 2017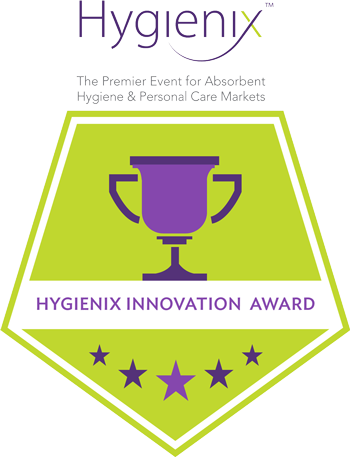 Winner to be Selected by Attendees and Awarded Nov. 9 in Austin, Texas 

Cary, NC. October 10, 2017 – Comfort is a key benefit of the three engineered material products that are finalists for the Hygienix Innovation Award 2017 that will be selected by attendees of the premier absorbent hygiene and personal care event Nov. 6-9 at the Renaissance Austin Hotel in Texas.
Vying for the prestigious prize are Advanced Absorbent Technologies' Alyne Protective Underwear, Kimberly-Clark's Huggies Little Snugglers Nano Preemie Diaper and Procter & Gamble's Pampers Swaddler Preemie Diapers.
Each uses nonwoven/engineered fabrics in a novel, technically sophisticated and uniquely creative and expansive way to make their products more comfortable for infants or adults wearing them.
Selected by technical industry experts and members of INDA who serve on the Technical Advisory Board, the voting will next move to the attendees of Hygienix 2017 who will choose their favorite after seeing the products and hearing presentations on Nov. 7.
The awards presentation will take place on Nov. 9 at 12 p.m. and the event will also feature recognition of the winners of the INDA Lifetime Technical Achievement Award and the INDA Lifetime Service Award.
Hygienix Innovation Award Finalists
The finalist products were selected from the applications submitted for their creativity, novelty of approach, uniqueness and technical sophistication. They are:
Advanced Absorbent Technologies' Alyne Protective Underwear – This new product manages fluid absorption in protective underwear differently by using multiple layers of different superabsorbent polymers (SAPs) that absorb at different rates, from quick absorption to complete absorption without bulkiness. The SAP layers are diamond quilted in a pocketed structure, sandwiched between layers of polypropylene spunbond and then ultrasonically bonded together. This design can provide stability, excellent SAP absorbency management, thinness, dryness for more comfort and discretion that provides the wearer confidence through protection.
Kimberly-Clark's Huggies Little Snugglers Nano Preemie Diaper – Designed specifically for babies weighing less than two pounds, each diaper is hand inspected to protect these fragile babies. To promote healthy growth and development, the product has gentle, specially-sized fasteners coupled with a narrow and flexible absorbent pad, providing a flexible fit so that baby can be comfortably and appropriately positioned. The soft, smooth liner and gentle leg gathers can keep baby dry without irritating fragile, underdeveloped skin.
Procter & Gamble Company's Pampers Swaddler Preemie Diapers – The smallest babies can have the proper fit, tailored features and a soft touch with these diapers specially designed for premature infants with NICU nurses around the world. The "right-sized" diapers include customizable features that enable minimal disruption to care. The new micro-preemie P-3 is a size smaller than the P-2 micro-preemie, sized to fit babies less than 800g and includes improvements to the contour fit core, absorbency, fastening and gentle flex cuff.
Last year's Hygienix Innovation Award was presented to Sustainable Health Enterprises (SHE) for their Go! Pads, a banana fiber-based, low-cost feminine pad that sustainably delivers affordable hygiene for women and girls in Rwanda.
INDA Award Presentations
Another event highlight will be the presentation of two INDA awards. The Lifetime Technical Achievement Award will be presented Tues., Nov. 7, to an INDA Member who has been in the industry for 20 years and significantly contributed to the technical advancement, commercial success or growth of the industry through technical training of groups and individuals or authoring innovative technical publications and papers. It was presented posthumously in 2016 to nonwovens educator and consultant, Edward A. Vaughn, Ph.D.
The Lifetime Service Award will be presented Wed., Nov. 8, to an INDA Member with a long-established record of service to the association and the industry as a whole for over 20 years. Last year's recipient was Bob Dale, Vice President Capital Engineering Group, Berry Global Group, Inc.
Hygienix will provide attendees with opportunities to connect with more than 500 global business leaders shaping the industry, including many who work in technical roles. This year's event features 24 compelling presentations, two panel discussions and more than 15 hours of scheduled face-to-face informal breakfasts, coffee breaks and receptions, as well as tabletop displays. For registration and additional information, visit:  www.inda.org/events/hygienix17.
About INDA
INDA, the Association of the Nonwoven Fabrics Industry, serves hundreds of member companies in the nonwovens/engineered fabrics industry in global commerce. Since 1968, INDA events have helped members connect, learn, innovate, and develop their businesses. INDA educational courses, market data, test methods, consultancy, and issue advocacy help members succeed by providing them the information they need to better plan and execute their business strategies. For more information, visit www.inda.org, or download the INDA mobile app for immediate updates.
###