Registration for HYGIENIX Shows Industry's Strong and Enthusiastic Response to New Combined Event for Absorbent Hygiene and Personal Care Markets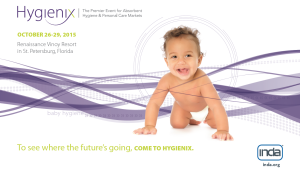 Cary, NC – Oct. 14, 2015 – The industry is giving HYGIENIX strong and enthusiastic support based on advance registrations for the debut of the new combined event for the absorbent hygiene and personal care markets.
More than 530 professionals from around the globe and across the entire supply chain  have already signed up for the conference, Oct. 26-29, at the Vinoy Renaissance Resort in St. Petersburg, Fla. Registration is still open. For details, see www.inda.org/events/hygienix15.
"Advance registrations and member feedback shows the industry is excited about HYGIENIX and won't be missing its launch," said Dave Rousse, INDA President. "It's not too late to make plans to be in Florida for this new international conference offering the best in compelling content, the strongest collection in one place of business connections and a spectacular venue."
The HYGIENIX conference program features some of the world's most notable thought leaders from organizations that are revolutionizing the absorbent hygiene and personal care industry who will speak on Trends and Market Statistics, Incontinence Reimagined,   Achieving Thin, Fit & Form, and Material & Technology Advancements.
Keynote presentations include Spherical SAP by Jim Robinson, Manager of Technical Service, Hygiene Business, BASF Corporation; Fluffless Cores: The Way Forward, Werner van Ingelgem, Innovation and Procurement Director, Drylock Technologies NV; The Pulp Industry's Response to Fluffless Cores, David Allan, Editor, Nonwovens Markets, RISI, Inc.; Innovations, Dignity and Standards, Mark S. Nedvin, Vice President, Marketing, Home Delivery Incontinence Supplies; and A New Category Meets Unmet Needs, Kelly Lewis Brezoczky, Founder & CEO, Butterfly Health, Inc.
The program also includes an additional workshop on The Americas and the European Diaper Market, led by Carlos Richer, CEO/Director, Richer Investment S.A. de C.V., an expert in the field of manufacturing disposable absorbent products.
Other HYGIENIX highlights are: Monday night Welcome Reception at the Museum of Fine Arts; Tuesday and Wednesday Tabletop Displays & Reception; Wednesday evening Dining with Industry Thought Leaders, and Thursday Visionary Award Announcement, and many other social and networking opportunities with many private spaces for discussions.
About INDA
INDA, the Association of the Nonwoven Fabrics Industry, serves hundreds of member companies in the nonwovens/engineered fabrics industry in global commerce. Since 1968, INDA events have helped members connect, learn, innovate and develop their businesses. INDA educational courses, market data, test methods, consultancy and issue advocacy help members succeed by providing them the information they need to better plan and execute their business strategies. For more information, visit www.inda.org, or download the INDA mobile app for immediate updates.
###