RISE® Conference Accelerates New Thinking and New Opportunities in Nonwovens & Engineered Materials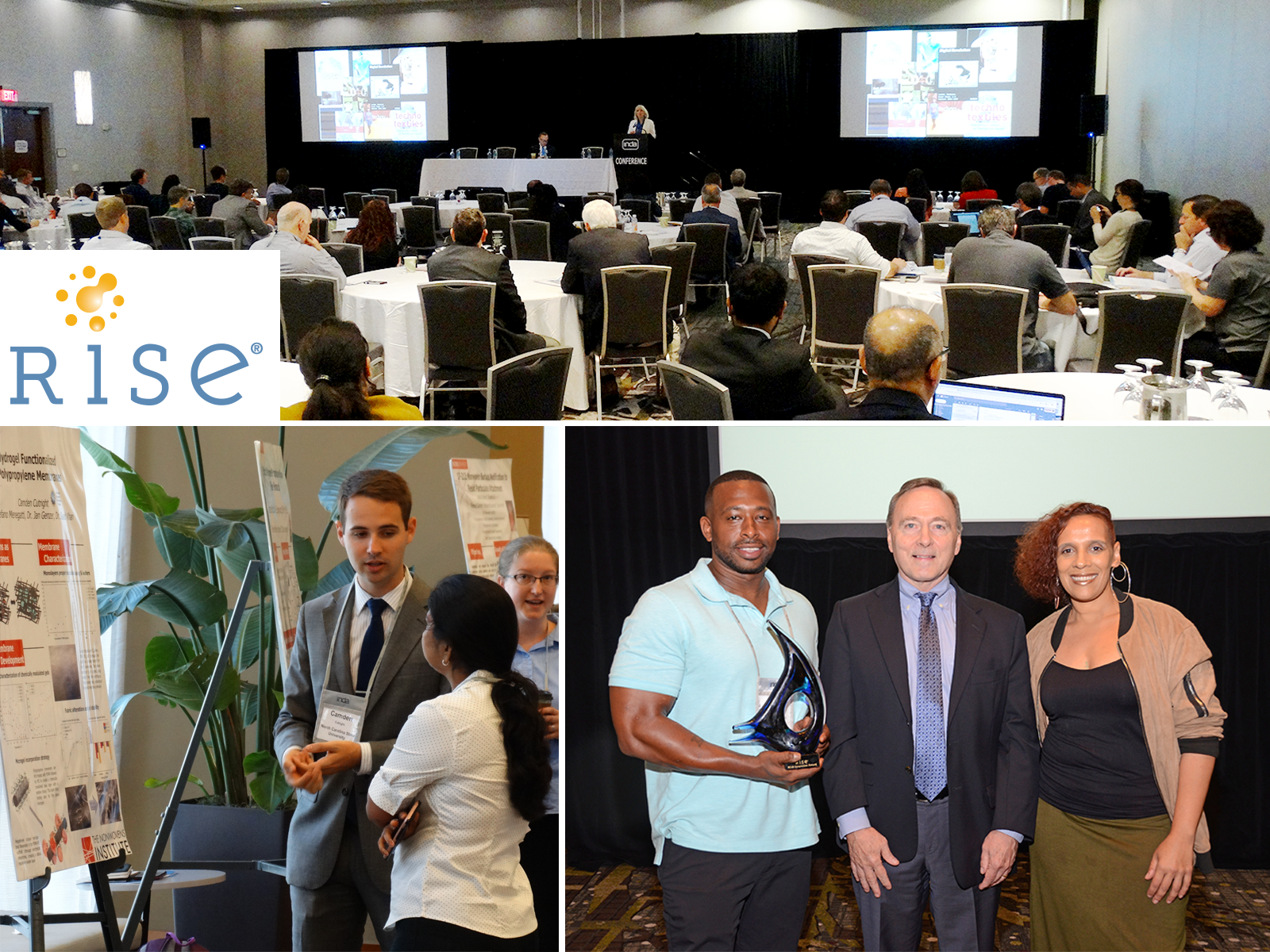 Infection Reducing DiviDiaper Wins Innovation Award
Cary, NC —­ Sept. 20, 2018 – Technology scouts and product developers attending INDA's eighth edition Research, Innovation & Science for Engineered Fabrics (RISE®) Conference gave high praise to new technologies, new ideas and valuable connections discovered at the event held Sept. 11-12 in Raleigh, North Carolina.
The program included presentations on Bio-innovation in Nonwovens, Market Dynamics and Trends, E-textiles and Standards, Medical Nonwoven Developments, Web Formation and Technologies, Material Science Developments and Microfibers in the Marine Environment.
"RISE is a valuable eye-opener for new applications and market segments.  It makes the neurons make new connections," said Paul Latten, Director, R&D, SENW Southwest Nonwovens Inc.
Antonietta Splendiani, Ph.D., Product Development Advisor, Tredegar Corporation said RISE "is an excellent source for new designs and new ideas.  It offers scientists inspiration for new technologies that apply beyond nonwoven markets."
Highlights of the event included keynote presentations on Biomimicry and Nonwovens: Taking Great Ideas from Nature and Making Them a Commercial Reality by Marie O'Mahony, Consultant, O'Mahony Consultancy, and The U.S. Economic Outlook, by Mark Vitner, Managing Director and Senior Economist, Wells Fargo.
"The presentations on biomimicry provided concepts we will definitely consider in LOLA's new processes," said Monica Belisito, Brand and Product Strategy Lead, LOLA.
Other highlights included a poster exhibition of 15 research projects from Ph.D. students at North Carolina State University's College of Textiles. The display presented a diversity of topics ranging from Process-Structure-Property Relationships of Melt-Blown PVDF for Battery Separators …to Superhydrophilic and Superoleophobic Materials for Oil/Water Separation… and Counteracting Antimicrobial Resistance with Photoactive Polymers, among others.
Billy McFarland, Sr. Material Developer, and other colleagues from Nike Inc., commented they "enjoyed the diversity of new technical ideas presented at RISE".
RISE® Innovation Award Presentation
The RISE® Innovation Award was presented to DiviDiaper for its innovative design helping to prevent and reduce both infant and incontinence-associated dermatitis in adults, urinary tract infections, catheter-associated urinary tract infections and other infections and pressure sores. "We are delighted to win the Award," said Tivon Jeffers, Inventor & CEO, DiviDiaper, Inc.
The next and ninth edition of the Research, Innovation & Science for Engineered Fabrics (RISE®) conference will be in September 2019.
About INDA
INDA, the Association of the Nonwoven Fabrics Industry serves hundreds of member companies in the nonwovens/engineered fabrics industry in global commerce. Since 1968, INDA events have helped members connect, learn, innovate and develop their businesses. INDA educational courses, market data, test methods, consultancy and issues advocacy help members succeed by providing them the information they need to better plan and execute their business strategies. For more information, visit www.inda.org or download the INDA mobile app for immediate updates. @INDANonwovens
###