RISE Conference Inspires New Thinking about Engineered Fabrics
INDA Event in New Orleans Demonstrates Innovative Future for Industry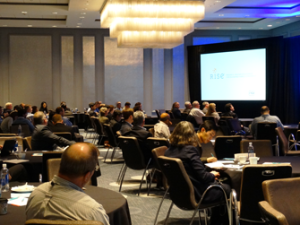 Cary, NC – Feb. 3, 2016 – Technology scouts attending INDA's Research, Innovation & Science for Engineered Fabrics (RISE®) left inspired by the valuable connections, solutions and new ideas they discovered at the recently concluded conference.
The Jan. 25-28 event at the Le Meridien Hotel in New Orleans drew 100-plus technical professionals to network and learn from industry experts, scientists and R&D specialists on leading-edge topics with the potential to change the future of nonwovens and engineered fabrics.
"RISE is unlike any other event in our industry with its focus on 'what's next,'" said INDA President Dave Rousse. "In that way it is an eye-opener and gets people to think about applications and possibilities for the future they perhaps never imagined had they not attended."
Jim Robinson, Technical Services Manager of BASF Hygiene Products said he came to RISE expecting a more traditional conference with a list of people he wanted to meet and valuable sessions to attend.
"What I didn't expect was the fact that, over the two-and-a-half days of the conference, I would find solutions that I could apply to at least four current projects, each with different technical and market needs, and that the unplanned contacts would turn out to be so valuable to making progress on these projects in a timely fashion," Robinson said.
Tony Wu, Senior Scientist at Owens Corning Science & Technology Center praised RISE as "a good platform for nonwoven technical exchange and learning on industrial trends."
Topics that got attendees thinking differently included such concepts as rebuilding fibers and fabrics using revolutionary self-healing bio-formation structures; making lighter weight, economic and sustainable nonwovens from eucalyptus and milkweed materials; and recycling carbon fibers in the auto industry, among others.
RISE Durable Product Award Presented
The prestigious RISE® Durable Product Award was presented to Suominen for Fibrella™ Lite, a nonwoven product for absorbent hygiene products.  RISE attendees selected Fibrella Lite over finalists Groz-Beckert's Gebecon Needle and ITW Dynatec's Ultra SCS.
"Suominen is honored to receive the prestigious RISE Award for Fibrella® Lite, a lightweight nonwoven spunlaced product which offers softness, strength and high elongation made with 100 percent thermoplastic fibers," said Lynda A. Kelly, Senior Vice President, Care Business. "We thank INDA, the RISE committee and attendees of RISE for this recognition."
INDA also announced the next RISE conference – the seventh edition – will be held Jan. 23-26, 2017 at the Sugar Land Marriott Town Square in Sugar Land, Texas, near Houston.
About INDA
INDA, the Association of the Nonwoven Fabrics Industry, serves hundreds of member companies in the nonwovens/engineered fabrics industry in global commerce. Since 1968, INDA events have helped members connect, learn, innovate and develop their businesses. INDA educational courses, market data, test methods, consultancy and issue advocacy help members succeed by providing them the information they need to better plan and execute their business strategies. For more information, visit www.inda.org, or download the INDA mobile app for immediate updates.
###