RISE® Conference Presents "What's Next" in Sustainability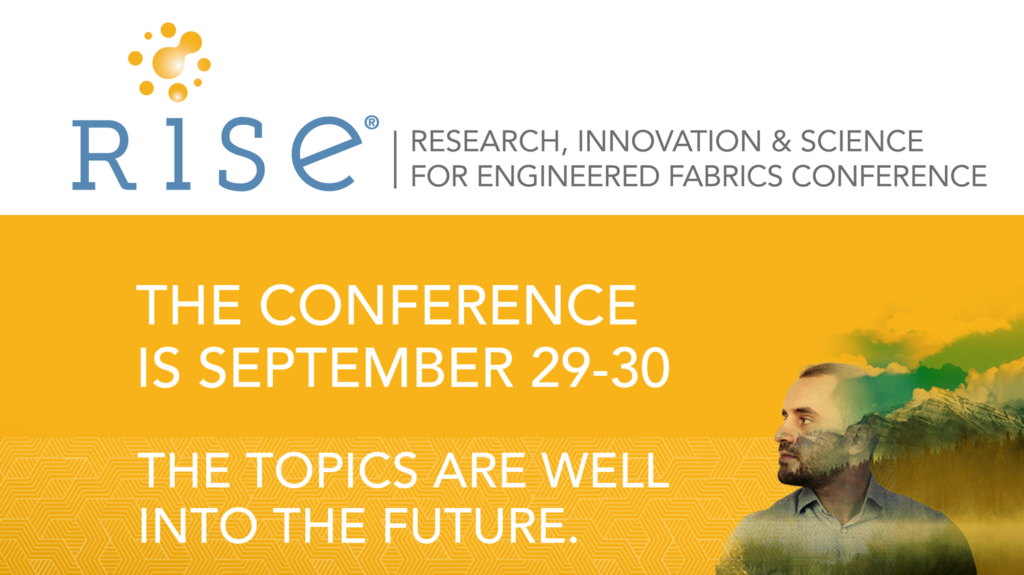 The Development Event for New Technologies and Opportunities Sept. 29-30
Cary, NC, June 24, 2020 – INDA, the Association of the Nonwoven Fabrics Industry, has announced that registration is now open for the 10th edition of Research, Innovation & Science for Engineered Fabrics (RISE®) Conference on the RISE® website. RISE® will be held at Talley Student Union, North Carolina State University, Raleigh, NC, Sept. 29-30, and co-organized with The Nonwovens Institute (NWI) and North Carolina State University. Developed for technology scouts and product developers, this insightful two-day conference will focus on visionary technologies, future-needs and market opportunities in material science, forward-looking research in sustainability, and critical shifts in nonwovens growth.
Highlights include: sustainability developments in polymers, fibers, additives, and fabrics from sourcing and disposal to reuse amid trends that are driving nonwoven advances.
A sampling of speaker presentations include:
Development & Use of a Biopolymer for Disposable Hygiene Products
Bryan Haynes, Ph.D., Senior Technical Director, Global Nonwovens,
Kimberly-Clark Corporation
How Innovation & Teamwork Supported a Large-scale Response to the COVID-19 Pandemic
John Roberts, Strategic Marketing Executive – Polypropylene-Vistamaxx –Adhesion (PVA),
ExxonMobil Chemical Company
New Developments in PHA Fibers
Isao Noda, PhD, DSc, Chief Science Officer, Senior VP of Innovation,
Danimer Scientific
Sustainable Polymers and Fibers for Nonwovens: Current Status and Future Potential
Gajanan Bhat, Ph.D., Textiles, Merchandising and Interiors,
The University of Georgia
Biobased Fibers for Nonwovens: Trends and Future Outlook
Alexander Koukoulas, Ph.D., Managing Director,
A2Z Consulting, LLC
Sustainable Materials and Their Processing for the Future Nonwovens Industry
Orlando Rojas, Ph.D., Professor,
University of British Columbia
Using Biobased Superabsorbent Materials to Dramatically Increase Biobased Content of Hygiene Products
Ryan Chan, Ph.D., VP of R&D,
Tethis, Inc.
The Future of Performance Fabrics
Seth Casden, President,
Hologenix LLC
A New Performance Enhancing Additive for Nonwoven Applications
Christian Lenges, Business Development Manager, DuPont Industrial BioSciences, and Kyle Kim, Application Engineer,
DuPont
Ultra-Pure Recycling of Polypropylene and Going Beyond
John Layman, Ph.D., Section Head – Corporate R&D and Chief Technologist/Founding Inventor, PureCycle,
The Procter & Gamble Co.
Calcium Carbonate for Increased Sustainability in Nonwovens
Lee Clapp, Ph.D., Director of Market Development and Innovation – Technical Polymer Applications,
Omya Inc.
New Horizons with Eco-friendly and Flat Specialty Viscose Fiber
Helmut Lauterbach, Business Manager Textile and Nonwoven,
Kelheim Fibres GmbH
Nonwoven Materials Update
Behnam Pourdeyhimi, Ph.D., William A. Klopman Distinguished Professor, and Executive Director,
North Carolina State University, The Nonwovens Institute
Moving from "Cradle to Grave" to a Closed Biobased Economy
Steve Sikra, Vice-President and Chief of Staff,
The Alliance To End Plastic Waste
Plastics and a Socially Responsible Future
Paul Harmon, VP of Product Development & Product Marketing – HHS,
Berry Global
Sustainability: Narrowing a Wide Scope
Jessica Dahle, Product Development Scientist,
Fitesa
Driving Production Efficiency and Performance in N95 Face Masks
Robert Green, Director of Fibers & Nonwovens,
NatureWorks LLC
Sustainability from the Perspective of a Nonwoven Supplier to Disposable Personal Care Products
Thomas Broch-Nielsen, Senior Scientist, and Mette Due, R&D Manager,
Fibertex Nonwovens A/S, and Khrum Hussain, Supply Chain Director,
Unifi, Inc.
Simplifying Nonwoven Manufacturing Using the Reicofil Data Reporting System
Tristian Kretschmann, Manager for R&D Projects,
Reifenhauser REICOFIL GmbH & Co. KG
Picking Up the Pieces: The World After COVID
Jon Devine, Senior Economist,
Cotton Incorporated
The State of the North American Nonwoven's Market and Its Response to COVID-19
Brad Kalil, Director of Market Intelligence and Economic Insights,
INDA
RISE® Innovation Award
Nominations are now being accepted online for the RISE® Innovation Award that recognizes innovation in areas within and on the periphery of the nonwovens industry that use advanced science and engineering principles to develop unique or intricate solutions to problems and advance the use of nonwovens. The finalists will be announced in September and conference attendees will have a vote in selecting the winner that will be announced at RISE® 2020.
In 2019, the RISE® Innovation Award was presented to Surfaceskins, from Nonwovens Innovation & Research Institute for its innovative antibacterial door push pads and pull handles, engineered to kill germs and bacteria in between one user and the next, thus helping prevent the spread of healthcare associated infections.
For complete program information and the latest speaker additions, visit the RISE® 2020 website. Hotel accommodations for registered attendees are offered at the nearby State View Hotel Autograph Collection by Marriott. Follow #rise20 and @RISE360.
About INDA
INDA, the Association of the Nonwoven Fabrics Industry, serves hundreds of member companies in the nonwovens/engineered fabrics industry in global commerce. Since 1968, INDA events have helped members connect, learn, innovate, and develop their businesses. INDA educational courses, market data, test methods, consultancy, and issue advocacy help members succeed by providing them the information they need to better plan and execute their business strategies. For more information, visit www.inda.org, or download the INDA mobile app for immediate updates.
About The Nonwovens Institute
The Nonwovens Institute (NWI) is the world's first accredited academic program for the interdisciplinary field of engineered fabrics. Based at the Centennial Campus of North Carolina State University in Raleigh, the NWI is an innovative global partnership between industry, government, and academe. Operating on an "Open Innovation" platform, the Nonwovens Institute engages experts from industry and higher education in building next-generation nonwoven applications while also providing training and guidance to the field's future leaders.
About North Carolina State University
NC State University began as a land-grant institution grounded in agriculture and engineering. Today, we're a leading public research university that excels across disciplines. NC State is a powerhouse in science, technology, engineering and math. We lead in agriculture, education, textiles, business and natural resources. We're at the forefront of teaching and research in design, the humanities and the social sciences. And we're home to one of the planet's best colleges of veterinary medicine. Our more than 36,000 undergraduate and graduate students learn by doing. They pursue research and start new companies. They forge connections with top employers and serve local and global communities. And they enjoy an outstanding return on investment.
###