The RISE® (Research, Innovation & Science for Engineered Fabrics) Conference 2017 Seeks Abstracts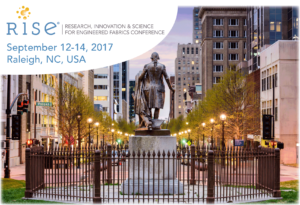 Industry professionals invited to present novel technologies, concepts, and ideas on the forefront of development
Cary, NC – September 27, 2016 – INDA, the Association of the Nonwoven Fabrics Industry has issued a call for papers for the seventh annual RISE® (Research, Innovation & Science for Engineered Fabrics) Conference to be held September 12-14, 2017, at the Sheraton Raleigh Hotel, Raleigh, North Carolina USA. RISE 2017 will feature two-and-a-half insightful days of game-changing, pioneering research and science.
RISE 2016 explored futuristic technologies, concepts, and ideas that offered innovative solutions for current industry needs. The exceptional program content included making lighter weight, economic, and sustainable nonwovens from eucalyptus and milkweed materials; rebuilding fibers and fabrics with leading edge self-healing bio-formation structures; and discerning insights into disposable technology for advanced durable applications.
For RISE 2017, professionals are encouraged to submit their innovative, technical abstracts by January 31, 2017 for the opportunity to gain recognition for their work from the industry, potential partners, and customers. Topics currently under consideration are:
Raw Materials
Developments in polymer technology
Sustainable materials development, or novel uses of existing renewables
Fiber development or utilization
Nano- and micro-fiber innovations
Peripheral material technologies such as elastomeric materials, films, adhesives
Market dynamics
Equipment and Processing
New processing technologies
Novel processing techniques or combinations thereof
New or novel converting processes
Process control and optimization
Product Related Technologies
New or novel solutions for existing technical problems
Use of composite materials as solutions
Technologies specifically aimed at flammability, acoustic and thermal properties, and moisture management
New testing methodologies or equipment
Global trends in standards regulations
Applications
Medical and hygiene
Filtration
Geofabrics and building construction
Automotive
Smart materials
"The RISE Conference continues to offer presentations on fascinating new technologies related to nonwovens that are on the cusp of commercialization. This is forward thinking, state-of-the-art research and science that you can't find anywhere else. Participants time and time again have stated that the information and technologies presented at RISE directly relate to their current projects and offer proactive solutions to their biggest challenges," said Dave Rousse, INDA President.
Abstracts of approximately 300 words should be emailed to Deanna Lovell, dlovell@inda.org, by January 31, 2017.  Include contact information and the relationship of the research to nonwovens or engineered fabrics. Authors will be notified of the abstract's status within 30 days after confirmed receipt.
For more information, visit inda.org. RISE Conference, September 12-14, 2017, Sheraton Raleigh Hotel, Raleigh, North Carolina USA.
About INDA
INDA, the Association of the Nonwoven Fabrics Industry, serves hundreds of member companies in the nonwovens/engineered fabrics industry in global commerce. Since 1968, INDA events have helped members connect, learn, innovate, and develop their businesses. INDA educational courses, market data, test methods, consultancy, and issue advocacy help members succeed by providing them the information they need to better plan and execute their business strategies. For more information, visit inda.org or call +1-919-459-3700.
###