Three Absorbent Hygiene Products Featuring Advanced Technology Announced as Finalists for Hygienix Innovation Award™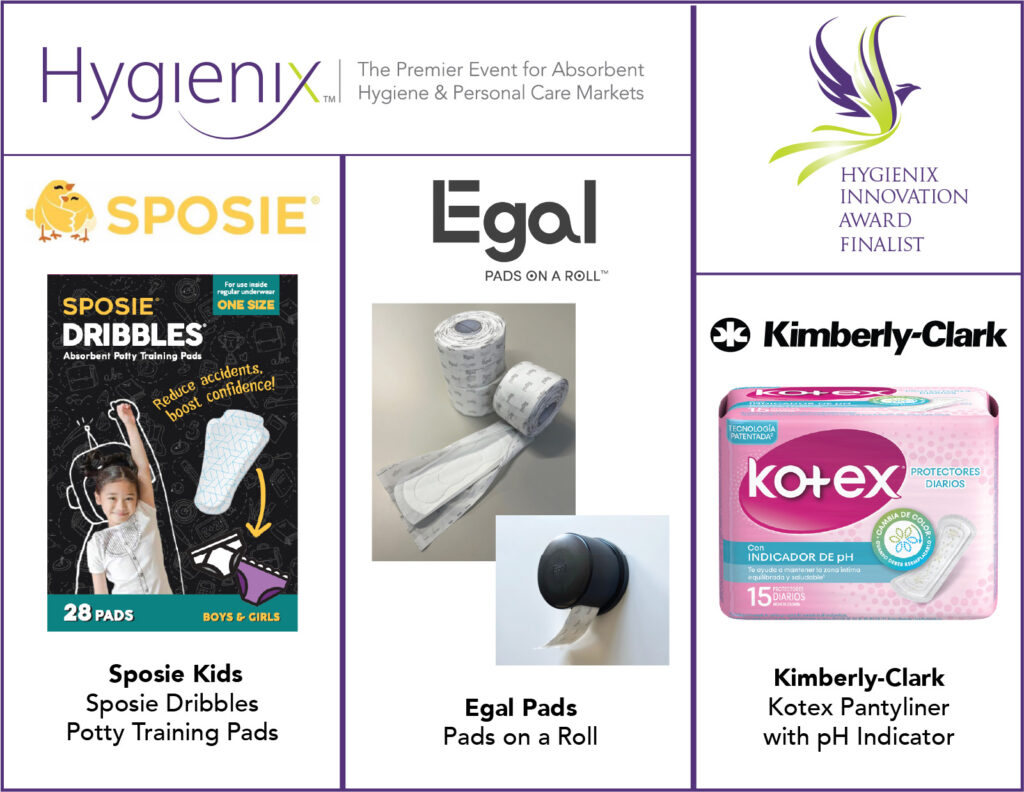 Revolutionary pH monitoring pantyliner, unique roll dispensing period product and novel potty training pad vie for top honors
Cary, NC, Oct. 12, 2022 – Three new absorbent disposable hygiene products that provide users with greater protection, convenience and discretion are the finalists for the prestigious Hygienix Innovation Award™ that will be selected at Hygienix™, the premier event for absorbent hygiene and personal care markets, Nov. 14-17, at The Roosevelt New Orleans Hotel.
The innovative and technically sophisticated products vying for the top honors are a revolutionary pH monitoring pantyliner (Kimberly-Clark), a unique roll dispensing period product (Egal Pad) and a novel potty training pad (Sposie Kids).
The annual award recognizes and rewards innovation that uses nonwoven material or technology in a way that provides consumer benefit and expands its usage. Kudos Diaper Subscription Box by Kudos was last year's winner.
Each of the companies will present their products during the event on Nov. 15 and INDA's Director of Education & Technical Affairs Matt O'Sickey will announce the winner on Nov. 17, at 11:30 a.m. to conclude Hygienix™.
The finalists for the 2022 award are:
Egal Pads: Pads on a Roll™ –A wrapped super-thin absorbent period pad that dispenses like toilet paper in public bathroom stalls, preventing the personal embarrassment of not having a menstrual product when needed. This product promotes period product accessibility and destigmatizes menstrual health. It is targeted to schools and universities and the away-from-home market.
Kimberly-Clark: Kotex® Pantyliner with pH Indicator – The new Kotex Pantyliner with pH indicator, shifts color at the moment it needs to be replaced. This technology works by changing the color from yellow to blue when activated by fluids such as urine, sweat, or others. By indicating the moment to change the product, helps to maintain the intimate area clean, fresh, and consequently healthy.
Sposie Kids: Sposie® Dribbles® Potty Training Pads – An absorbent potty training pad that adheres to boy's and girl's underwear to protect against leaks and accidents during the transition from diapers to underwear, while still providing physical cues to the wearer to promote potty training. The pads absorb over half of an average 2-year-old's bladder capacity and are 100 percent free from any fragrance, latex, and chlorine.
Hygienix™ Conference Highlights
In addition to the award presentation, the Hygienix™ conference will focus on sustainability with presentations by more than 20 industry experts on sustainable inputs, natural fibers, product transparency, reusable menstrual products, recyclable diapers and the latest market forecasts and insights into consumer buying trends.
Hygienix™ will also offer two specialized workshops, a myriad of business connection opportunities, a welcome reception, first-time attendee mentorship program, and two evenings of tabletop receptions.
For the full program and to register, visit the Hygienix website.
About INDA
INDA, Association of the Nonwoven Fabrics Industry, serves hundreds of member companies in the nonwovens / engineered fabrics industry doing business globally. Since 1968, INDA networking events have helped members connect, innovate and develop their businesses. INDA educational courses, market data, test methods, consultancy and issue advocacy help members succeed by providing them the information they need to better plan and execute their business strategies. INDA Media is the business-to-business publishing arm of INDA and publisher of International Fiber Journal and International Filtration News, which reach a vast network of professionals who employ fibers, filaments, and filtration systems to optimize their application environments. For more information, visit www.inda.org
###