Virtual RISE Conference Highlights Next-Gen Technologies for Nonwovens/Engineered Materials
Canopy Respirator from Canopy Wins Innovation Award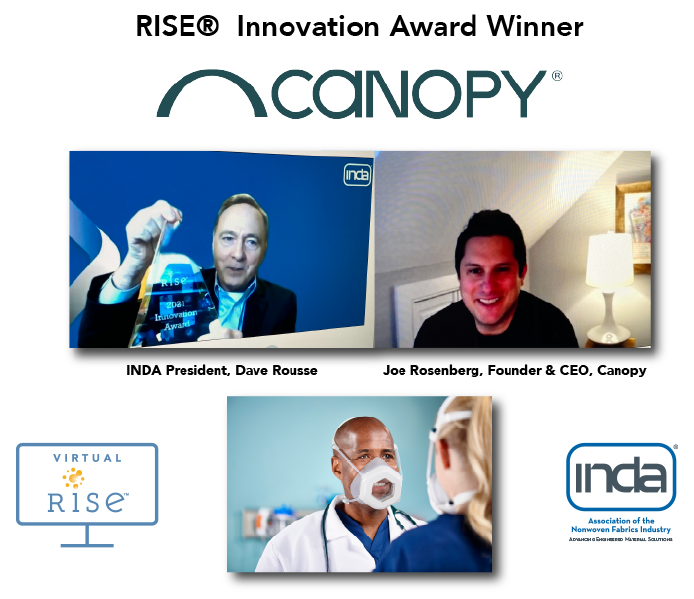 Cary, NC, Oct. 4, 2021 – 145 professionals in product development, material science, and new technologies convened for the 11th conference edition of RISE®—Research, Innovation & Science for Engineered Fabrics, held virtually, Sept. 28-30. The event was co-organized by INDA, the Association of the Nonwoven Fabrics Industry, The Nonwovens Institute, and North Carolina State University.
The program focused on Nonwoven Material Science Developments, Sustainability, Increasing Circularity, Promising Innovations, Process Innovations, Material Innovations, Government/NGO Challenges to Single-Use Plastics, Machine-Assisted-Learning Development of Biopolymers, and Market Intelligence and Economic Insights.

Participants praised the high-quality program content, in-depth round table discussions, networking and Q&A's where participants ask expert speakers questions pertaining to their focused presentations.
"RISE provides our industry with the latest in nonwoven technologies, sustainability, and market intelligence. Numerous times I reached out to colleagues to discuss what I was hearing that started the creative juices flowing!" Bryan D. Haynes, Ph.D., Senior Technical Director, Kimberly-Clark Corporation
"I think more than any other year, RISE 2021 has given me insights into the next generation of fibers. My mind is full of ideas of how we can use these new innovations in nonwoven products for our clients, that are going to improve both consumers' quality of life as well as be more thoughtful to the environment. RISE has become one of our most important conferences in the nonwoven calendar." Heidi Beatty, Consultant, Crown Abbey
"It's important for the nonwovens industry, to have easy and regular communication with customers, suppliers and peers. RISE provided a wealth of technical insight and a chance to have an open dialog to help innovate and create opportunities." Nick Lane, Account Manager, Devan North America, LLC
"I've enjoyed virtual RISE this year and especially getting the wide range of current insights and discussion on the important topic of sustainability – from biopolymers to regulation to machine learning. We all as an industry need to work together to find the solutions that are needed, and this was a great way to get some cross-pollination of practical ideas." Diane Toonen, Global Strategic Marketing Director, Global Nonwovens Business Unit, Bostik

"The quality of content for the virtual RISE conference, as usual, was very informative and interesting. The virtual presentations and follow-up Q&A sessions via Zoom was an effective alternative." Jon Woods General Manager, Fibers, Textiles and Nonwovens, Eastman Chemical Company
"So many pertinent and relevant topics were covered over the three-day format giving RISE leading status as the "go-to" technology conference focusing on nonwoven and engineered fabrics." Jeffrey Bassett, Managing Director, Fi-Tech, Inc.
Highlights among the 26 presentations included Sustainable Solutions for our Plastic Planet Predicament, by Marc A. Hillmyer, Ph.D., McKnight Presidential Endowed Chair, University of Minnesota; Closed-Loop Recycling Pilot of Single-Use Face Masks by Peter Dziezok, Ph.D., Director of Open Innovation, Proctor & Gamble; Innovating a Sustainable Future for Nonwovens: A European Perspective, by Matt Tipper, Ph.D., CEO, Nonwovens Innovation & Research Institute (NIRI); Phantom Platform: The Polyolefin-cellulose Coformed Substrates Technology, by Fabio Zampollo, CEO and Founder of Teknoweb Materials; Guiding Environmentally Sustainable Innovations – From Reactive to Proactive Life Cycle Management, by Valentina Prado, Ph.D., Senior Sustainability Analyst, EarthShift Global LLC; High-Loft, Ultra-Soft Hygiene Solutions, Paul E. Rollin, Ph.D., Senior Principal Scientist – Global Hygiene, Propylene-Vistamaxx-Adhesion (PVA) Global Technology, ExxonMobil Chemical Company; andCanadian Plastic Policy Update, by Karyn M. Schmidt, Senior Director, Regulatory & Technical Affairs, American Chemistry Council (ACC).
Other highlights included the announcement of Canopy Respirator as the winner of this year's RISE® Innovation Award winner. The annual award recognizes innovation in areas within and on the periphery of the nonwovens industry which use advanced science and engineering principles to develop unique or intricate solutions to problems and advance the usage of nonwovens.
RISE® Innovation Award Winner
The RISE® Innovation Award was presented to Canopy for their Canopy Respirator. The product is an innovative respirator that is fully mechanical, non-electrostatic, with a filter designed for superior breathability while offering the wearer facial transparency. The breakthrough respirator features 5.5mm water column resistance at 85 liters (3 cubic feet) per minute, 2-way filtration, and a pleated filter that contains over 500 square centimeters of surface area. The patented Canopy respirator resists fluids, and eliminates fogging of eyeglasses.
"We are honored and humbled! Thanks to INDA for advocating domestic PPE production, and to the INDA member companies who have played a key role as partners to make Canopy a reality," said Joe Rosenberg, Founder and CEO of Canopy.

Other nominees for the Award included John Mansville for their Evalith® 1000 Series, an innovative Alpha Binder that is a formaldehyde-free, high bio-carbon content, toxic-free binder formulation, and TiGuard, LLC for their Fiber Coated, Heat Sealable, Breathable, Hybrid Membrane, Protective Fabric.
For information on the 12th edition of the Research, Innovation & Science for Engineered Fabrics (RISE®) conference in 2021, visit inda.org
About INDA
INDA, Association of the Nonwoven Fabrics Industry, serves hundreds of member companies in the nonwovens / engineered fabrics industry doing business globally. Since 1968, INDA networking events have helped members connect, innovate and develop their businesses. INDA educational courses, market data, test methods, consultancy and issue advocacy help members succeed by providing them the information they need to better plan and execute their business strategies. INDA Media is the business-to-business publishing arm of INDA and publisher of International Fiber Journal and International Filtration News, which reach a vast network of professionals who employ fibers, filaments, and filtration systems to optimize their application environments.