World of Wipes® International Conference 2018 Calls for Presentations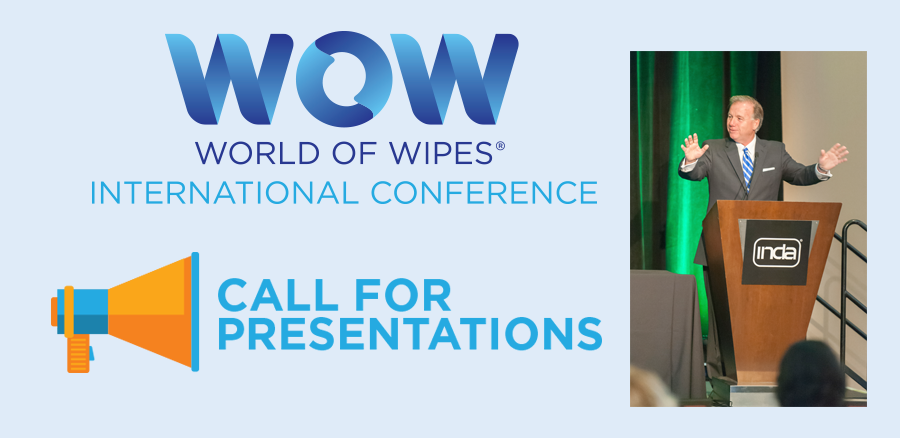 Industry professionals invited to present advances in Wipes technologies, applications, and components
Cary, NC – July 13, 2017 – INDA, the Association of the Nonwoven Fabrics Industry is seeking presentations for the 12th annual World of Wipes® (WOW) International Conference, to be held June 5-8, 2018, at the Sheraton Grand Hotel, Chicago, Illinois USA.  WOW is the premier international wipes event featuring three-days of program content devoted solely to the wipes industry's latest technologies, emerging markets, and new developments necessary to stay on top of changes in the evolving wipes industry.
WOW 2017 attracted over 470 wipes professionals to address issues and advances affecting the global nonwoven wipes sectors including sustainability, ingredients and preservatives, retail and institutional global wipe trends, government regulations, flushability, and material science developments. "This year's strong turnout reinforces the dynamic growth in this segment. Wipes professionals from 20 countries convened for three days to make valuable business connections and keep up on the exceptional technology and continued innovation in this industry," said Dave Rousse, INDA president.
The WOW audience includes senior leadership, new business development, corporate and division management, research and development, marketing, sales, and plant production professionals interested in presentations focused on relevant and informative subject matter regarding the latest wipe innovations and advancements.
INDA encourages industry professionals to submit an abstract on their latest wipes research, product, or component innovation by October 9, 2017 for the opportunity to gain industry recognition, potential partners, and customers. Abstract topics for consideration include: Dry and Wet Wipes, End Use Markets, Substrate Formation, Raw Materials & Fibers, Liquid Ingredients, Packaging, Machinery & Equipment, Market Statistics and Data.
Brief abstract summaries within one or two paragraphs in length, detailing the relationship of the research to wipes or wipe manufacturing including contact information (phone and email) should be emailed to Deanna Lovell, dlovell@inda.org. For more information, visit inda.org or, World of Wipes International Conference 2018, June 5-8, 2018, Sheraton Grand Chicago, Chicago, Illinois USA.
About INDA
INDA, the Association of the Nonwoven Fabrics Industry, serves hundreds of member companies in the nonwovens/engineered fabrics industry in global commerce. Since 1968, INDA events have helped members connect, learn, innovate, and develop their businesses. INDA educational courses, market data, test methods, consultancy, and issue advocacy help members succeed by providing them the information they need to better plan and execute their business strategies. For more information, visit inda.org or call 919-459-3700.
##