World of Wipes® International Conference 2021 Returns as In-Person Event Goes Live in Atlanta This July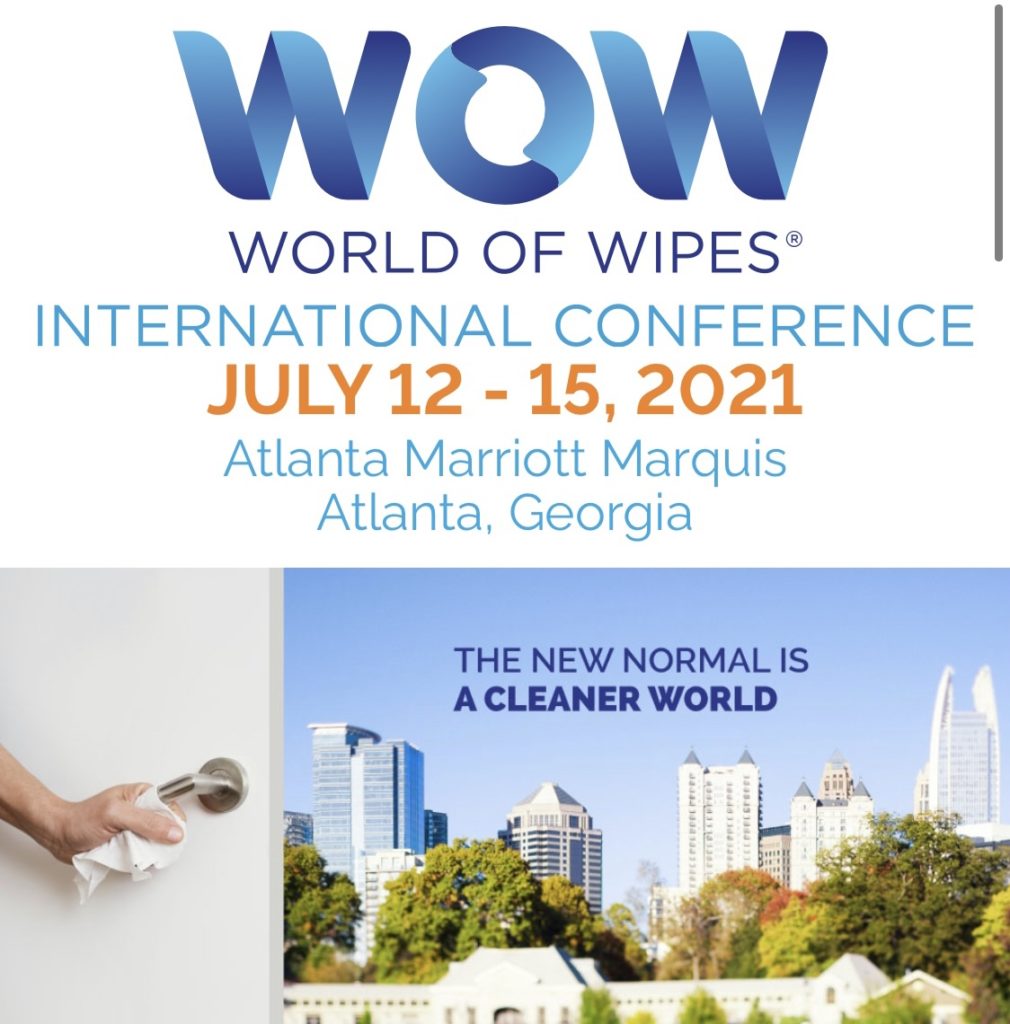 Cary, NC, March 17, 2021 – Making and renewing connections in-person will be a key theme when INDA, the Association of the Nonwoven Fabrics Industry, holds its 15th annual World of Wipes® (WOW) International Conference as a live event July 12-15 at the Atlanta Marriott Marquis, Georgia.
With COVID-safety measures in place and the outlook looking positive for this summer, INDA is enthusiastic about reopening the doors at WOW for wipes industry product managers, buyers and suppliers to meet after moving to a virtual format last year due to the pandemic. To register, visit the World of Wipes® International Conference event page.
"We are hearing a lot of pent-up demand from the industry for renewing in-person contacts and meetings. WOW 2021 will bring back all of the content, excitement and sizzle that WOW always delivers, and do it in a safe environment," said Dave Rousse, INDA President.
INDA stated its commitment to participant safety and adherence to all CDC and local protocols and guidelines. Face masks, hand sanitizer, and wipes will be available at WOW 2021.
The conference program also will be recorded and available for purchase on-demand for those who cannot attend, providing both options for participants to get the full, dynamic WOW program experience.
WOW Highlights
Coming off a year of significant change for the industry and the wipes sector, WOW will explore wipes and the growing plastics debate, new directions in sustainability, the explosive growth in cleaning brought on by COVID-19, emerging markets, regulatory changes and more.
This year's event will open with a day and a half devoted to the WIPES Academy training and a Welcome Reception onsite. WOW will feature three days of cutting-edge conference program content, two days of tabletop displays, plus presentations from the three finalists and the announcement of the 2021 World of Wipes Innovation Award® as its finale.
The program also includes over 11 hours of face-to-face networking time to form new relationships and strengthen existing bonds over breakfasts and session breaks, the Welcome Reception, and other events to connect with industry peers.
Learn the Latest on the Plastics Debate
The first session of presentations on July 13th will focus on the very important conversation on issues related to new European Union (EU) regulations on single-use plastics and their impact on the North American wipes market.
Experts providing the latest insights on this vital topic include Anna Gergely, Ph.D., Director – EHS Regulatory, Steptoe & Johnson LLP, who will speak on Recent Developments Under the EU Green Deal and Plastics Strategy – Update on the Impact of the Pandemic.
Providing the perspective on the proposed Canadian plastic regulatory approach will be Karyn Schmidt, Senior Director, Chemical Regulation, Regulatory and Technical Affairs, American Chemistry Council (ACC) while Andrew Hackman, Principal Lobbyist, Serlin Haley, will talk about plastic policies in the various states within the U.S.
Eight Stimulating Session Topics
The World of Wipes® will dive deep into the following eight areas:
Wipes and the Growing Plastics Debate – The discourse around plastics is only growing. What does this mean for your business? Experts will explore what is happening in the EU, Canada, and the U.S. at the federal and state levels.
Government Affairs Update – After a turbulent year, get the insider's edge on what's next in 2021 from Jessica Franken, Director of Government Affairs, INDA.
Regulations Impacting the Disinfecting and Sanitizing Wipes – Speakers will provide clarification on the difference in sanitizing, disinfecting, and anti-bacterial products and regulating bodies. Tony Herber, Principal Regulatory Consultant/Assistant Federal Team Manager, Scientific & Regulatory Consultants, Inc. (SRC, Inc.), will give an overview of the FDA and EPA framework of regulations.
Trends in the Wipes Market and Among Consumers – Hear the latest research that will bring greater understanding on the state of the industry and the wipes markets now and into the future post-COVID.
COVID19 Impact on Wipes Consumption and Cleaning Habits – With both disinfecting and flushable wipes usage up 30 percent, experts will look at what's behind this significant market development and what's ahead.
Nonwoven Substrates for More Sustainable Wipes – Speakers will explore what the future holds for new substrates, raw materials, and technologies. Among the intriguing topics – plastic-free wipes and hemp fibers in nonwovens.
Sustainable Packaging and Dispensing for Wipes – Learn about how sustainability is impacting the value chain of wipes packaging and how dispensing can create value.
Flushable Wipes: Loved by Consumers, Wrongly Accused by Utilities – Wipes manufacturers and wastewater utilities continue to clash, but there are some rays of hope for resolution on the issue. Find out more at WOW 2021.
For the full program details and list of speakers, visit the WOW 2021 website.
About INDA
INDA, the Association of the Nonwoven Fabrics Industry, serves hundreds of member companies in the nonwovens/engineered fabrics industry doing business globally. Since 1968, INDA events have helped members connect, learn, innovate, and develop their businesses. INDA educational courses, market data, test methods, consultancy, and issue advocacy help members succeed by providing them the information they need to better plan and execute their business strategies. INDA Media is the business-to-business publishing arm of INDA and publisher of International Fiber Journal and International Filtration News, which reach a vast network of professionals who employ fibers, filaments, and filtration systems to optimize their application environments. For more information, visit www.inda.org, or download the INDA mobile app for immediate updates.
###