World of Wipes® International Conference Attracts Record Attendance to Atlanta
Clorox® ScrubSingles™ Kitchen Pads Selected as World of Wipes Innovation Award® Winner
Cary, NC – June 23, 2015 – INDA, the Association of the Nonwoven Fabrics Industry, wrapped up its ninth annual World of Wipes® International Conference, June 16-19, with the presentation of the World of Wipes Innovation Award to The Clorox Company and record conference attendance.
This year's event held at the InterContinental Buckhead Atlanta Hotel drew over 500 people to Atlanta to discuss their business in wipes and attend the valuable presentations, surpassing all prior WOW conferences.
The successful WOW 2015 explored topics, issues, trends, forecasts, regulations, and advances affecting the global nonwoven wipes market with a focus on flushability, specialty materials for industrial wipes, fragrances, and wet wipe preservatives. WOW is the only event of its kind devoted solely to the entire wipes value chain.
"We are delighted with this year's record attendance demonstrating the vibrancy and strength of this important nonwovens segment," said INDA President Dave Rousse. "Both industry veterans and newcomers to WOW 2015 benefitted from the many networking opportunities, educational presentations, and panel discussions on the very latest topics affecting the industry. Attendees took away in-depth knowledge on the drivers impacting wipes now and into the future to take their wipes businesses to new heights."
WOW conference speaker highlights included a presentation on game-changing consumer trends and forecasts by Carman Allison, Vice President of Consumer Insights, Nielsen Canada; and a panel of experts discussing the latest in flushable wipes and legislation, moderated by Jan O'Regan, Director of Strategic Initiatives at Cotton Incorporated.
Participants connected face-to-face with hundreds of wipes professionals during receptions, table top displays, networking breaks, and Dining with Thought Leaders.
Preceding the conference, INDA's WIPES Academy was presented by Rob Johnson, PE, Principal, Smith, Johnson & Associates. The Academy is the first and only comprehensive wipes training for the entire wipes supply chain.
World of Wipes Innovation Award Presented to Clorox ScrubSingles
INDA also presented the winner of the World of Wipes Innovation Award to Clorox ScrubSingles Kitchen pads, selected by conference attendees in voting, following presentations by each of the finalists. Other finalists were Brawny Industrial® FLAX Cloths from Georgia-Pacific and DuraDry® by Polymer Group, Inc. (PGI).
The winning ScrubSingles Kitchen pad is a hybrid wipe and sponge loaded with Clorox® cleaner. The ScrubSingles formulation and nonwoven has been optimized for generating foam, allowing users to clean while minimizing fear of damaging surfaces.
The annual award recognizes the product that most expands the use of nonwovens and demonstrates creativity, novelty, uniqueness, and technical sophistication within the entire nonwoven wipes value chain.
INDA announced WOW 2016 will be held June 7-10, 2016 at the Sheraton Chicago Hotel & Towers, in Chicago. For more information, see www.inda.org.
About INDA
INDA, the Association of the Nonwoven Fabrics Industry, serves hundreds of member companies in the nonwovens/engineered fabrics industry in global commerce. Since 1968, INDA events have helped members connect, learn, innovate, and develop their businesses. INDA educational courses, market data, test methods, consultancy, and issue advocacy help members succeed by providing them the information they need to better plan and execute their business strategies. For more information, visit www.inda.org, or download the INDA mobile app for immediate updates.
###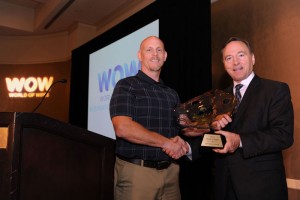 Photo caption:
Jason Fairbanks, Senior Scientist Research and Development, The Clorox Company accepts the World of Wipes Innovation Award for the Clorox ScrubSingles Kitchen pads from INDA President Dave Rousse.