World of Wipes® International Conference Emphasizes Latest Innovations in Wipes Trends, Technologies and Brands
Cary, NC – June 11, 2014 – The World of Wipes® (WOW) International Conference attracted a record number of wipes industry professionals from the entire wipes value chain at the annual conference held in Minneapolis, MN, June 2-5. The eighth annual WOW conference highlighted presentations from renowned industry speakers on the $6 billion wipes industry and included roundtable discussions, market analysis, receptions, exhibit displays and the announcement of the prestigious World of Wipes Innovation Award. The WOW conference is the only event solely devoted to the wipes industry and is organized by INDA, the Association of the Nonwoven Fabrics Industry.
The sessions detailed the latest topics of interest across the wipes industry and included flushability, sustainability, new Industrial Wiper regulations and wipes to reduce Healthcare Acquired Infections (HAI's). Among the other topics that were presented were branding strategies, industry forecasts and analytics, ethnography, regulatory compliance, certification and technical advances.
A few highlighted presentations included:
"WIPES Academy: A Look at Things to Come," Rob Johnson, Smith, Johnson & Associates
"Brand Your Wipes, Dude," Sean Riley, Dude Products, Inc.
"Methods and Trends for Coloring Nonwovens," Chris Plotz, ITW Professional Brands
"Quaternary Ammonium Disinfecting Solutions Optimized for Use with Cotton-containing Nonwoven Disposable Wipes," Doug J. Hinchliffe, ARS-USDA, Southern Regional Research Center
"Creating Exceptional Customer Experiences in a Participatory World," Deborah Schultz, DRS Solutions
The prestigious World of Wipes Innovation® Award was presented to ITW Professional Brands for their Sertun™ Rechargeable Sanitizer Indicator Towels for demonstrating the most innovative, creative and novel use of nonwovens that most expanded the use of nonwovens with creativity, novelty, uniqueness and technical sophistication.
Dave Rousse, INDA President, said, "The resounding success of WOW 2014 demonstrates the vibrancy and positive growth of the entire wipes industry. The program contained relevant and informative subject matter along with opportunities for making connections at the exhibits, receptions and meetings interspersed throughout each day. We are particularly pleased to see a 25 percent increase in the number of exhibitors and an ever increasing percentage of new exhibitors to the industry. The highly-anticipated announcement of the World of Wipes Innovation® Award winner continued the dynamic energy of WOW to the very end."
Sertun™ Rechargeable Sanitizer Indicator Towels are an innovative, nonwoven rechargeable food service towel that indicates by color when the towel is cleaning and when it needs to be recharged in cleaning fluid.
The other finalists competing this year were Andritz for their Substrate Patterning Process; Pacon Manufacturing Company with their MINWAX® Wood Finishing Cloths; and Nice-Pak for their Moist Flushable Wipe.
The WOW conference launched a new event that afforded wipes professionals an opportunity to "Dine with Industry Thought Leaders" in a small group setting. The goal was for these attendees to learn about what these leaders are watching and buying as well as what is trending, fading, and on the horizon for market and business intelligence.
The 9th annual World of Wipes International Conference will take place June 23-26, 2015 at the Hotel InterContinental Buckhead, Atlanta, GA. For more information, visit inda.org.
About INDA
INDA, the Association of the Nonwoven Fabrics Industry, serves hundreds of member companies in the nonwovens/engineered fabrics industry doing business globally. Since 1968, INDA events have helped members connect, learn, innovate and develop their businesses. INDA educational courses, market data, test methods, consultancy and issue advocacy help members succeed by providing them the information they need to better plan and execute their business strategies. For more information visit inda.org.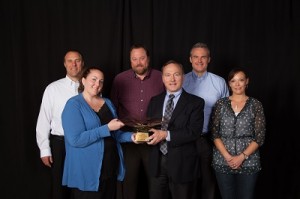 World of Wipes Innovation Award™ winner, ITW Professional Brands, for their Sertun™ Rechargeable Sanitizer Indicator Towels. (L-R) first row: Tara Millar, Product Manager, ITW Professional Brands; Dave Rousse, President, INDA; Kristen Foth, Marketing Communications Manager, ITW Professional Brands; (L-R) second row: Chris Plotz, Business Development Manager, ITW Professional Brands; Tim Rasmussen, Director of Marketing, ITW Professional Brands and Lee Rieth, Research Development Director, ITW Professional Brands.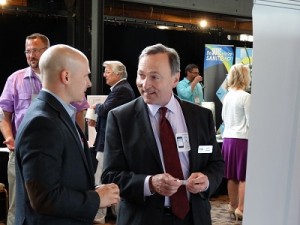 INDA President Dave Rousse (right) discusses wipes with Sean Juist, Territory Sales Manager, Floratech, during the WOW 2014 evening reception.
###