World of Wipes® International Conference Cultivates Industry Growth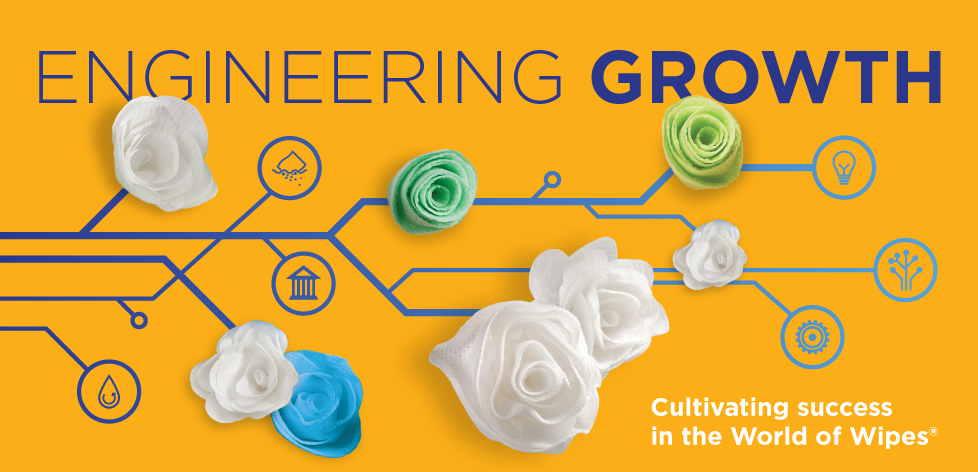 2018 Program Announced and Registration Open for June 5-8 in Chicago
Cary, NC – Jan. 18, 2018 – Emerging technologies, new applications, and market insights are the focus of INDA's World of Wipes® (WOW) International Conference 2018. WOW 2018 will deliver up-to-the-second insights for engineering new business growth June 5-8 at the Sheraton Grand, Chicago, Illinois.
The full program for the 2018 conference is currently available and registration is open at www.inda.org/events/wow18.
WOW 2018 promises to be the premier conference for over 470 senior wipes professionals during four impactful days of value added content and business connecting opportunities. The program captures the wipes industries latest market trends, developments in preservatives and active ingredients, substrate innovations, point of purchase decision drivers, and flushability.
The industry's hottest topics for WOW 2018 include:
Leading Keynote: "Gen Z Deciphered: Insights and Strategies for Marketers" by consumer psychologist Kit Yarrow, Ph.D., Professor Emeritus, Golden Gate University, details essential strategies for effectively marketing to this often misunderstood and vexing generation.
Preservatives: World-renowned expert, David Steinberg, President, Steinberg & Associates will present the current consumer view of preservatives and a view of what the future holds.
Top Beauty Trends: Arlette Palo, Principal, Arlette Palo Beauty Innovation Consulting, LLC, will share her insider's experience on where to win in wipes innovation and how consumer behavior is driving the beauty wipes category performance.
Spunlace Innovations: Matthew Tipper, Operations Director, Nonwoven Innovation & Research Institute, will present the latest processes and parameters for low cost solutions for high and low wet strength for use and disposal.
Consumption Junction: Annie Weisbrod, Principal Scientist, The Procter & Gamble Company, reveals the significant trends and possibilities as consumers purchase more goods and the impact on status quo and innovation.
Nano Wipes: Sunghyun Nam, Research Materials Engineer, Southern Regional Research Center, will present new research using cotton fibers as a nanoengineering tool producing silver nanoparticles as a powerful antimicrobial wipes agent.
Single-use vs. Laundered: Matthew Schiering, Principal, Sheer Strategy, will reveal data and insights into the structure and performance of laundered towels in healthcare for high touch surfaces versus the cleaning and disinfectant efficacy of single-use wipes.
Innovation Award: The World of Wipes Innovation Award® recognizes innovations in the wipes value chain that advance the use of nonwovens. Conference attendees will hear from finalists selected by INDA's Technical Advisory Board and vote their choice, the winner will be announced Friday, Day 3.
Premier Training: Come to the conference a day earlier for an in-depth wipes education. INDA's WIPES Academy is being held in conjunction with the World of Wipes® International Conference. Led by Rob Johnson, PE and Principal of Smith, Johnson & Associates, the Academy is the first and only comprehensive wipes training program for the entire wipes supply chain.
Networking: From the welcome reception at The Signature Room at the 95th® in the famous John Hancock Building to a Dinner with Industry Thought Leaders and networking throughout the event, participants will make valuable connections to advance their business.
For additional information, to register, or reserve a tabletop display visit http://www.inda.org/events/wow18, email tleatham@inda.org, or call +1 919 459 3726.
About INDA
INDA, the Association of the Nonwoven Fabrics Industry, serves hundreds of member companies in the nonwovens/engineered fabrics industry in global commerce. Since 1968, INDA events have helped members connect, learn, innovate, and develop their businesses. INDA educational courses, market data, test methods, consultancy, and issue advocacy help members succeed by providing them the information they need to better plan and execute their business strategies. For more information, visit inda.org, or download the INDA mobile app for immediate updates.