WOW 2017 Keeps Attendees Ahead of Change in the Wipes Industry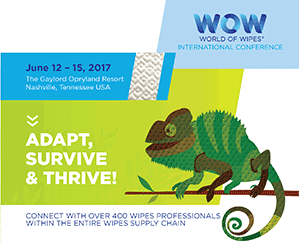 Program Announced and Registration Opens for June 12-15 Event in Nashville

Cary, NC – Feb. 23, 2017 – Attendees to INDA's World of Wipes® (WOW) International Conference 2017 will learn about the latest technologies, emerging markets, and new developments necessary to stay on top of changes in the evolving wipes industry during the June 12-15 event in Nashville, Tennessee.
The full program for the 2017 conference at the Gaylord Opryland Resort is now available and registration is open at www.inda.org/events/wow17.
With the strong growth in this important sector, WOW 2017 promises to be a valuable must-attend conference to keep up with relevant and timely insights, information and statistics from industry leaders on consumer and industrial wipes, the threats to flushable wipes, regulatory issues, product safety and testing, developments in substrates, sustainability and more.
The top 10 highlights of WOW 2017 include:
Leading Keynote: "Marketing Across Generations" by consumer psychologist Kit Yarrow, Ph.D., Professor Emeritus, Golden Gate University, on using the psychology of each generation to market more effectively.
Sustainability Panel: Moderated by Carole Mars, Ph.D., Research Manager of The Sustainability Consortium, the panel will deliberate the differences between how various industry players define "sustainable" and, more importantly, how consumers interpret it. Experts from Walgreen Boots Alliance, Suominen, Burt's Bees, Rockline Industries, and the Procter & Gamble Company will participate.
In-Depth Sessions on Flushability: Topics that will be covered in the four-part session include the many moving parts of messaging/misinformation, the new Code of Practice, the latest status of wastewater discussions on assessment tests, and the issue status in Europe.
Clorox Perspective: The Clorox Co. will share perspectives on the "trade-offs" in preventing the spread of germs. Elisa Calimano, Product R&D, Home Care Cleaning Innovation, will discuss technology effectiveness challenges versus sustainability considerations for the hard surface wipes lifecycle.
Timely Trends and Forecasts: Global and North American wipes market trends and dynamics will be presented by Svetlana Uduslivaia, Head of Tissue and Hygiene, Euromonitor International, and by INDA's Brad Kalil.
Consumer Wipe Concerns: Phil Hindley, Head of Global Marketing Preservation at Lonza Consumer Care, will talk about the dynamic and changing nature of the global preservation market.
Material Advances: Wolfgang Plasser, Vice President Global Sales of Lenzing AG, will settle the controversy around Biodegradability of Wood-based Cellulose Fibers.
Innovation Award: The World of Wipes Innovation Award® will recognize innovations in the wipes value chain that advance the use of nonwovens. Conference attendees will hear from finalists selected by INDA's Technical Advisory Board and then vote their choice, the winner to be announced on Day 3.
Top Training: Come to the conference a day earlier for an in-depth wipes education. INDA's WIPES Academy is co-located with the World of Wipes® Conference. Led by Rob Johnson, PE and Principal of Smith, Johnson & Associates, the Academy is the first and only comprehensive wipes training program for the entire wipes supply chain.
Networking: From the welcome reception at the Grand Ole Opry House to the opportunity to Dine with Industry Leaders and networking throughout the event, attendees will establish and renew valuable connections to advance their business interests.
For additional information, visit http://www.inda.org/events/wow17, email tleatham@inda.org, or call INDA at +1 919 459 3726.
About INDA
INDA, the Association of the Nonwoven Fabrics Industry, serves hundreds of member companies in the nonwovens/engineered fabrics industry in global commerce. Since 1968, INDA events have helped members connect, learn, innovate, and develop their businesses. INDA educational courses, market data, test methods, consultancy, and issue advocacy help members succeed by providing them the information they need to better plan and execute their business strategies. For more information, visit inda.org, or download the INDA mobile app for immediate updates.