Mike Putnam
Lifetime Technical Achievement Award
2011
Retired, PGI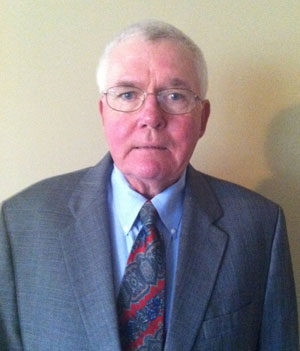 Education
BSME – State University of New York at Buffalo
Professional Career 
Hired by Chicopee (Div of Johnson & Johnson) in 1978
Installed/started up first Spunlace line for JNJ in 1979
Involved with Spunlace development with Chicopee for 15+ Years, then transitioned into R&D @ PGI when PGI purchased Chicopee in 1995.
Mike's lead in Process development/R&D at PGI was essential in several commercially successful substrates and their production processes including:
Fabric 450® which was Johnson & Johnson's  First nonwoven operating room gown and drape product,  that was a standard in the marketplace for over a decade.
Commercialization of APEX® technology for NuGauze® which was J&J's first Nonwoven "gauzelike" sponge
Miratec® Durable APEX® nonwoven material for textile replacement applications.
Swiffer®, joint development with P&G and PGI to produce an imaged scrim reinforced dry dusting nonwoven substrate
Kirkland® brand APEX® imaged scrim reinforced Cotton enriched baby wipe
Spinlace®, PGI's spunmelt based wipes substrate
The above are some key major product successes, not to mention many other products & processes PGI has   commercialized over the years, in which Mike also was a key participant.
INDA Activities/Industry Activities:
INDA Member for 20+ years with J&J/PGI (INTC, TAB)
Mentor for multiple co-op students at J&J and PGI
Active member in NCRC (Industry Technical advisor to Graduate students)
Patents: List below
| | | | | |
| --- | --- | --- | --- | --- |
| | Document | Title | Assignee | Issue Date |
| 1 | US7455800 | Hydroentanglement of continuous polymer filaments | Polymer Group, Inc. |  2008-11-25 |
| 2 | US7406755 | Hydroentanglement of continuous polymer filaments | Polymer Group, Inc. |  2008-08-05 |
| 3 | US7381669 | Hydroentangled filter media and method | Polymer Group, Inc. |  2008-06-03 |
| 4 | US7091140 | Hydroentanglement of continuous polymer filaments | Polymer Group, Inc. |  2006-08-15 |
| 5 | US7047606 | Two-sided nonwoven fabrics having a three-dimensional image | Polymer Group, Inc. |  2006-05-23 |
| 6 | US7015158 | Hydroentangled filter media and method | Polymer Group, Inc. |  2006-03-21 |
| 7 | US7013541 | Nonwoven fabrics having compound three-dimensional images | Polymer Group, Inc. |  2006-03-21 |
| 8 | US6903034 | Hydroentanglement of continuous polymer filaments | Polymer Group, Inc. |  2005-06-07 |
| 9 | US6750161 | Stretchable laminate | Polymer Group, Inc. |  2004-06-15 |
| 10 | US6735833 | Nonwoven fabrics having a durable three-dimensional image | Polymer Group, Inc. |  2004-05-18 |
| 11 | US6735832 | Process to produce imaged scrim composite nonwoven and product thereof | Polymer Group, Inc. |  2004-05-18 |
| 12 | US6669799 | Durable and drapeable imaged nonwoven fabric | Polymer Group, Inc. |  2003-12-30 |
| 13 | US6568049 | Hydraulic seaming together of layers of nonwoven fabric | Polymer Group, Inc. |  2003-05-27 |
| 14 | US6463606 | Nonwoven fabric exhibiting cross-direction extensibility and recovery | Polymer Group, Inc. |  2002-10-15 |
| 15 | US6430788 | Hydroentangled, low basis weight nonwoven fabric and process for making same | Polymer Group, Inc. |  2002-08-13 |
| 16 | US6321425 | Hydroentangled, low basis weight nonwoven fabric and process for making same | Polymer Group Inc. |  2001-11-27 |
| 17 | US6306234 | Nonwoven fabric exhibiting cross-direction extensibility and recovery | Polymer Group Inc. |  2001-10-23 |