Filtration's Power and Potential Is Unleashed at Filtration 2017, Oct. 10-12 in Chicago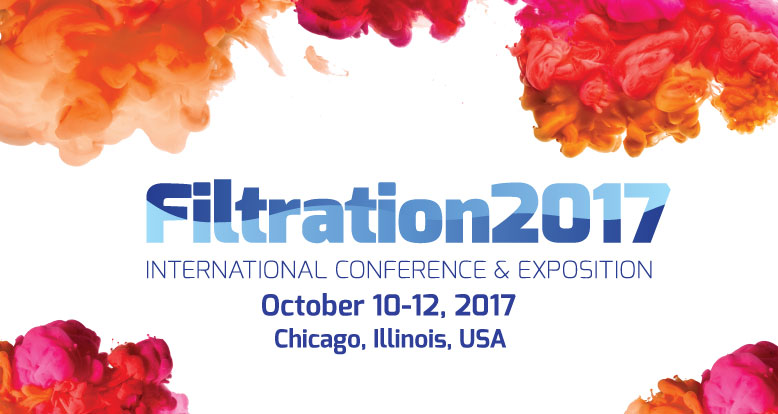 Industrial Internet of Things, Standards Panel and M&As Among Conference Highlights  
Cary, NC – June 15, 2017 – The pure energy, innovation, and quality of the air and liquid filtration segment of the nonwovens industry will be unleashed for participants at INDA's 26th Filtration International Conference & Exposition this fall at Chicago's Navy Pier.
With a new earlier date of Oct. 10-12, Filtration 2017 is expected to surpass the huge turnout last November for its 25th anniversary edition of more than 1,300 participants in Philadelphia. Registration has opened and the Filtration 2017 website has launched at www.inda.org/events/filt17.
The powerful combination of leading-edge products and applications, technical advances, networking, top speakers, plus education and training – all entirely focused on the growing filtration segment – continues to deliver strong value for leading suppliers and customers of filtration media and components who exhibit and attend Filtration 2017.
Filtration 2017 will be highlighted by exciting program additions on the Industrial Internet of Things, a panel discussion on ISO 16890 standards, and a luncheon keynote address on the attractiveness of the industry that is driving consolidation.
INDA will again hold its one-and-a-half day acclaimed Nonwoven Filter Media Training Course prior to the expositions start on Oct. 10-11. The conference will be held on Oct. 10 and the exhibition takes place Oct. 11-12. The industry reception will be Oct. 11, from 5 to 6 p.m., on the show floor.
Filtration 2017 Conference Headliners
Industrial Internet of Things (IIoT) Developments in Filtration – Abdoulaye Doucoure, Senior R&D Scientist, Hollingsworth & Vose Company, will moderate a panel with Herve Buisson, Vice President of Veolia Water, and Frank Stamatatos, President of SecureAire, on how interconnected smart systems can save time, increase operational efficiency and capture new growth.
Why the Filter Industry Is Suddenly So Attractive – A Look at What's Driving Recent M&A Activity – In his keynote address, Phil Whitaker, President and CEO, AAF Flanders, will explore what's behind the upswing of M&A activity involving filtration-related companies over the last few years and how players can enhance their value.
ISO 16890 Panel: Is This Good or Bad for the U.S. Industry? – Moderated by Robert Burkhead, President of Blue Heaven Technologies, the panel will discuss all sides around ISO 16890, which establishes an efficiency classification system of air filters for general ventilation based upon particulate matter (PM).
Other not-to-be-missed sessions: Key Developments in Air Purification, Latest Developments in Media Design and Approaches to Measuring Air Filter Energy Efficiency.
The Filtration 2017 website features details on the program and speakers, current exhibitors, past attendees, photos, sponsorships, media, and online registration at www.inda.org/events/filt17.
About INDA
INDA, the Association of the Nonwoven Fabrics Industry, serves hundreds of member companies in the nonwovens/engineered fabrics industry in global commerce. Since 1968, INDA events have helped members connect, learn, innovate, and develop their businesses. INDA educational courses, market data, test methods, consultancy, and issue advocacy help members succeed by providing them the information they need to better plan and execute their business strategies. For more information, visit inda.org or call +1 919 459 3700.
###