Hygienix™ Promises to Disrupt the Status Quo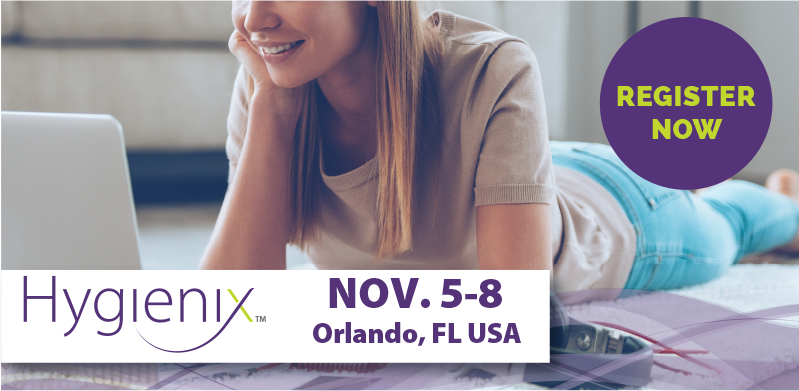 Disruptive and Sustainable Growth Opportunities for Disposable Absorbent Hygiene and Personal Care Markets Coming November 5 in Orlando, Florida
Cary, NC – July 23, 2018 – Hygienix 2018, the premier event for the absorbent hygiene & personal care markets announces its fourth edition conference, networking, tabletop display, and training event will focus on sustainable and disruptive technologies and products that help advance human health, Nov. 5-8 at the Loews Portofino Bay Hotel in Orlando, Florida.
The conference promises to attract more than 500 senior-level professionals involved in the important absorbent hygiene and personal care sector with content topics that include: Absorbent Hygiene Design Advancements, FemCare Disruptors, Nonwoven Markets and Economic Trends, Technical Updates, Urinary and Fecal Incontinence, Skin Health, Upcycling for Disposable Absorbent Hygiene Products, Haptics and Odor Control. For the full program and Registration visit www.inda.org/events/hygienix18/
Keynote speaker, Diana Sheehan, director of Kantar Consulting kicks off the event presenting "The Amazon Effect – Retail Market Disruption". Other conference highlights include a panel discussion on FemCare Disruptors to include Alyssa Dweck, MS, MD, FACOG, Obstetrics & Gynecology CareMount Medical, Rachel Braun Scherl, Managing Partner, Entrepreneur, SPARK Solutions for Growth, and Shannon Klingman, Founder & CEO, Lume.
The high level content includes presentations from 23 industry experts. Participants will connect with representatives from companies such as American Truetzschler, Euromonitor International, Evonik Nutrition & Care, H.B. Fuller, Lenzing, Price Hanna Consultants, Quick-Med Technologies, Shelton Group, Smith Johnson & Associates, Suominen, Procter & Gamble, Dermatology Healthcare, Yixing Danson Science & Technology, among others. Scheduled events include 19 hours of networking amid tabletop displays, receptions, breakfasts, coffee breaks and an opening welcome reception at Jimmy Buffett's Margaritaville on the Universal CityWalk.
Prestigious Awards
Three finalists will present their innovative product or technology for the prestigious Hygienix Innovation Award™ that recognizes innovation in consumer or institutional hygiene end-products that expand the use of nonwoven fabrics.  INDA president, Dave Rousse will recognize and present the 2018 Lifetime Service Award and 2018 Lifetime Technical Achievement Award.
Added Value Education Training for Industry Professionals
The event also offers an optional highly focused 3-hour Absorbent Hygiene Product workshop to cover key information on diaper components, performance, differentiation and trends in recycling, sustainability and environmental friendliness, on Monday, Nov. 5. Mr. Terry Young, retired Research Fellow from Procter & Gamble leads the valuable instruction. Mr. Young developed one of the first in-house material training courses (Nonwoven Technology: From Basic to Advanced) for P&G's baby diaper category.
To take advantage of early registration discounts, sign up before Tues., Oct. 2 at http://www.inda.org/events/hygienix18/register.php.
About INDA
INDA, the Association of the Nonwoven Fabrics Industry, serves hundreds of member companies in the nonwovens/engineered fabrics industry in global commerce. Since 1968, INDA events have helped members connect, learn, innovate and develop their businesses. INDA educational courses, market data, test methods, consultancy and issue advocacy help members succeed by providing them the information they need to better plan and execute their business strategies. For more information, visit www.inda.org, or download the INDA mobile app for immediate updates.
###