IDEA16 Resounding Success with Largest Turnout in its 45-year History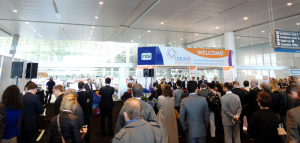 INDA and Nonwovens Industry Presents Achievement Awards
Cary, NC, May 11, 2016 – Attracting over 7,000 attendees and 555 exhibitors, IDEA16 broke all prior exhibitor and attendee records for its recently wrapped up triennial event May 2-5 at the Boston Convention & Exhibition Center. Attendees from more than 60 countries came to the City of Science for three days of exhibits, market intelligence, education, and face-to-face interaction.
"This record-setting turnout confirms IDEA as the world's preeminent event for nonwovens and engineered fabrics," said INDA president Dave Rousse. "We are delighted with the enthusiasm of exhibitors and visitors alike regarding the value of this show to advance their business interests. The new Boston venue was well-accepted. We are all fortunate to be in a dynamic, innovation-driven industry with continued great prospects, as evidenced by the many announcements of new products, new machinery and new capabilities during the show."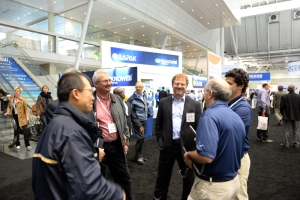 A total of 555 companies exhibited their products and services at IDEA16, an increase of 15 percent over IDEA13. This year IDEA occupied all 500,000 square feet at the Boston Exhibition and Convention Center, about 25 percent more than in Miami Beach. "With the increase of 6 percent in registrants, this provided the larger crowd with additional space to move about and comfortably interact with each other," said Rousse.
IDEA will return to a newly renovated Miami Beach Convention Center, in Miami Beach, Florida on March 26-28, 2019 with a welcome reception on March 25.
Event Highlights
Over 700 attendees at IDEA16's Welcome Reception were entertained with a live band, energizing dance music, and eclectic Southern cuisine at the House of Blues sponsored by Velcro Companies.
Other event highlights included the presentation of awards for outstanding achievements. Mogul, a Turkish nonwovens producer, and Diaper Recycling Technology/MobiAir, a Singapore manufacturer of modular plug-and-play air handling systems, were both presented with Entrepreneur awards by Nonwovens Industry Magazine.
The IDEA16 Lifetime Achievement Award was awarded to Leo Cancio, advisor at Clopay Plastic Products.
INDA's IDEA16 Achievement Awards, presented in partnership with Nonwovens Industry magazine, recognized the brightest innovations from the leading companies, individuals, and new products in the nonwovens and engineered fabrics industry. In online voting, the following companies were selected as winners from the finalists:
Equipment: ITW Dynatec's Ultra Strand Coating System – This revolutionary patent-pending strand applicator is specifically designed for the disposable hygiene market.
Roll Goods: Jacob Holm's SoftLite™ lightweight nonwovens – With basis weights as low as 15 grams, SoftLite™ fabrics are lighter while also providing high performance and soft comfort for hygiene uses.
Raw Materials: BASF's SAVIVA™ SAP Technology – Based on its round shaped particles, with micro-pores, SAVIVA™ has an innovative liquid distribution mechanism, making it a highly efficient superabsorbent polymer in a diaper core.
Short Life Converted Products: WipeMeWorld's WipeMe® flushable wipe on a roll – These wipes can be dispensed and flushed the same way as traditional toilet paper.
Long Life Converted Products: Impossible Objects, LLC's Composite-Based Additive Manufacturing (CBAM) 3D printed pieces – This new, industrial 3D printing technology uses nonwoven fabrics – such as carbon, glass, and aramid – to make strong yet lightweight fiber-reinforced composite parts.
About INDA
INDA, the Association of the Nonwoven Fabrics Industry, serves hundreds of member companies in the nonwovens/engineered fabrics industry in global commerce. Since 1968, INDA events have helped members connect, learn, innovate, and develop their businesses. INDA educational courses, market data, test methods, consultancy, and issue advocacy help members succeed by providing them the information they need to better plan and execute their business strategies. For more information, visit inda.org or call 919-459-3700.
###