INDA Co-Sponsors RISI Asia Pacific Hygiene Symposium 2017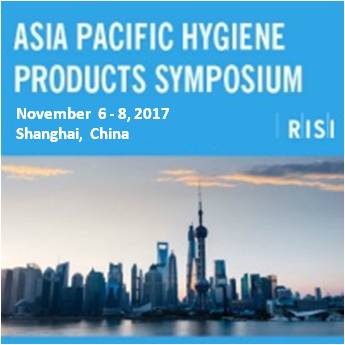 2nd annual Symposium focused on absorbent hygiene to be held in China
Cary, NC, May 31, 2017 – INDA, the Association of the Nonwoven Fabrics Industry, announced it is co-sponsoring the 2017 RISI Asia Pacific Hygiene Products Symposium to be held November 6-8, 2017 in Shanghai, China. The first edition of the Symposium drew more than 130 attendees from 76 countries to hear about the latest advancements and trends in the Asia Pacific hygiene market.
Themed "Hygiene Markets in Asia Pacific: From Now to 2020″ industry experts will present cutting edge information on baby diaper and disposable hygiene trends, nonwovens for evolving markets, China's adult incontinence market, online sales in China, and equipment for tomorrow's hygiene products. Participants will also be presented best practices across the Asia Pacific disposable hygiene supply chain and exchange ideas for improving their business and products.
"INDA has again joined with RISI in co-sponsoring the Asia Pacific Hygiene Products Symposium in China this coming November," said INDA president Dave Rousse. "Participants will gain keen insights on important issues affecting the hygiene market in China as well as make connections for new business. This second edition Symposium should prove invaluable for those in the nonwovens industry in that region."
For more information, visit http://2017.hygienesy.com/en
About INDA
INDA, the Association of the Nonwoven Fabrics Industry, serves hundreds of member companies in the nonwovens/engineered fabrics industry in global commerce. Since 1968, INDA events have helped members connect, learn, innovate, and develop their businesses. INDA educational courses, market data, test methods, consultancy, and issue advocacy help members succeed by providing them the information they need to better plan and execute their business strategies. For more information, visit inda.org or call 919-459-3700.
About RISI
RISI is the leading information provider for the global forest products industry. The company works with clients in the pulp and paper, packaging, wood products, timber, biomass, tissue and nonwovens industries to help them make better decisions. Headquartered in Boston, MA, RISI operates additional offices throughout North and South America, Europe and Asia. www.risi.com
###