INDA Releases New North American Nonwovens Industry Outlook Report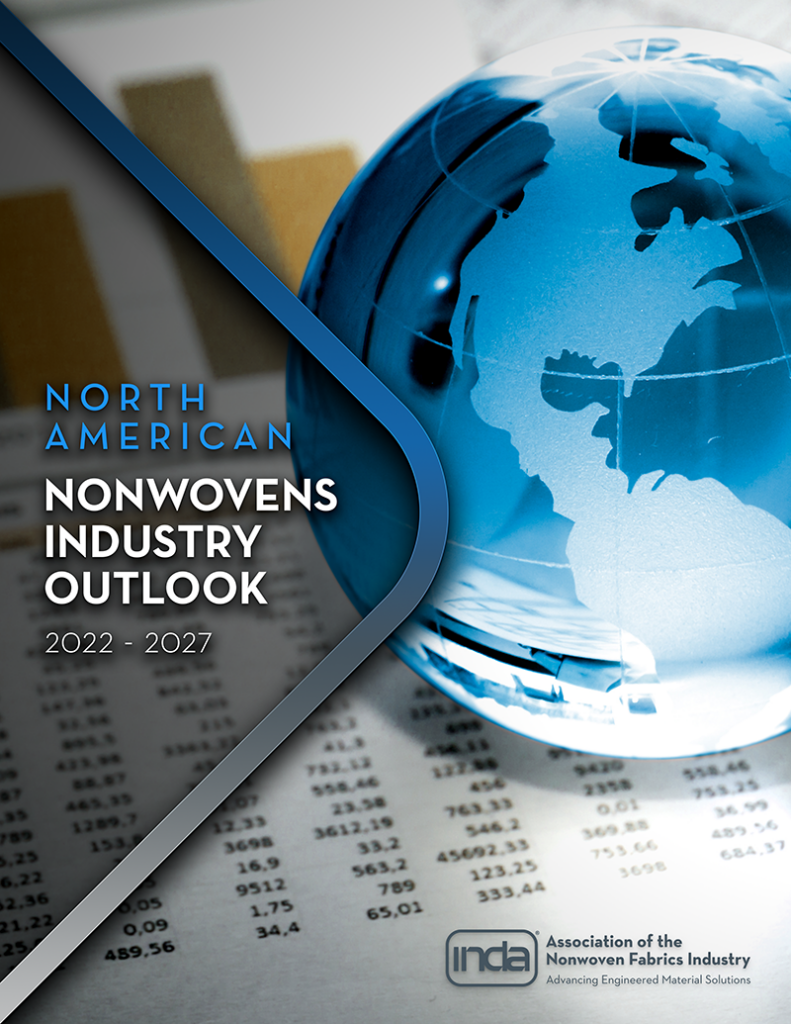 Provides analysis across end-use markets through 2027
Cary, NC, Nov. 7, 2023 – INDA, the Association of the Nonwoven Fabrics Industry, has released a new report, North American Nonwovens Industry Outlook, 2022-2027. This report is the twelfth edition detailing demand data for 2017 through 2022, with forecasts to 2027.
The report provides analysis across all nonwoven end-use markets, providing a comprehensive and accurate view of the total North American nonwovens industry. INDA redesigned this report to support strategic business planning and decision-making. The projections in the report were made by analyzing current market trends and drivers to highlight the market potential in terms of dollar value, units, and volume in both square meters and tonnage.
Tony Fragnito, INDA's President, said, "This report provides insights on nonwoven demand in the short-life and long-life market segments. The intelligence included in this report is critical for business leaders who manage the assets or operational planning for their organization."
Mark Snider, INDA's Chief Market & Research Analyst, said, "The nonwovens industry is constantly evolving and innovating. That makes this industry an attractive option for investments and growth. This report will help guide current players and future investors with their business strategies."
This report includes:
Economic and population drivers contributing to market growth over the next 5 years for markets in the U.S., Mexico, and Canada.
Disposable, Filtration, Wipes, Medical and Other applications.
Long-Life durable sectors for Transportation, Building and Construction, Furnishings, Geo and Agro Textiles, and Apparel.
Key drivers for the demand models and reasons for market upsets like the COVID pandemic.
A summary of historical and future trends that will affect the nonwovens market.
For more information or to purchase the new North American Nonwovens Industry Outlook report, visit https://www.inda.org/north-american-nonwovens-industry-outlook-2022-2027/ or contact INDA, publications@inda.org; T: +1 919 459 3700.
A report, North American Nonwoven Materials Annual Study, was released in May 2023 and includes capacity, production, and trade flow data. This Study is a companion piece to the North American Nonwovens Industry Outlook Report, which includes detailed nonwoven demand statistics and is also now available for purchase. The Annual Study and Outlook Reports are key tools for business leaders looking to have a complete understanding of the nonwovens market – supply, demand, and forecast. For more information or to purchase, visit: https://www.inda.org/north-american-nonwoven-materials-annual-study-2022/
About INDA
INDA, the Association of the Nonwoven Fabrics Industry, serves hundreds of member companies in the nonwovens/engineered fabrics industry doing business globally. Since 1968, INDA events have helped members connect, learn, innovate, and develop their businesses. INDA educational courses, market data, test methods, consultancy, and issue advocacy help members succeed by providing them the information they need to better plan and execute their business strategies. INDA Media is the business-to-business publishing arm of INDA and publisher of International Fiber Journal and International Filtration News, which reach a vast network of professionals who employ fibers, filaments, and filtration systems to optimize their application environments. For more information, visit www.inda.org, or download the INDA mobile app for immediate updates.
###