INDA's Wes Fisher Named a 2023 Top Lobbyist by the National Institute for Lobbying and Ethics (NILE)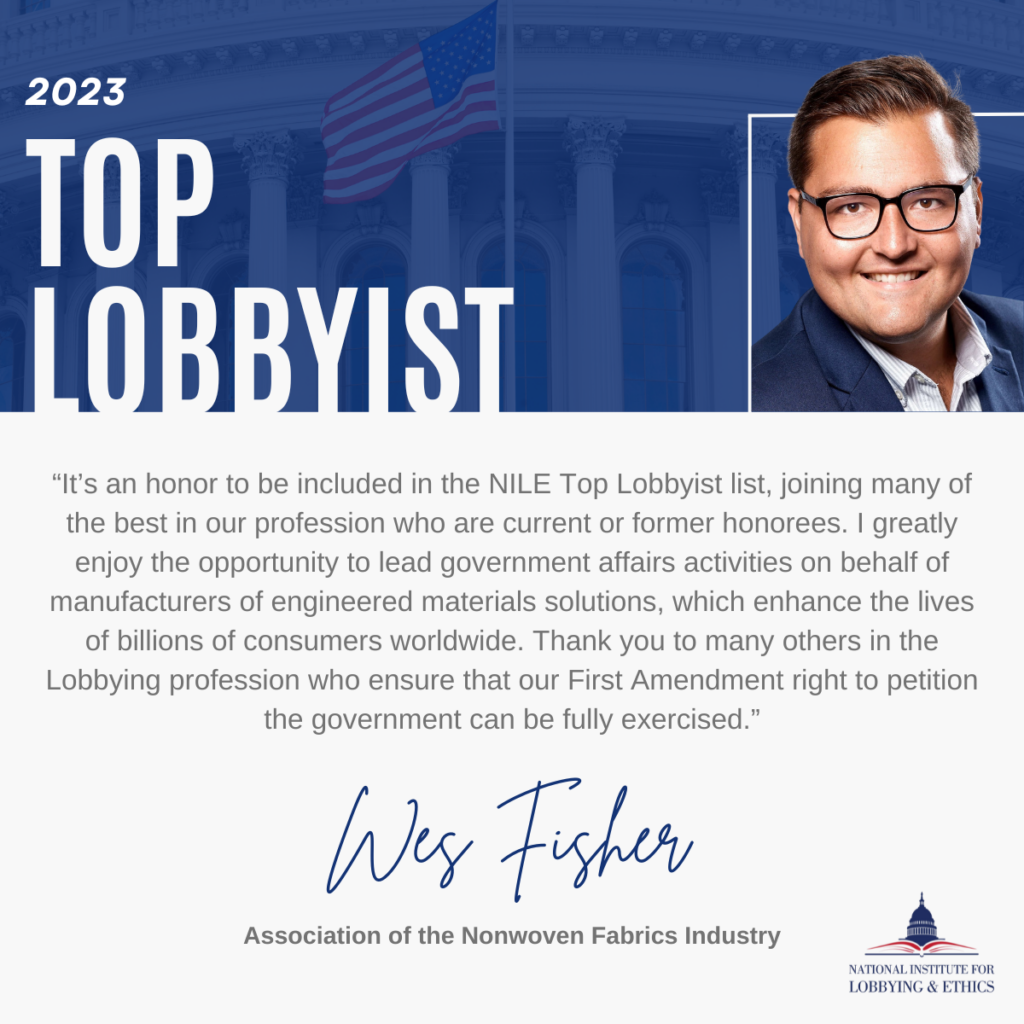 Washington, DC, November 14, 2023 – INDA, The Association of the Nonwoven Fabrics Industry, is pleased to announce that Director of Government Affairs Wes Fisher was named a 2023 Top Lobbyist by the National Institute for Lobbying & Ethics (NILE). The list includes professionals with significant legislative success in 2023, have been innovative in their field, are held in high regard by their peers, give back to their community through charity or pro bono work, and adhere to the highest ethical standards.
Fisher joined the INDA staff in 2022, he previously held senior government affairs positions at the Pet Advocacy Network and the National Automatic Merchandising Association. His work at INDA has included interfacing with lawmakers, regulators, and stakeholders at the state, local, federal, and international levels and participating in UN negotiations regarding the ongoing Global Plastics Treaty. He serves on the board of directors of the Washington Area State Relations Group (WASRG) and in 2022 was appointed by the Governor of Virginia to the Virginia Rare Disease Council.
View the full list of 2023 Top Lobbyists here.
About INDA
INDA, the Association of the Nonwoven Fabrics Industry, serves hundreds of member companies in the nonwovens/engineered fabrics industry by helping to achieve business growth. Since 1968, INDA helps members convene and connect, innovate and develop their businesses. INDA's educational courses, business intelligence and market insights, test methods, consultancy and issue advocacy help members succeed by providing information they need to better plan and execute their business strategies. INDA Media is the business-to-business publishing arm of INDA and publisher of International Fiber Journal and International Filtration News, which reach a vast network of professionals who employ fibers, filaments, and filtration systems to optimize their application environments. For more information, visit www.inda.org, or download the INDA mobile app for immediate updates.
###