INDA's World of Wipes® 2019 International Conference Provided Valuable Connections and New Ideas for a Circular Economy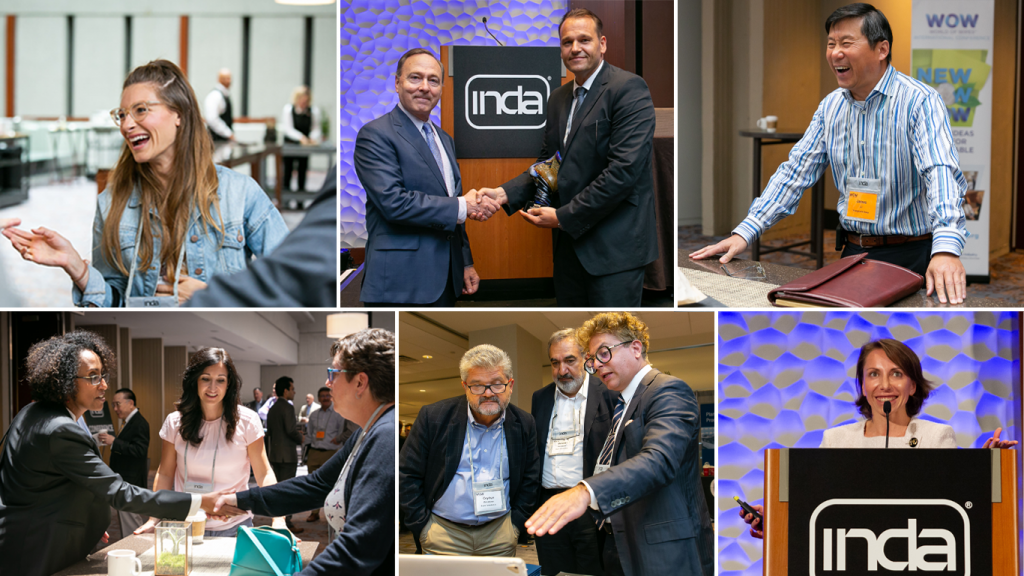 Danufil® QR Fibres Named Winner of the World of Wipes Innovation Award®
Cary, NC, July 2, 2019 – INDA, the Association of the Nonwoven Fabrics Industry, reports its 13th annual World of Wipes® (WOW) International Conference connected 390 participants from 19 countries to advance their wipes business in Atlanta, GA, June 24-27.

WOW provided valuable program content with the latest innovations and presentations from industry leaders on issues, market trends, and statistical data to plan business strategies as well as a 1.5-day WIPES Academy training course.
"World of Wipes was a great experience and a productive meeting for us. We are looking into the other upcoming INDA programs, and especially intend to be at WOW again next year," said Howard J. Bochnek VP – Technology and Scientific Affairs, North American Infection Control Ltd. and American Infection Control, Inc.
"It's worth coming every time. I met customers and made some new ones," said Jay Roth, Director of Sales, Elsner Engineering Works, Inc.
Among the event highlights was the announcement of Danufil® QR Fibres from Kelheim Fibres as the winner of this year's World of Wipes Innovation Award®. The innovative new fiber is a positively charged viscose fiber that does not bind to "quat" disinfectants, can be processed with all nonwoven technologies, and is fully biodegradable. The annual award recognizes the product that most expands the use of nonwovens and demonstrates creativity, novelty, uniqueness, and technical sophistication within the entire nonwovens wipes value chain.
Held at the Westin Peachtree Plaza, in Atlanta, Georgia, the event attracted 54 tabletop displays to connect and create commerce with meaningful relationships throughout the entire wipes supply chain. "The strength and value of the World of Wipes event was clearly demonstrated at the tabletop display evenings when exhibitors and conference attendees continued their conversations well after the exhibition concluded—people were so engaged they didn't want to leave," said Dave Rousse, INDA President.
Program sessions included Consumer Trade and Trends, Sustainable & Transparent Formulations for Home & Personal Care Products, Infection Protection, Material Developments in Wipes, Sustainability Challenges in Single Use Plastics, and Preservative Developments.
Featured speaker, Lisa Morden, Vice President, Safety and Sustainability, Kimberly-Clark Corporation and Tracy A. Doucet, Senior Director, Research and Engineering, Kimberly-Cark Global Nonwovens presented "Wiping Responsibly" featuring insights into Kimberly-Clark's methods to create a more circular model for a sustainable future.
Participants connected face-to-face with hundreds of wipes professionals during the Welcome Reception atop the 49th floor in The Commerce Club, with stunning views and live music, to connect with fellow industry professionals.
Preceding the conference, INDA's WIPES Academy was conducted by instructor Rob Johnson, PE, Principal, Smith, Johnson & Associates. The Academy is the first and only comprehensive wipes training for the entire wipes supply chain.
"This year's program content addressed the critical issues of our industry—economics, sustainability, and political issues facing wipes producers and marketers. WOW serves as the nexus for international wipes professionals to convene and connect," said Dave Rousse, INDA president.
Other presentation highlights included:
How to Navigate the Amazon Jungle – Richard Palmer, President, Nehemiah Manufacturing Company

Global Market for Baby Care Today and Tomorrow – Janet O'Regan, Director, Nonwovens Marketing, Cotton Incorporated

Driving the Market Through Ingredient Transparency – Nicole Acevedo, Ph.D., Founder & CEO, Elavo Mundi Solutions, LLC

Industrial Wipes: Market Driven Innovations – Paul Harmon, EVP Commercial HH&S, Berry Global, Inc.

Consumer Insights in Sustainable Materials – Jonathan Layer, Business Development Manager-Americas, Fibertex Nonwovens Inc.

A New Sustainable Cellulosic Fiber Option for Nonwovens– Jon Woods, General Manager, Textiles and Nonwovens, Eastman Chemical Company
WOW networking events included two evening receptions, daily breakfasts, and networking breaks.
INDA announced that WOW 2020 will be held June 22-25, at the Hyatt Regency Minneapolis, in Minneapolis, Minnesota. For information visit www.worldofwipes.org and follow @WipesCon on Twitter.
About INDA
INDA, the Association of the Nonwoven Fabrics Industry, serves hundreds of member companies in the nonwovens/engineered fabrics industry in global commerce. Since 1968, INDA events have helped members connect, learn, innovate, and develop their businesses. INDA educational courses, market data, test methods, consultancy, and issue advocacy help members succeed by providing them the information they need to better plan and execute their business strategies. For more information, visit inda.org or call 919-459-3700. ### lsdpri