Appleton Mfg. Division's A301 Automatic Core Cutter
Appleton Mfg. Division's A301 Automatic Core Cutter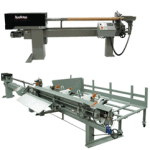 January 28, 2016 (Neenah, WI) FOR IMMEDIATE RELEASE – Appleton Mfg. Division, the leader in core cutting and handling equipment, continues to find success with its A301 Automatic Core Cutter. This entry-level automated core cutting solution is rich in features including simplified automation, intelligent control, and superior precision to help increase productivity while reducing material waste and operating cost.
The A301's advanced feature set makes it the ideal choice for affordable, automated core cutting. Once the customizable settings are in place, the A301 automatically cuts and advances the materials with precise accuracy within +/- 0.010 inch. All equipment settings can be controlled simply by using the A301's LCD touch panel screen.
Designed as an entry-level automated solution with upgradeable features to expand as your needs develop, the A301 can be equipped with Automated Parent and Cut Core Handling, Auto-Indexing Knife, Extended Cut-off Target Length, Digital Length Measurement, and other features to best fit your cutting requirements.
"As your needs change, the A301 can grow its automation and other upgradeable options," says Mark Rasper, Engineering Manager at Appleton Mfg. Division "It's a good, quality machine built with durability and longevity in mind."
About Appleton Mfg. Division
Appleton Mfg. Division is a fully integrated engineering, design, sales, service and manufacturing firm producing custom and semi-custom material handling solutions. Dedicated to providing innovation and superior customer service, Appleton Mfg. Division offers a full line of core cutters, handling & finishing equipment, compact battery powered roll & cart movers, slabbing and core recycling equipment, cleaning showers/systems, as well as parts & service for all lines.
For more information on Appleton Mfg. Division's innovative core cutting solutions, visit the website at www.appletonmfg.com.
Contact Information
Email:
james@vacantfuture.com
URL:
www.appletonmfg.com
Phone:
503-936-3065
Company:
Apple Mfg.