ANDRITZ Perfojet opens new spunlace technical center for research, product, and process development
Graz/Montbonnot, March 13, 2013. From March 12, 2013, nonwovens producers will have access to the new technical center at ANDRITZ Perfojet in Montbonnot, France. Dedicated to high-performance spunlace production, it is fitted out with the latest innovations available on the market for carding, hydroentanglement, dewatering, impregnation, low add-on, and drying technologies. Opening and blending is possible for any type of fibers: natural, synthetics, or blends can be processed. The neXline spunlace pilot line has been designed to meet the highest demands of the spunlace market and will support nonwovens producers perfectly in their research, product, and process development.
Key elements for high flexibility
Three ANDRITZ core technologies have been integrated into this new spunlace pilot line: the new Isoweb TT card, the Jetlace hydroentanglement system, and the Perfodry 3000 through-air dryer. The Isoweb TT card is designed for a wide range of products with an output capacity of up to 700 kg/h/m with an MD/CD ratio from 1.5 to 3.5. It produces with a minimum of downtime, and its user-friendly design ensures easy maintenance. The Jetlace hydroentanglement unit is equipped with patented injectors that generate high-quality water jets for highest performance of the system. The combination of these injectors with the well-known, patented Micro Perforated Sleeve (MPA) improves bonding and leads to significant reduction in energy consumption (up to 80% less energy compared to conventional mesh sleeves). The Perfodry 3000 through-air dryer provides efficient moisture removal of up to 1,000 kg/h at high throughput speeds and low energy consumption.
The configuration of this high-performance pilot line will give ANDRITZ customers the opportunity to produce webs from 18 to 500 gsm with an operational speed of up to 400 m/min. All nonwovens producers are invited to conduct advanced trials on this new equipment and to discuss their spunlace projects in a confidential atmosphere with the ANDRITZ process experts.
The ANDRITZ GROUP
The ANDRITZ GROUP is a globally leading supplier of plants, equipment, and services for hydropower stations, the pulp and paper industry, the metalworking and steel industries, solid/liquid separation in the municipal and industrial sectors, and the production of animal feed and biomass pellets. In addition, ANDRITZ offers technologies for certain other sectors including automation, pumps, machinery for nonwovens and plastic films, steam boiler plants, biomass boilers and gasification plants for energy generation, flue gas cleaning plants, plants for the production of panelboards (MDF), thermal sludge utilization, and biomass torrefaction plants. The publicly listed, international technology Group is headquartered in Graz, Austria, and has a staff of around 23,400 employees. ANDRITZ operates over 220 production sites as well as service and sales companies all around the world.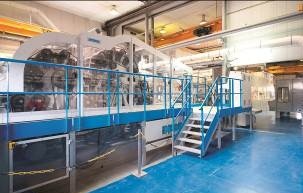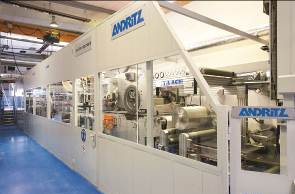 Contact Information
Email:
oliver.pokorny@andritz.com
URL:
http://www.andritz.com
Phone:
Oliver Pokorny, Group Treasury, Corporate Communications & Investor Relations, Phone: +43 (316) 6902 1332
Company:
Andritz Group