ANDRITZ presents full line solutions for nonwovens and textiles at HIGHTEX/ITM 2013

Graz, February 22, 2013. International technology Group ANDRITZ will present the latest technologies of its three nonwoven competence centers – ANDRITZ Asselin-Thibeau, ANDRITZ Küsters, and ANDRITZ Perfojet, at HIGHTEX/ITM 2013 in Istanbul. With a wide range of products and services for the Turkish market, ANDRITZ provides full line and individual solutions for spunlace, wetlaid, needlepunch, bonding, and finishing for spunbond applications, as well as top performance textile calenders.
On the Turkish market, ANDRITZ is recognized as one of the leading suppliers of technologies in particular for needlepunch and spunlace. These technologies include production lines for the automotive industry, coating substrates, wadding, and geotextiles, as well as for spunlaced wipes and cotton pads. The ANDRITZ neXline spunlace is designed to produce state-of-the-art nonwoven fabrics at very high capacity, low MD/CD ratio, and very low energy consumption. In the needlepunch area, ANDRITZ has integrated the double carding Isoweb technology with the ProDyn concept into the neXline needlepunch. This is a major improvement in order to achieve the excellent technical product characteristics requested by the market. A further important development is neXline wetlace, an ANDRITZ line concept that integrates wetlaid and hydroentanglement technologies.
In addition to its broad portfolio for the nonwovens market, ANDRITZ is also renowned for its textile calender technology. Based on ANDRITZ Küsters' expertise of many years, precisely the right calender technology for every application can be supplied. In particular, teXcal trike, an innovative 3-roll calender with two separately controlled system rolls, provides outstanding productivity and flexibility in the production of technical textiles. Turkish traditional textile producers who want to advance towards more sophisticated technical products already show great interest in this new technology.
ANDRITZ experts for nonwovens and textiles look forward to presenting their combined technologies and customized process solutions from May 29 to June 1, 2013 at the HIGHTEX/ITM trade fair in Istanbul, Turkey, hall 2, booth 204 A.
The ANDRITZ GROUP
International technology Group ANDRITZ is a globally leading supplier of plants, equipment, and services for hydropower stations, the pulp and paper industry, solid/liquid separation in the municipal and industrial sectors, the steel industry, and the production of animal feed and biomass pellets. In addition, ANDRITZ offers technologies for certain other sectors including automation, pumps, machinery for nonwovens and plastic films, steam boiler plants, biomass boilers and gasification plants for energy generation, flue gas cleaning plants, plants for the production of panelboard (MDF), thermal sludge utilization, and torrefaction plants. The publicly listed ANDRITZ GROUP is headquartered in Graz, Austria and has a staff of about 17,700 employees worldwide. ANDRITZ operates over 180 production sites as well as service and sales companies all around the world.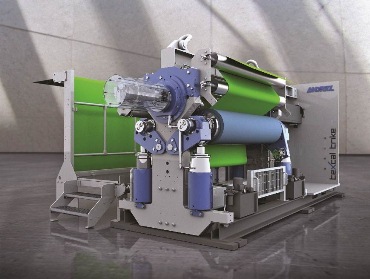 Contact Information
Email:
oliver.pokorny@andritz.com
URL:
http://www.andritz.com
Phone:
Oliver Pokorny, Group Treasury, Corporate Communications & Investor Relations, Phone: +43 (316) 6902 1332
Company:
Andritz