ANDRITZ presents its cutting-edge solutions at ITMA ASIA + CITME 2018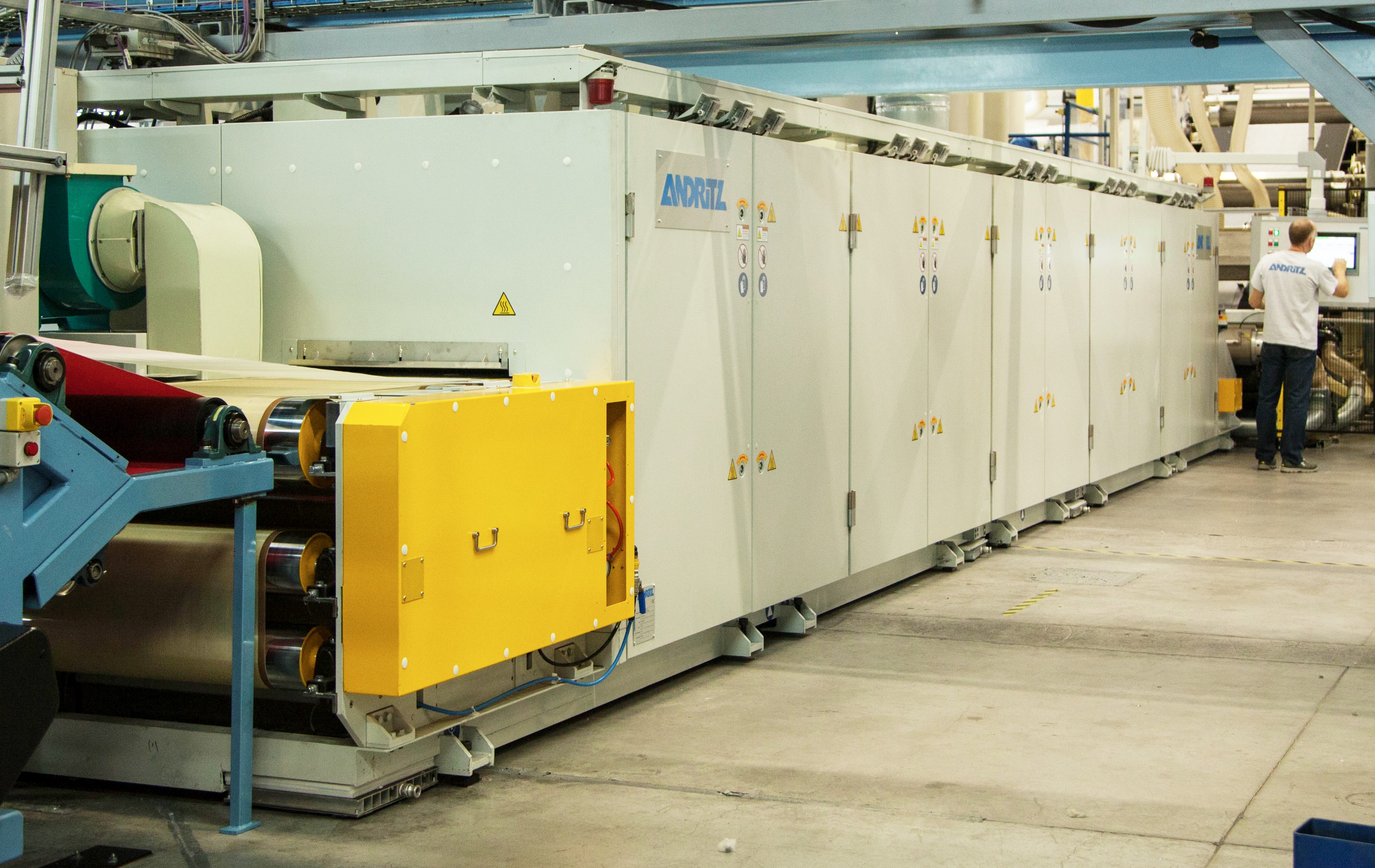 GRAZ, SEPTEMBER 10, 2018. International technology Group ANDRITZ will be presenting its innovative nonwovens and textile finishing technologies for the Asian markets at the ITMA ASIA + CITME 2018 show to be held at the National Exhibition and Convention Center in Shanghai, China, from October 15 to 19 (hall H2, booth A24). In response to market demands, ANDRITZ has yet again raised the bar for turnkey and customized solutions for drylaid, spunjet, thermobonding, and wetlaid, as well as for conversion of absorbent hygiene products. ANDRITZ offers unique technologies tailored to each customer's individual needs.
ANDRITZ Air-through bonding technology – A NEW SOLUTION FOR THE hygiene Market
Air-through bonding lines are the preferred choice for producing nonwovens with the best quality of softness and bulk for acquisition and distribution layers, top sheets, and back-sheet products. With ANDRITZ carding machines and the new flat belt oven, customers benefit from high production capacities and high-performance fabrics from 16 to 80 gsm, produced with bicomponent fibers. Several Chinese customers have already invested in ANDRITZ aXcess carding machines, which provide perfect web uniformity. In addition, the CETI (European Center for Innovative Textiles) in Lille, France, has recently installed an air-through bonding oven from ANDRITZ. Customers can compare the technical results obtained from two different options: bonding with the flat belt oven or with the drum (both supplied by ANDRITZ). If customers would like to see the new solution for themselves, they are most welcome to conduct trials at the CETI (European Center for Innovative Textiles) in Lille, France.
Full drylaid processes OFFER with the andritz axcess range
Thanks to its aXcess portfolio, ANDRITZ offers the full range of drylaid processes for medium production capacities. During the past few months, Chinese spunlace producers have invested in several aXcess lines with direct-line and crosslapped configurations manufactured by ANDRITZ Wuxi. This booming market goes hand in hand with new trends such as the development of the facemask industry and continues to be driven by the growth of wipes applications.
In the medium-capacity needlepunch area, ANDRITZ signed a cooperation agreement in 2017 with ShanTou SanFai Nonwoven Machinery, a leading supplier of needlelooms in China. This cooperation fits together perfectly, uniting the advantages of proven technologies and providing reliable solutions for a wide range of applications in the needlepunch industry. The ANDRITZ aXcess range for web forming and SanFai's needlelooms offer a big advantage in terms of investment security, innovation, and quality, and this combination also meets the increasing demands of a strong, growing market.
To better serve the local market, ANDRITZ Wuxi focuses on increasing efficiency and shortening delivery time – from project management and design, to service work.
New development in textile calendering
With the latest development in textile calendering, ANDRITZ in co-operation with Rolf Ramisch, who has over 45 years of experience in this specific business and commands excellent expertise in deflection-controlled roll technology, is again raising the bar for the textile calender market. The new teXcal raconip calender is versatile, operator friendly, and provides IIoT (Industrial Internet of Things) features for a smart production process. Sensors on the machine collect and archive all machine data and send them to a monitoring system. This intelligent production equipment offers a transparent and optimized process as well as a forecast for maintenance planning. In addition, the calender includes an optimized, deflection-controlled roll with unrestricted profiling possibilities over the entire roll width. This ensures maximum production flexibility and reproducible product properties – e.g. absolute flatness and ideal air permeability for technical textiles.
The ANDRITZ team is looking forward to meeting you at ITMA ASIA + CITME 2018 and to presenting its wide range of innovative products adapted to the Asian market.
– End –