Berry Plastics Files Registration Statement for Proposed Initial Public Offering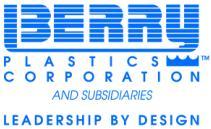 EVANSVILLE, Ind. – March 23, 2012 – Berry Plastics Group, Inc., the parent of Berry Plastics Corporation, today announced that it has filed a registration statement on Form S-1 with the U.S. Securities and Exchange Commission (the "SEC") relating to a proposed initial public offering of shares of its common stock. The number of shares to be offered and the price range for the offering have not yet been determined.
A registration statement relating to these securities has been filed with the SEC, but has not yet become effective. These securities may not be sold nor may offers to buy be accepted prior to the time the registration statement becomes effective. This release shall not constitute an offer to sell or the solicitation of an offer to buy nor shall there be any sale of these securities in any state or jurisdiction in which such offer, solicitation or sale would be unlawful prior to registration or qualification under the securities laws of any such state or jurisdiction.
About Berry Plastics
Berry Plastics Corporation is a leading manufacturer and marketer of plastic packaging products. The Company is a major producer of a wide range of products, including open top and closed top packaging, polyethylene-based plastic films, industrial tapes, medical specialties, flexible packaging, heat-shrinkable coatings, specialty laminates, and FIBCs. With headquarters in Evansville, Indiana, the Company serves over 13,000 customers, ranging from large multinational corporations to small local businesses. For additional information, visit the Company's website at www.berryplastics.com.
Berry Plastics Corporation:
Eva Schmitz
812.306.2424
Contact Information
Email:
evaschmitz@berryplastics.com
URL:
http://www.berryplastics.com
Phone:
812.306.2424
Company:
Berry Plastics Corporation