Bostik gecko: set to stick around for a while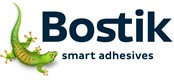 Wauwatosa, Wis., March 3, 2014
The world is seeing a lot more of Bostik's gecko, including millions who travel on one of the busiest highways in Europe. Over 2 million passengers per day will pass a giant gecko clinging to the side of a nine-story building. Bostik, the smart adhesive company, launched a "can't miss it" ad on the Paris ring road en route to the airport.
The advertisement, which measures 12.6 x 19.5 meters, features the Bostik gecko, an animal selected for the company's new brand positioning because of its remarkable bonding abilities which allow it to cling to and run up almost any surface.
The attention-grabbing ad features the gecko from Bostik's logo with a headline that boldly states, "Sticks everything, everywhere!"
About Bostik
Bostik is a leading global adhesive specialist in industrial manufacturing, construction and consumer markets. For more than a century, they have been developing innovative adhesive solutions that are smarter and more adaptive to the forces that shape people's daily lives. From cradle to grave, from home to office, Bostik's smart adhesives can be found everywhere. With 2013 sales of 1.6 € billion, the company employs 4,800 people and has a presence in more than 50 countries.
Bostik is a company of Total.