BOSTIK SHARES HOW TO GET MOST OF ADHESIVES WITH ATTENDEES OF EDANA MENA 2018 SYMPOSIUM

BOSTIK SHARES HOW TO GET MOST OF ADHESIVES WITH ATTENDEES OF EDANA MENA 2018 SYMPOSIUM
Bostik, the specialty industrial adhesives line of Arkema, reviewed factors to consider when making adhesive supply decisions.
DUBAI, United Arab Emirates – February 7, 2018 – Bostik, a leading global adhesive specialist in disposable hygiene, was an active participant in the recent Middle East and North Africa Nonwovens Symposium & Exhibition hosted by EDANA.
Bostik's Seif Shaarawy, Managing Director of Bostik Egypt, presented "Get the Most from Your Raw Materials / Adhesives." He discussed how producers can optimize the use of materials in the production of baby diapers through the correct selection and use of adhesives and adhesive suppliers.
Shaarawy stressed the impact the right adhesive can make on the ability to attain business goals with adhesives acting as enablers to meeting today's market needs. The right adhesive can enable consumer noticeable features like softness, odour, core integrity absorption, and discretion. Meanwhile, adhesives also enable producers increased flexibility in substrate and equipment selection, operational efficiencies and cost in use.
Bostik's message was well received by the more than 200 attendees at the symposium. Additional representation was available in the exhibit hall for those who had additional interest in Bostik's point of view on elastic components in hygiene products.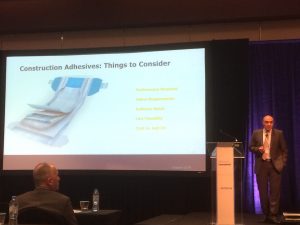 About Bostik Global Nonwovens
Fueled by a deep understanding of the hygiene market's current and future needs, Bostik Global Nonwovens creates smart adhesive solutions. Our culture of continuous improvement is powered by our people, their ideas and the drive to make things better. We apply our extensive material science knowledge and formulation and application expertise to provide pioneering adhesive solutions that enhance our customers' success and advance the hygiene industry worldwide.
About Arkema
A designer of materials and innovative solutions, Arkema shapes materials and creates new uses that accelerate customer performance. Our balanced business portfolio spans high-performance materials, industrial specialties and coating solutions. Our globally recognized brands are ranked among the leaders in the markets we serve. Reporting annual sales of €7.5 billion in 2016, we employ approximately 19,000 people worldwide and operate in close to 50 countries. We are committed to active engagement with all our stakeholders. Our research centers in North America, France and Asia concentrate on advances in bio-based products, new energies, water management, electronic solutions, lightweight materials and design, home efficiency and insulation. For the latest information, visit www.arkema.com.

Contact Information
Email:
beth.maniero@bostik.com
URL:
www.bostik.com
Company:
Bostik an Arkema Company